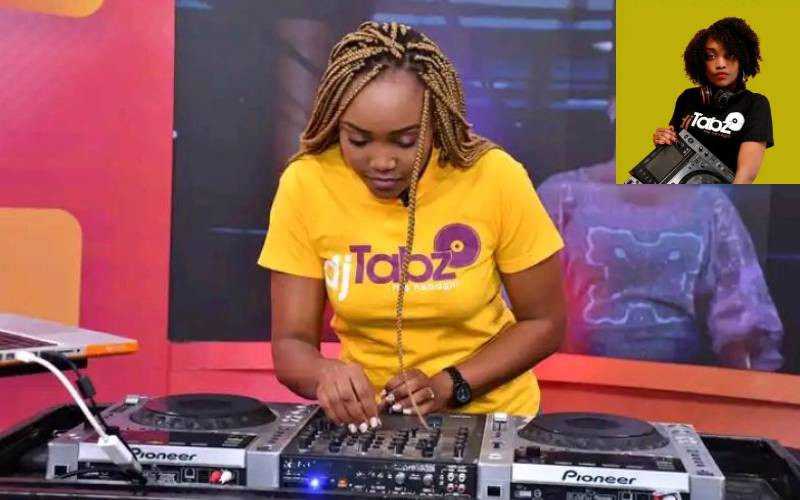 DJ Tabz is a gospel deejay and hosts a gospel show on a local media station. She was born and raised in Nairobi.
Tabz, who is also a lawyer, says she has not yet figured out how to balance between being a DJ, a lawyer, and a family.
"I have not been able to figure it out all 100 per cent; it is still a learning process on how to balance, like when I took a four-year sabbatical from deejaying so that I could focus on my studies," she says.
She adds, "It is all about you finding your place in areas like I have found a place in VDJ hosting a TV show. When it comes to my career in law, I have found my place in land matters, and that is how I do it. You may not be able to do everything at once because everything may require time but in every area of life, just find a niche and stick to it."
In the male-dominated industry, a country that has been able to master the skills and also dared fellow female colleagues to venture further into the art of deejaying.
She tells Eve her journey in the profession started immediately after finishing high school.
"I went to the System Unit Deejay Academy to gain skills and study the art as I really loved and still do, love music."
Learning and finally earning from her skills and talent has been a rewarding experience, she says.
"I started at Truth FM, which is a gospel radio station. At the same time, I also was able to get a chance to become a DJ at Mavuno Church."
"Around 2014 is when I got my first TV show, which was promotional; later on, I got a radio and TV show."
"After finishing campus, I took a sabbatical to go to the school of law for four years, and this forced me to take a break from deejaying to focus mainly on my studies for the four years."
Tabz, real name Tabitha Nyambura, has been nominated for numerous awards and also won some of them.
"I won the Mwafaka Award 2012 as the best DJ of the year, and this was around the time I was an intern on a radio and TV show. Thereafter, I won my second award at the Groove Awards, as the most promising talent in 2015."
She says the inspiration for getting into the craft was a combination of her love for music and her religious upbringing.
"When I was at school, I wanted to become an artiste and at that time I did a compilation of songs and because I was saved, I chose to do gospel music."
She adds: "Deep down I had a conviction to become a DJ, so after completing my studies instead of going for a computer course as other students do I chose deejaying and the rest is history..."
The DJ says that initially, her parents were reluctant to support her and that it took her eight months to convince them to accept her choice.
"But right now they are my biggest fans as they see it as something noble," she says.
She advises parents to support their children in their talents and careers.
"Remember your child is a person who has interests. Their choice could be not what you are interested in for them to become, but allow them to do it as long it is something noble and legal because you never know what is destined for their future."
Tabz stands out as she only plays gospel music.
"I do not only do it for money, it is a ministry for me to spread the word of God. The other side is my love of meeting young girls mostly in high school and university and mentoring them to understand life, its challenges and how to overcome them," she says.
Tabz says female deejays still have some way to go.
"During an event, they might doubt your capabilities and compare you to male DJs, but I have learned to never look down on yourself and also compete with yourself, that is how you will reduce the pressure around you."
The DJ says that being able to serve God every day is the most rewarding part of being a female gospel deejay.
"Being able to inspire someone else, even fellow female DJs, parents watching a show and texting back their appreciation; those things make it fulfilling every time," she says.
She says there are some challenges in the career, and being accepted as a female gospel DJ is one of them.
"Going to an event as a gospel DJ and finding event organisers demanding secular music, is one of the biggest issues right now. Yes, they want you because of your skills but the gospel part becomes very tricky."
She advises upcoming female deejays not to give up and keep fighting for their space in the industry.
"You have chosen the right path if you are passionate about it and if you see it as something you will want to do. When things get tough, it is normal. It would be great if you could find someone to mentor you and guide you as you navigate the industry, she says, adding, "I was lucky to get mentored by DJ Moh."
Related Topics