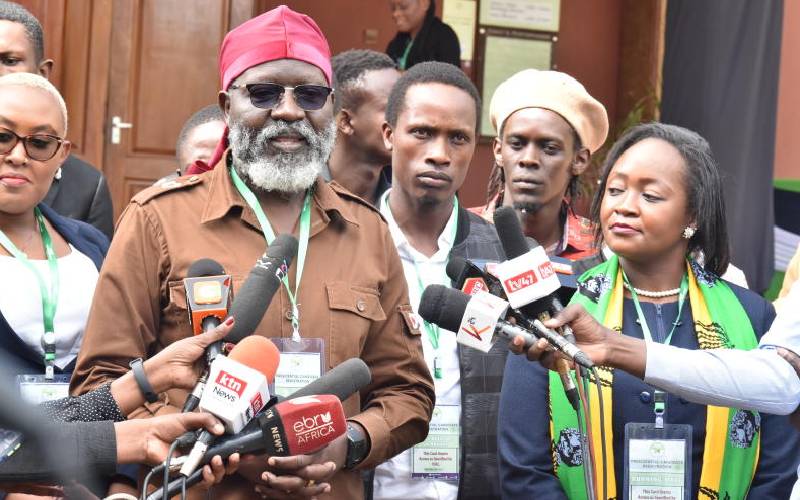 Is the death penalty an effective deterrence of corruption and violent crime?
Roots Party of Kenya presidential candidate Prof George Wajackoyah has stated that if elected, his administration will introduce the death penalty to enforce a "zero tolerance" for corruption.
"We need a death penalty because in Japan for example, if you suspect yourself to be corrupt you hang yourself," he said during a television interview last week.
"In China, if you are suspected to be a corrupt person you are tried and hanged."
According to data from Amnesty International, 18 countries carried out 483 executions in 2020, a decrease of 26 per cent from 657 recorded in 2019.
"This figure represents the lowest number of executions that Amnesty International has recorded in the past decade," explained Amnesty International in its report.
China remains the world's leading executioner but with the data classified as a state secret, human rights advocates believe the country could have executed thousands.
In a recent paper for the China Global Research Center of the John Hopkins School of Advanced International Studies, Yaxiang Liu and Grace Faerber write that the death penalty serves more to divert public anger over corruption away from the country's political system and direct it towards individual cases of extreme corruption.
"The government's application of the death penalty to corruption cases bargains for a "political win" at the price of reforming, modernising, and institutionalising the Chinese criminal law system," wrote Liu and Faerber in a research paper published last year.
Mr Wajackoyah's running mate Justina Wambui illustrates this flawed argument when she states that their administration will suspend the Constitution to allow for execution but at the same time give suspects a fair chance to defend themselves in court.
"When they go through the (legal) process and clearly they are found guilty, there is no alternative," said Ms Wambui. "We want to instil the fear that public resources must be respected."
However, there is no clear evidence that the fear of execution deters from corruption or other capital offences like murder. In fact, in some cases, research indicates that the extremity of crimes actually increases when the deterrence is high.
"Once criminals have knowingly committed a capital offence, they no longer have any interest in lessening their potential punishment by not committing further murders or other offences," explains Amnesty International in a report.
In January last year, the former chairman of state-owned financial giant China Huarong Asset Management Corp., Lai Xiaomin, was sentenced to death for pocketing approximately Sh32.3 billion in bribes.
In one of the most high-profile corruption cases, Xiaomin who was expelled from the Chinese Communist Party (CCP) in 2018 was convicted for using his position as a regulator to enrich himself between 2008 to 2018.
According to Liu and Faerber, Xiaomin's death sentence, coming months to the centenary celebrations of the CCP and the 20th Party Congress scheduled for next month, was more of a ploy by Beijing to preserve political stability and consolidate the authority and legitimacy of Xi's regime.
Amnesty International says the assertion that criminals are less likely to commit violent crimes including murder if they know they will face the death penalty is false.
"Many crimes are committed on the spur-of-the-moment, leaving little opportunity for potential punishments to influence whether the crime is committed in the first place as criminals do not believe they will be caught and held to account," states Amnesty International.
According to the United Nations Economic and Social Council, more countries across the world have abolished the death penalty in the last 20 years or limited it to the most serious crimes.
"At the beginning of 2009, 95 States had abolished the death penalty for all crimes, a considerably higher number than in 2004, when there had been 79 completely abolitionist countries and 1999 when there had been 70," explains the UN Economic and Social Council in a report.
By 2013, 101 countries had abolished the death penalty for all crimes and Australia went further to enact a law to ensure the death penalty cannot be reintroduced anywhere in the country.
Even in China, amendments to the Chinese Criminal Code have abolished the use of the death penalty for 22 economic crimes and non-violent crimes. The country still lists 46 crimes as subject to the death penalty, 23 of which are non-violent crimes.
We, therefore, rate Prof Wajackoyah's claim as inaccurate.