Many politicians are charged, but none found guilty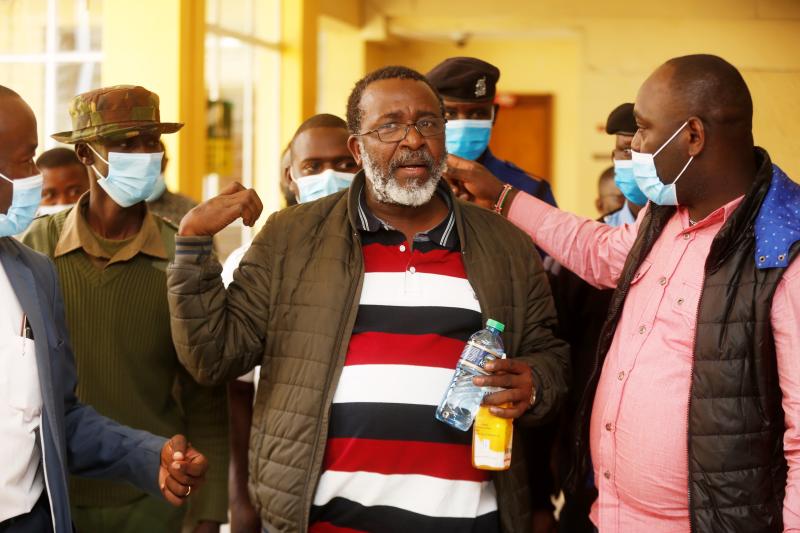 Even after bowing to pressure and issuing an apology over remarks he made during a rally in Eldoret last Saturday, Meru Senator Mithika Linturi is still under siege. Yesterday, he was slapped with a Sh2 million bail or Sh5 million bond to be released from police custody.
Linturi joins a growing list of politicians who have found themselves on the wrong side of the law over their utterances, or have been accused of hate speech and incitement.
The National Cohesion and Integration Commission (NCIC) has condemned Linturi's remarks, and warned of adverse consequences of politicians making polarising statements, given Kenya's context of poll-related violence.
Deputy President William Ruto had to move in on Sunday to quell the fires.
"We do not subscribe to hate and we do not support any talk that profiles individuals or groups or communities because we are a party that strives for unity," he said in Bomet, a day after Linturi's controversial remarks at a rally in Eldoret.
NCIC Chair Samuel Kobia said: "What is critical with the word 'madoadoa' (which Linturi used) is that it fits within a process that we have seen in history - situations that led to massacres and genocides. When you use the word 'madoadoa', it fits to when you use cockroaches in Rwanda."
According to him, when people want to treat others differently, they assign symbols or terms to them.
In the past, cases of politicians charged with hate speech have had equally publicised arrests and court arraignments, but have never amounted to convictions.
Some of the cases involving politicians are still pending in court, with others falling due to lack of evidence.
NCIC, formed in 2008 to tame hate mongers, has been on the receiving end over failure to act decisively.
"There is so much the NCIC can do within the present law," Kobia said in an interview with Citizen TV. "What they (Kenyans) should be doing is dealing with the DPP (Director of Public Prosecutions) and the courts. Once we have taken people to DPP and they have been taken to court it is no longer our responsibility".
Former NCIC Chair Francis ole Kaparo blames the current laws for failing to curb hate speech.
"That law is terrible. People forget that this was not our law, it was imposed on us by Kofi Annan and Judge Johann Kriegler. It was hurriedly done," says Kaparo, who argues that Parliament has ignored NCIC's recommendations to have the law made more effective.
Kaparo chaired the commission when a number of politicians were arrested and charged over hate speech, but their cases were thrown out.
Some of the cases included the infamous Pangani Six, who were arrested in June 2016. These were Johnstone Muthama, Junet Mohammed, Timothy Bosire, Moses Kuria, Kimani Ngunjiri, Ferdinand Waititu, Aisha Jumwa and Florence Mutua.
The cases during Kaparo's tenure collapsed mainly because of lack of evidence.
"The law is not designed to hold politicians to account. It does not protect witnesses who would want to testify. The law is designed to punish poor people – if it was a poor person making such remarks, they would be in jail," says human rights activist Boniface Mwangi.
According to him, when influential persons have a leeway to interact with witnesses they can intimidate them into withdrawing critical evidence. He also thinks courts also have a problem as they take too long to determine cases.
"How do you have cases from 2013 still pending in court?" poses Mwangi.
He recalls an incident in which his journalist colleague covered an event in which a politician made an inciting remark. The journalist was listed as one of the witnesses.
"The politician threatened to harm his family and he pulled out of the case," Mwangi recalls.
Kaparo blames such incidents on badly-crafted laws. This, he says, is part of the reason courts have difficulties convicting suspects.
Bobby Mkangi, a lawyer, says the law alone cannot sufficiently take care of inciteful utterances.
"It is a challenge to discern and balance between hate speech and freedom of expression," he says. "These together with the public perception that NCIC, like other commissions, is politically biased, complicates its takes, hence effective enforcement of the law."
In 2017, former Laikipia MP Mathew Lempurkel was arrested and charged with incitement, an offence he allegedly committed in July 2016. He was later acquitted by a Nanyuki law court. The Chief Magistrate's Court declared that the evidence by prosecution witnesses could not sustain a conviction.
Three years later, in September 2020, Kapseret MP Oscar Sudi was dramatically arrested and flown from Eldoret to Nakuru for questioning over remarks about the president and his family that the State said bordered on hate speech. His remarks sparked outrage among women who staged street protests in various towns.
He was charged in a Nakuru court with hate speech, assaulting a police officer, offensive conduct and unlawful possession of a firearm and ammunition contrary to section 89(1) of the penal code. He was also accused of resisting arrest. The matter is still pending in court.
Emurua Dikirr MP Johanna Ng'eno was also arrested for allegedly plotting to incite families living in Mau Forest and making demeaning statements against the president. His case is also still pending before a Nakuru court.
In September last year, Tiaty MP William Kamket joined the list of politicians accused of uttering words with the potential to cause disaffection.
Kamket had allegedly uttered words calculated to promote hatred between different communities. The offence was allegedly committed on July 16, last year, at Amaya in Tiaty constituency, Baringo county. He is out on a Sh1 million bond.
Muthama is one of the few legislators whose incitement cases have been heard and determined... but without a conviction.
In January 2020, the former Machakos Senator was cleared of incitement to violence charges. He had been charged in 2015 of making inflammatory utterances during a rally at Uhuru Park, Nairobi.
Muthama through, lawyer John Khaminwa, then moved to court, arguing that incitement to violence was contrary to section 96 of the Penal Code and offended the right to a fair trial. This was after Justices Jessie Lesiit, Luka Kimaru and John Mativo declared unconstitutional the section as it shifts the legal and burden of proof to the accused.
Justices Lesiit, Kimaru and Mativo had noted that the section not only conflicts with Article 50 of the Constitution but also offends the common law that is always for the prosecution to prove the guilt of an accused person and the proof must be beyond reasonable doubt.
The court recommended that the Attorney General prepare a Bill within a year to improve the efficacy of Section 96 of the Penal Code so that the importance of the impugned provisions could be maintained.
"The section is not only in conflict with Article 50 (2) (a) of the Constitution but also offends the long-established rule of the common law on the burden of proof; that it is always for the prosecution to prove the guilt of the accused person, and that the proof must be beyond a reasonable doubt," reads part of the judgment delivered by the three-judge bench on January 29, 2020.
In its evidence to the Building Bridges Initiative team that was led by the then Garissa Senator Yusuf Haji, the Judicial Service Commission indicated that out of 44 incitement to violence and hate speech cases that had been filed before the Chief Magistrate's court in Milimani as at May 2019, 10 were withdrawn or discharged by the prosecution.
The JSC recommended that Parliament amends the Kenya Information and Communication Act to help prosecute hate speech cases.
This was because the High Court had declared sections of the Act that criminalised use of licensed telecommunication gadgets for sending offensive messages as unconstitutional, a situation that has seen a number of court cases dismissed by the courts or withdrawn by the prosecution.
The High Court declared sections of the Act unconstitutional for limiting freedom of expression.
On the issue of language, Busia Woman Representative Florence Mutua, Aisha Jumwa - when she was serving as the Kilifi Woman Rep - Timothy Bosire former Kitutu Masaba MP and Junet Mohamed (Suna East MP) were set free by Chief Magistrate Martha Mutuku on grounds that the English and Kiswahili translations provided as part of the evidence were incorrect.
"The words were uttered in Kiswahili but were not transcribed well in English and there was confusion as to whether they were inciteful," ruled Mutuku.
She described the charge sheet as defective and complicated. She pointed out that when a charge sheet is a duplex as it was alleged by the defence lawyer Khaminwa, the accused persons could not understand what the charge was and would have not been able to prepare a defense. The matter ended there.
On February 21, 2017, Gatundu South MP Moses Kuria and former Kiambu County Governor Ferdinand Waititu were also acquitted of incitement to violence charges due to lack of evidence.
Senior Principal Magistrate Charity Oluoch ruled that the prosecution had failed to provide enough evidence to warrant a conviction.
"I have read the submissions from both parties but I am not satisfied that the utterances could lead to incitement to violence," said Ms Oluoch.
And so it goes. Many politicians are charged, but none convicted.