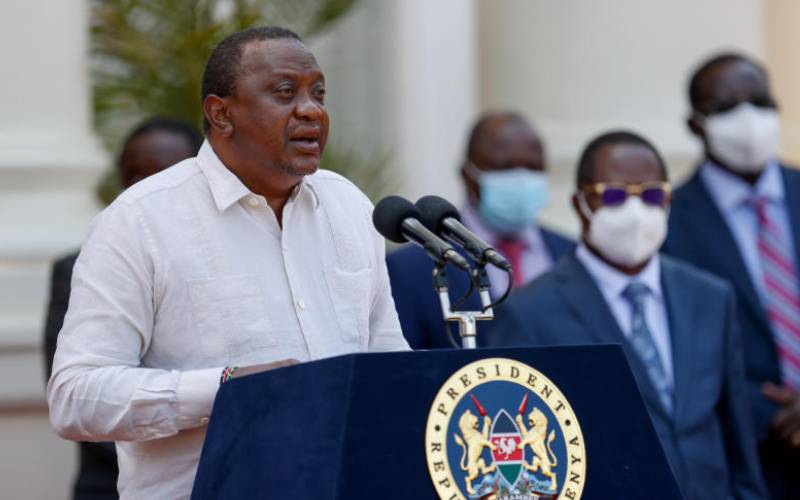 President Uhuru Kenyatta has declared the counties of Nairobi, Kajiado, Machakos, Kiambu, and Nakuru "disease infected areas" following the emergence of a third wave of the Covid-19 pandemic.
He announced new measures to curb the spread of Covid-19 in the country as follows:
1. As 70 percent of Covid-19 cases come from five counties, Nairobi, Kajiado, Machakos, Kiambu, and Nakuru, they are now declared disease-infected areas. Cessation of all movement by road, rail, or air into and out of the disease-infected areas effective Sunday, March 28.
#covid19Ke Kindly note that the Cessation of Movement is in and out of the 5 counties (Nairobi, Nakuru, Kiambu, Machakos, and Kajiado) as One Zoned Area. You can therefore move freely within the five counties. You will not however be able to leave and enter the One Zoned Area — Nzioka Waita (@NziokaWaita) March 26, 2021
2. All gatherings and in-person meetings of whatever nature in the zoned counties are suspended until further notice. All in-person cabinet meetings, with the exception of the National Security Council, are also suspended.
3. Ordinary parliament sessions and county assemblies in the zoned counties have been suspended until further notice.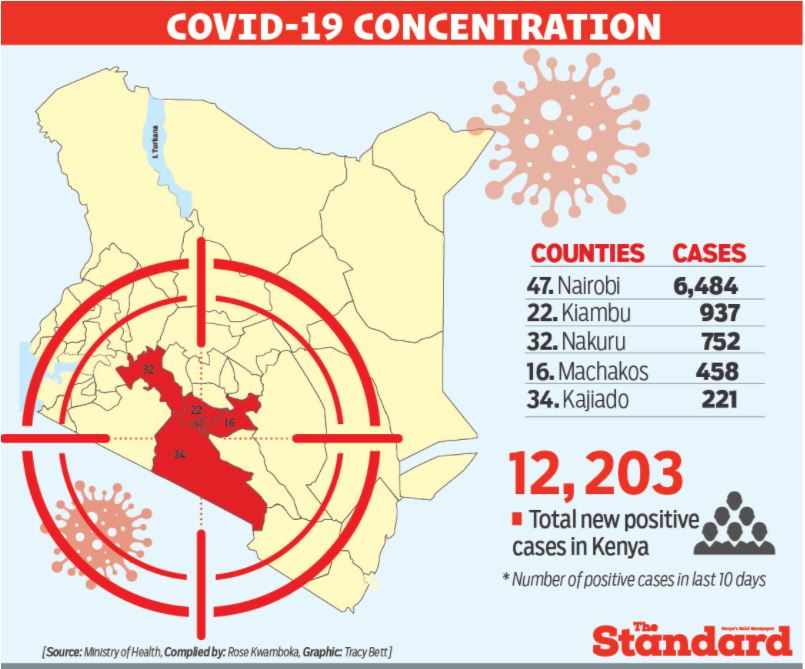 4. International travel into and out of Kenya shall continue in accordance with existing guidelines on foreign and international travel.
5. Anyone coming into Kenya must have a negative Covid-19 PCR certificate, acquired no more than 96 hours prior to arrival into the country. The certificate has to be validated under trusted travel platforms by those traveling by air.
6. Hours of ongoing nationwide curfew revised to commence at 8pm and end at 4 am in the zoned areas. In the rest of the country, it remains as it was (10pm-4am), effective midnight.
7. Protocols of curfew pass re-issuance to be reviewed. All issued passes have been vacated.
8. All physical and in-person as well as congregational worship in the zoned areas have been suspended until further notice. In the other counties, in-person and congregational worship shall continue (in keeping with the one-third rule) in accordance with Inter-faith council guidelines.
9. There shall be an immediate suspension of all ongoing physical learning in all institutions including universities, tertiary and vocational colleges other than for candidates sitting for exams and those in medical training institutions
10. All sporting activities are hereby suspended. This applies to member clubs.
11. Operations of bars suspended in zoned areas. The sale of alcohol in these zoned areas is prohibited.
12. All restaurants and eateries in zoned areas ordered to provide takeaway services only.
13. Operations of bars, eateries, and restaurants in the other 42 counties shall continue as is, but with strict fidelity to Ministry of Health guidelines.
14. Public transport operators directed to uphold 60 per cent carrying capacity. County emergency response committees directed to enforce the implementation of infection prevention and control measures in markets. They must ensure all buyers are masked and maintain physical distance.
15. Public bodies, private sector, and government offices, etc. directed to allow employees to work from home, except for those with essential services.
16. Judiciary, law enforcement, remand and correction facilities, and the ODDP to take action in eliminating non-essential physical contact or situations that may lead to crowding or spread of Covid-19.
17. All hospitals directed to limit the number of visitors for patients to two visitors per patient.
18. All physical meetings and events, including social gatherings to have no more than 15 persons.
19. Funerals to be conducted within 72 hours of death confirmation. Attendees limited to 50 persons
20. Attendees, officiators, and facilitators of weddings (traditional union ceremonies), etc., limited to 30 persons.
21. Political gatherings suspended until further notice.
22. Those above 58 years of age to be vaccinated as a priority during the first vaccination phase.