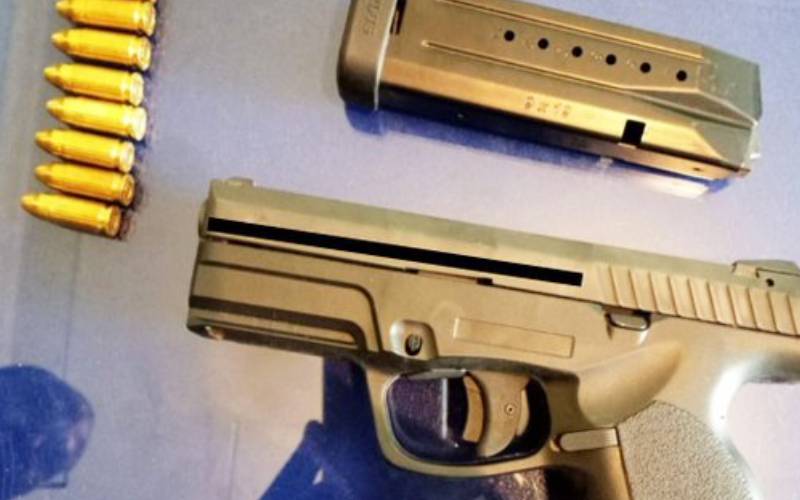 Embakasi East MP Babu Owino Monday morning pleaded not guilty to attempted murder charges after shooting Felix Orinda alias DJ Evolve in the neck at B Club in Kilimani, Nairobi.
Babu is a licensed gun holder. Social media has since been rife with debate of persons allowed to own firearms and use of the weapons.
Standard Digital dug into the matter with reference to the Firearms Act, 2012 and lets you in on the procedure.
Why would you want to own a gun?
Read More
One may need a gun for their personal safety or for sporting like hunting and shooting sports.
There is no law defining the number of firearms a person should own but no one can be issued with more than one gun, for their personal safety.
Only few self-protection applications are approved because police are responsible for everyone's safety.
Applications for self-protection are mostly approved when the applicant's status exposes them to danger.
What does it take to own a gun?
Owning a firearm in Kenya is a luxury and it will cost you between Sh100, 000 and Sh350, 000 when purchased legally.
Short guns may cost you between Sh160, 000 and Sh350, 000.
In order to enjoy the freedom of walking around with a gun, one must meet these four crucial requirements which include;
· Be 21 years old and above
· Must be trained in handling firearms
· Should have a clear criminal record
· Should be mentally stable and of sane mind.
Despite meeting the requirements, the civilians' choice of guns is limited.
According to the Act, civilians cannot be given firearms used by security organs, for example, Ak47, MP5 and G3.
Any civilian found with the mentioned types of guns will face life imprisonment as proposed by the 2015 Statute Law (Miscellaneous Amendments) Bill.
How to apply for a gun
One has to first express interest of owning a gun by making an application to the officer in charge of licensing firearms.
Then fill in application forms from the Chief Licensing Officer at the firearms office, Nairobi.
You have to get a certificate of good conduct from the Directorate of Criminal Investigation (DCI), submit the application form at a nearby police station at fee of Sh2000.
You will then undergo vetting by the National Intelligence Service (NIS) and be vetted again by the Firearms Licensing Board. FLB will either reject or approve your application.
If the board approves your application, your name will be sent to the Inspector General of Police who will again approve or reject the application.
If the IG approves it, FLB will issue the applicant with a license which is renewable annually.
When a person loses their firearm(s) or ammunition gets destroyed, they should report to the nearest police station immediately. Failure to which they will be liable to one-year imprisonment or pay a fine not exceeding Sh10,000.
When the person licensed to have a gun dies, the family should immediately inform the police who will surrender it to the Nairobi based firearms bureau.
If a family member wants to possess the firearm, then they will undergo the application procedure.
Why application may be rejected
An application to own a gun might be rejected if the applicant
· Is insane
· Is temperamental
· Cannot handle or store a gun safely
Reasons for revocation of gun license
·Misusing a gun while drunk
·Storing it carelessly that may endanger others
·Removing the gun's serial number
·Misconduct
·When one fails to renew their licence
·When the gun holder is believed to be a threat to public safety and peace
One can appeal to the Inspector General for their case to be reviewed if the license is revoked.