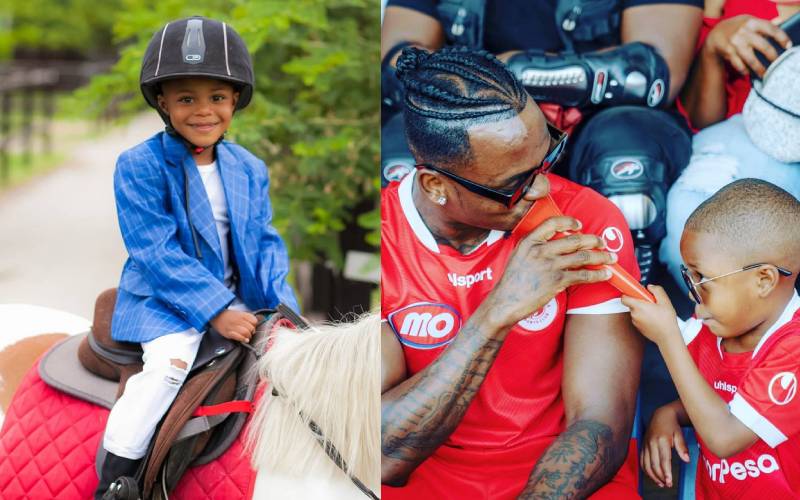 Diamond Platnumz's firstborn son, Riaz Nasibu Abdul alias Prince Nillan has turned a year older. In celebration, the excited father of four sent the four-year-old a birthday message via social media. In the heartfelt message posted on Instagram, Diamond wished for God's blessings on his son.
"Four years ago God blessed me with a cute baby boy, and we Called him Nillan. Happy Birthday my beloved son. May God give you knowledge and wisdom like your father and mother so that you may carry on the legacy we already started and create opportunities for our fellow Swahili people," he wrote.
READ ALSO: Diamond Platnumz unfollows Tiffa and Nillan on Instagram
Zari was not left behind in the celebration as she wished her last born a happy birthday writing, "It's your day lil man, enjoy it to the fullest. Praying for many more years and blessings. Happy birthday."
Nillan's grandmother shared an adorable picture of him petting a horse with the caption, "Happy birthday Nillan, to a long life filled with blessings."
Third birthday
For Nillan's third birthday celebrations, Zari went all out and threw him a luxurious all-white birthday party that became the talk of the town. However, since the ex-couple was not on talking terms at the time, Diamond never got the chance to be part of his big day and resorted to sending his love via social media.
READ ALSO: Diamond and Zari Hassan's son Prince Nillan hospitalized
Diamond and Zari have now put their differences aside and are co-parenting for the sake of their two children. She recently flew them to Tanzania to meet Diamond whom they hadn't seen for close to two years. In an interview with Wasafi TV, Zari expressed her excitement at Diamond's willingness to be part of his kids lives once again.
"I think at this moment and time if I tell you the truth, we are at a co-parenting level that is suitable for both of us. He gets to see the kids, he gets to be in their lives and support them emotionally and financially. However, wanting him back romantically is something that has never crossed my mind, I don't think about it at all," she said.
Related Topics