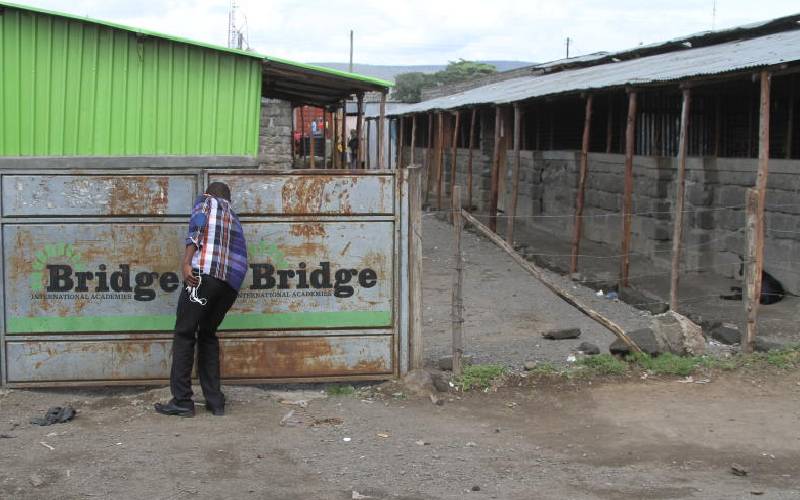 A child who has gone through Bridge International Academies is academically ahead of one who has gone through regular public schools, a study has shown.
The report titled, Can Education be Standardised? Evidence from Kenya, which was commissioned by Development Innovation Lab and published by the World Bank in 2022, found that Bridge International Schools had standardised education and model of learning compared to public schools in Kenya.
Bridge International Academies, an educational programme by NewGlobe, targets pupils in remote, underserved communities in India, Kenya, Nigeria and Uganda.
"After being enrolled at Bridge for two years, primary pupils' test scores were comparable to those among pupils who had been in other schools for more than three years, corresponding to a gain of 0.89 equivalent years of schooling," says the report.
Pre-primary pupils gained more than three years equivalent of schooling, an additional one and half years.
About 82 per cent of Grade 1 pupils in Bridge International Academies in Kenya were found to be more than three times as likely to be able to read compared to 27 per cent of their peers in other schools.
The lead researcher, Nobel Prize winner Michael Kremer, found that Bridge International Academies in Kenya have achieved some of the largest learning gains ever measured by a major study in Africa and that underserved children receive 53 per cent more learning over the course of their pre-primary and primary school career at Bridge.
The study, which was presented to heads of state and education ministers at the Education World Forum, the world's largest gathering of education and skills ministers in London, indicated that after two years, primary school pupils in Bridge International Academies in Kenya are nearly a whole additional year of learning ahead of children taught using standard methods.
For pre-primary pupils, children gain nearly an additional year and a half of learning, learning in two years what children in other schools learn in three and a half years.
In addition, pupils starting from the lowest learning levels gained the most, with girls making the same leap in learning as boys.
Other strategies used in learning include the use of standardised monitoring and management procedures where school heads were trained to observe teachers twice daily and record information on adherence to the detailed teaching plans and interaction with pupils.
"The school heads were equipped with detailed scripts for teacher observation, including guidance for preparing for the observation, what teacher behaviours to watch for while observing, and how to provide feedback," says the report.
The head teachers were instructed to conduct a 15-minute follow-up on the same day to check whether teachers incorporated the feedback and enter their scores through a digital system.
"This study shows that attending schools delivering highly standardised education has the potential to produce dramatic learning gains at scale. Policymakers may wish to explore the incorporation of standardisation, including lesson plans and teacher feedback and monitoring, in their own systems," said Kremer.
Prof Isaac Mbiti, a co-author of the study, said Bridge schools had higher reported instructional time, lower reported teacher absence, and higher reported teacher and parent engagement in child's education.
"Enrolling at Bridge has positive effects on grade progression and on measures of working memory, self-control, and receptive vocabulary. We find positive and statistically significant effects on higher-order skills," said Mbiti.
Reuben Wambugu, managing director at Bridge International Academies Group, said the learning gains in the study prove the holistic and integrated teaching and learning approaches pioneered in Kenya since 2009.
"It is particularly pleasing to see that pupils starting from the lowest level of learning to gain the most from attending Bridge International Academies, and that Bridge pupils are much more likely than their peers in other schools to take the end-of-school KCPE exam," he said.
"We know every child can learn and every child can improve. No child should ever be left behind because of their background," said Mr Wambugu.
At the time of the study, Bridge operated over 400 schools spread throughout most of Kenya's 47 counties, with an enrolment of over 100,000 pupils, accounting for about one per cent of primary enrolments and 0.6 per cent of pre-primary enrolments in the country.