CBC expense riddle: Who will shoulder billion-shilling load?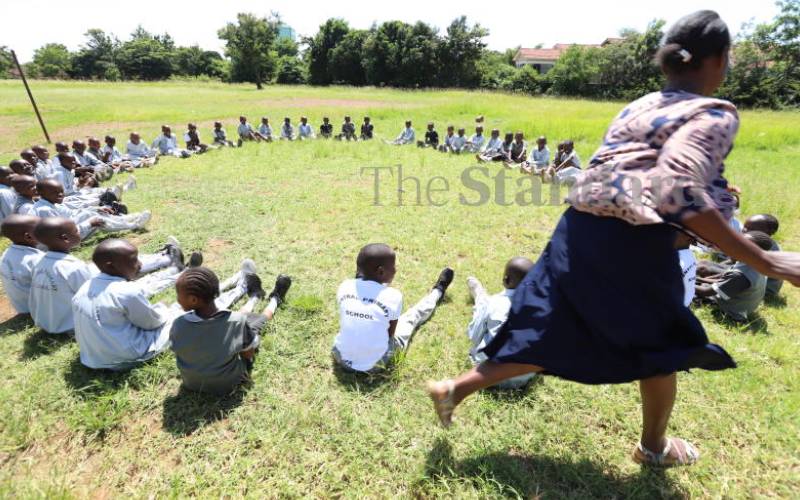 The true cost of curriculum reforms still remains unknown even as the government gradually and steadily introduces the new education system.
Education stakeholders continue to raise concern over the high cost of scrapping the 8-4-4, with questions on how much the government would require to implement the new Competency-Based Curriculum (CBC).
This even as fears emerge that the burden could be pushed down to parents as others termed CBC a curriculum for the rich or enlightened society, which is expensive for both the economy and parents.
Billions of shillings will however be required at basic, tertiary and university levels to construct new classrooms, recruit more teaching staff and train existing staff in the elaborate plan to implement the CBC.
Ministry of Education officials however maintain that the cost of CBC would even be lower in the long run of its full implementation.
Prof Fatuma Chege, the Principal Secretary of State Department for Implementation of Curriculum Reforms said no such cost analysis has been done.
"I may not answer that because many say its very expensive and I do not know where it was calculated," said Chege, who also chaired the CBC taskforce.
Provide details
The report, Taskforce on Enhancing Access, Relevance, Transition, Equity and Quality for effective Curriculum Reforms Implementation did not provide specific details on CBC cost.
However, it recommended that a detailed analysis be undertaken to establish the realistic needs-based unit cost of all levels of education - from pre-primary to university education.
Dr Emanuel Manyasa, Usawa Executive Director said the true cost of CBC must be done to establish apportionment.
"How will we know who will carry what cost, especially for parents and how will those who are unable to bear be helped.
"For now, parents are left to figure out their part through buying books, downloading and printing of homework,' said Manyasa.
Initial projections in 2018 by State-appointed external assessors revealed that the government would require Sh365 billion to start phasing out the 8–4–4 education system during the first four years of its implementation.
The National External Evaluation team led by Prof Laban Ayiro and commissioned by Ministry of Education projected that at least Sh90 billion would be needed annually to roll out the CBC.
The team said that the money would be used to cater for preparation of teachers, recruitment of more staff and development of proper infrastructure during the transition to 2-6-3-3-3.
According to this analysis, even more resources would be needed to roll out the new curriculum to the rest of classes.
These findings were tabled in 2018 during a Multi-Sectoral National Steering Committee chaired by then Education Cabinet Secretary Amina Mohammed.
However, no detail is available whether the government spent the stated amount in rolling out CBC in early years even as implementation moved to Grade Five this school term.
However, a Ministry report tabled before the National Assembly's Education Committee in 2019 revealed that some Sh500 million was needed to build the capacity, mentor and support teachers who were implementing the early years' education learning.
Another Sh500 million was needed to develop standards and evaluation of digital content for grades 4 to 12.
Report said that some Sh470 million was required to develop curriculum support materials for piloting grades 4 to 12.
Development of curriculum designs for grades 4 to 12 was estimated to cost Sh600 million with another Sh100 million for monitoring and evaluation.
Supportive material
The highest budget was however pinned on evaluation of print curriculum support materials for grades 4 to 12, at a cost of Sh1 billion.
Other activities such as orientation of Ministry of Education oficers at the county and sub-county levels and digital alignment of teachers' programmes were to cost between Sh30 and Sh50 million.
Even though the real financial burden has not been made clear even in the CBC taskforce report presented to President Uhuru Kenyatta, it acknowledges that infrastructure and staffing challenges will require huge resources as the new education system is rolled out.
Ministry of Education however says that most of these stated are costs that would still be incurred under 8-4-4 system even without CBC implementation.
"Any education system requires three things: physical infrastructure, teachers and teaching and learning material," said PS Chege.
"Let us not make these part of the CBC costs as they would be needed even without new curriculum."
Charles Ong'ondo, the KICD chief executive, said Kenyans must not mix expenses such as infrastructure and teachers requirements as CBC costs.
"Even if we go back to 8-4-4 we shall still have high teacher demand. There is no time we have had optimal student-teacher ratio. So these are not CBC expenses," said Ong'ondo.
"If we think CBC is expensive, let us analyse the demands of 8-4-4 like tuition but we do not have it under CBC."
Education ministry officials argue that costs will reduce under CBC even on assessments.
They say that a lot of money is used on printing examinations abroad and also to monitor the tests by dispatching government officials to schools.
"So much money go into preparation and administration of examinations presently. This will not be the case any more as assessments are school-based, with little marks allocated to final national examinations. This will be major saving and cost reduction move," said Prof Chege.
Prof Ong'ondo said parents will also not spend money on examinations test papers on the streets or on tuition and learners coaching, activities which increased costs.
Parents are concerned with the analysis of the CBC taskforce that found that central government and households are the largest funders of education.
Under the present arrangement, parents meet direct costs such as boarding and activity fees, uniforms, transportation and meals as government bears the full cost of tuition and infrastructure.
The report finding that donor funding and private sector contributions are not adequate to fully support the implementation of the new curriculum, also raises fears that parents may shoulder the huge burden.
They are already raising concerns over the high cost of assignments for their children and the increasing demands from schools.
Nicholas Maiyo, the chair of Kenya National Parents Association, said some teachers unnecessarily ask parents to purchase items which can be sourced locally.
Burden to parents
"The idea as we understood it, was to get readily available items for teaching and learning without necessarily burdening the parent. But parents are increasingly spending so much money to facilitate learning," said Maiyo.
He added that some schools require parents to buy several books per subject, making education expensive.
Kennedy Echesa, a lecturer at the University of Nairobi said CBC is a practicals-oriented curriculum and parents cannot afford if the government cannot supply the materials.
"It is a good curriculum if implemented well by allocating adequate resources," said Echesa.
Prof Ong'ondo faults parents for not getting involved in the learning of their children.
"If you feel there is an excessive demand by schools, go there and find out why. Why should you buy four books for math when the nearby public school is asking for one," said Ong'ondo.
Parents who spoke to The Standard said that in some cases, they spend up to Sh25,000 to buy computer tablets to help learners undertake assignments.
In other cases, parents said they are asked to download certain learning aids from the internet, while others are asked to buy manila papers to paste some of the teaching aids as part of their homework.
Private academies, it emerged, have the most cases of added costs with parents asked to even take and print photographs.
The huge burden, however, remains the construction of new classrooms or expansion of the available infrastructure to accommodate more learners during the major transitions.
Recruitment of new teachers, retooling of the old staff, developing curriculum designs and printing and distribution of books are also unquantified costs in the CBC rollout.
Course revision for middle level colleges and reviewing of students funding regime, including loans and bursaries will also need huge budgets.