Form One admission: Chaos, congestion in rush for places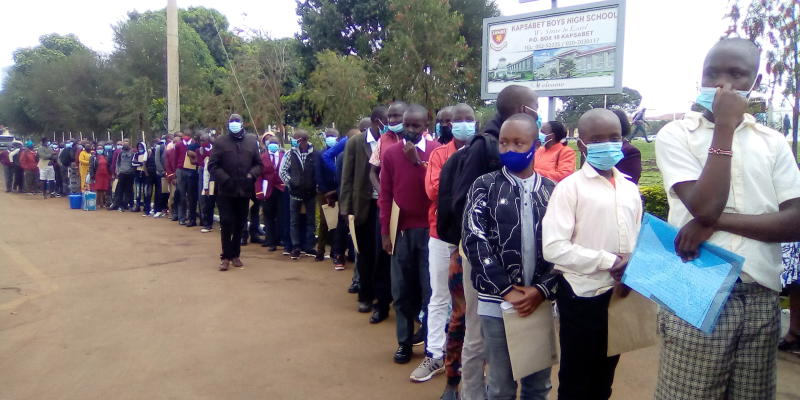 A major crisis is looming as secondary schools struggle to accommodate the high number of students in order to meet the government's 100 per cent primary to secondary transition policy.
Other pupils in the countryside were yesterday staring at the possibility of failing to join secondary school due to lack of fees as parents face hard economic times.
In Nyanza and Western, most schools reported high turn-out of Form One students.
For instance, Maseno School in Kisumu County said his school expected to admit 650 students, 100 more than last year.
"We have had 10 streams for every class, but with the increased number, we have put up two more classrooms for Form One," said Principal Andrew Buop, adding that a 200-capacity dormitory will be complete in two weeks.
Bunyore Girls High School in Vihiga County was expecting at least 450 new students, up from 335 last year. The school principal Mary Akunja said facilities will be overstretched.
The school has been operating six streams in every class. "We are putting up two more dormitories, which we hope will be ready soon," she said.
In Kisii, Nyabururu Girls, which constructed more classrooms and dormitories, was allocated 700 Form One slots.
At Kisii School that has 2,400 students, the management is struggling to accommodate 700 new students. "We are struggling but we must all be prepared for the 100 per cent transition from primary school," said the school head Fred Mogaka.
In Migori County, St Peters Abwao Secondary School in Suna West Constituency is enrolling over 400, or 75 per cent new learners of its current population of 532 boys.
The school principal Jacktone Ogola said the school was given 300 admissions by the government, aside from 100 more learners that had sought to have a chance at the school.
Daniel Aloka, the principal at Masara Mixed Secondary School, said they expect to admit over 400 Form Ones.
In Nyamira, St Kizito Nyansiongo Boys High School which in the past was recording low numbers received overwhelming turn-outs, recording near 100 per cent turnout.
Sironga Girls was expected to enroll 600 new learners, according to the Principal Eva Odhiambo who said most of the students were from far-flung counties.
A similar situation obtained in the North Rift, where parents and their children braved the rainy and chilly weather to take their places in various schools.
In Kapsabet Boys in Nandi, Moi Girls Eldoret and St Patrick's High School Iten in Elgeyo Marakwet, teachers said parents had difficulty clearing first term fees despite the reduction of the annual amount to Sh45,000, from Sh53,000.
"So far, we have already taken more than 400 students and more are still being registered. The school has a placement of 450 students, that translates to 10 streams. This is an additional one stream from last year's nine streams," said Mr Kipchumba Maiyo, the Kapsabet Boys High Chief Principal.
At Moi Girls Eldoret, the Principal Christine Chumba said 404 students, of the total 433 expected, had reported by yesterday afternoon. Chumba said the school admitted 350 students in Form One last year.
"We are excited to have received the good number of our students taking up their slots. We are ready to embark on our programmes," said Chumba.
At the Coast, most parents complained about fees. One student from Kilifi, Samuel Mwagambo, said the Sh8,000 he was given from the Kilifi North Constituency Development Fund (CDF) kitty was not enough to enable him join Shimo La Tewa High School.
Wiping tears at his Kiwandani village home in Kilifi, Mwagambo who scored 374 marks made a passionate appeal to well-wishers to help him. "It was tough going through primary school. I am hopeful that we shall be able to succeed,'' he said.
Emmanuel Charo, from Tezo Primary School, also in Kilifi North, said his ageing mother who is paralysed cannot afford to pay fees. He is also expected to join Shimo la Tewa School.
In Kitui, some 84 needy students have benefited from full scholarships from the office of Kitui Woman Representative after they received a total of Sh3.8 million.
In Central Kenya, Kuppet called on the government to prioritise teachers in the second phase of Covid-19 vaccination.
Led by Nakuru Executive Secretary Duncan Macharia, the union said vaccination will go a long way in protecting teachers.
"As schools admit thousands of new students, there is expected to be congestion which increases the risk of mass infection of Covid-19. Teachers should be given priority in vaccination," he said.
The principal of St Bakhita Bahati Girls High School, Catherine Wangari, said over 200 Form One girls had been admitted by Monday afternoon.
The situation was the same at Jomo Kenyatta Girls High School in Bahati, where the school senior principal Jane Wanja said they were grappling with insufficient space.
"By the close of the admission exercise, we shall be having 1,250 students. We are accommodating some of the students in the library hall. For classes, we have constructed temporary iron sheets structures," said Wanja.
Bahati MP Kimani Ngunjiri said the government was yet to disburse funding pledged by the President to aid in the construction.
"We have constructed new classes at the school worth Sh23 million. We are still waiting for Sh25 million which the President had instructed his aides at State House to release to us," said Ngunjiri.
[Kevine Omollo, Eric Abuga and Anne Atieno, Philip Mwakio, Kennedy Gachuhi, Philip Muasya, Titus Too]