Coronavirus has forced Kenya's education system to adapt to new realities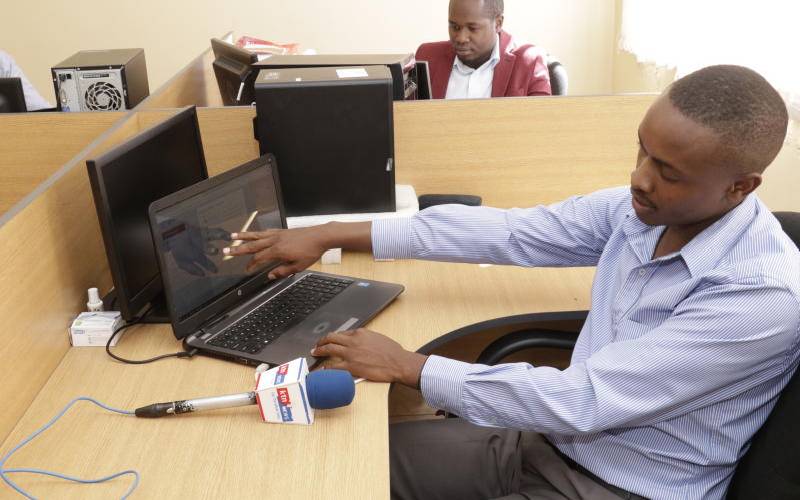 Universities are grappling with higher operational costs and pressure to redefine their degree programmes in view of challenges brought about by Covid-19 pandemic.
While many had long-running and fully-fledged Information Communication Technology (ICT) departments prior to the pandemic, most were moribund, poorly equipped, understaffed and dealt with ordinary issues such as intra internet networks and office computer set-ups.
However, with the onset of Covid-19 early last year, and the resultant travel restrictions, ban on social gathering and closure of school, universities and other institutions of higher learning there has been a need to revamp or overhaul ICT departments to cope with the demand of online education.
According to Prof John Kihoro, of the Cooperative University of Kenya, the pandemic has introduced a completely urgent and capital-intensive dynamic in the way learning and teaching is and will be conducted.
"We had to come up with an institute to spearhead conversion of all learning materials to a digital format to support e-learning. We also urgently bought zoom licences, expanded our servers and hooked up with the Kenya Education Network Trust to give training to faculty and students,'' says Prof Kihoro, the Dean in the School of Computing and Mathematics.
Online training
He says the university had to take the faculty through "aggressive training sessions" on the new Learning Management System to bring them at a level where they can comfortably engage with their students.
Take a quick survey and help us improve our website!
Take a survey
"Of course, some of the older lecturers and some of the students were resistant to these changes. It is quite understandably, but with time, the inevitability of online learning has been accepted and appreciated by almost the whole university community," he says.
Some of the lessons to lecturers started from the very basics, such as how to log in to the system, profile updating, navigating the system and understanding learners, uploading teaching notes and assignments as well as setting examinations.
The same training was also given to learners by IT staff and hired experts to make teaching and learning harmonious.
The Adventist University of Africa is one of the few institutions that had began putting in place the infrastructure to integrate online education in its instructional system in 2016. It already had a large bandwidth for internet access across the campus, cloud infrastructures, a full time ICT director and a full-time online education director. The institution also made it mandatory that all students and lecturers must have laptops.
However, according to the institution's director of online learning Prof Safary Wa-Mbaleka, the onset of the pandemic still pushed them to open a video conferencing studio, set up a comprehensive online database for library services, hire additional IT staff, give modems and bundles to essential staff and provide full-time faculty with enhanced internet connection and uninterrupted power supply units to prevent disruptions.
"One of our biggest investments has been in training our staff and students on digital compliance. We have given intensive training to staff on emergency remote teaching, continued to conduct monthly share shops and weekly online webinars on various aspects of online education as well as orientation to faculty on the use of zoom and moodle," he says.
He adds that the university has also been forced to subscribe to electronic resources such as open access books, journals, online databases and software to prevent plagiarism.
Dr Julius Bosire, of Technical University, said the institute's ICT department has been revamped with regard to equipment and personnel to enable it support e-learning.
"We have all been taken through refresher courses on how to use slides, videos, audios and power point presentation as opposed to the traditional notes and while it has been fun for some of us, our older colleagues naturally found it tedious and unwelcome," said Dr Bosire of Journalism and Media Studies.
He says the university is reviewing its journalism curriculum to jell with the Covid-19 demands and make news products friendly and appropriate for the digital reader.
Industry dynamism
"We are having to do more collaboration with other lecturers in the developing world because the economics of the media has changed in the wake of the pandemic. We must remain relevant especially through online platforms," he says.
The Aga Khan University recently launched a new Executive Masters in Leadership and Innovation to give media managers skills to imagine and develop skills to navigate business viability problems hastened by the pandemic.
"The challenges of face-to-face learning underlined the importance of plans we already had in place to move all of our degrees to a "hybrid" structure, which combines online classes with periodic face-to-face intensives. That is the model of our new Executive MA in Media Leadership and Innovation, which was launched in February.
"Our students are all working journalists, so this model gives them more flexibility to combine work and study, but it also means, we can easily adapt when and if there are Covid spikes or other health challenges in the future," says Prof Lawrence Pintak, the dean at the institution's Graduate School of Media and Communications.
Prof Pintak adds that the pandemic will force media executives, trainers, reporters and editors to adapt to a new reality that will not change soon.
"The economics of media have been turned upside down. There are widespread layoffs and salary cuts. But Covid has only accelerated pressures that were already building. Now media organisations are forced to examine new business models, ramp up their digital transition, and prepare for a very different future. Things will never go back to the way they were," he says.
Prof Gitahi Kiama, the University of Nairobi vice chancellor, says the new investments that institutions have made are paying off in a big way because learning is more collaborative, fun and enriching.
"This whole new world of virtual meetings and webinars are making knowledge flow much more seamlessly. At first it seemed expensive but in the long run, the benefits are clear," he says, adding that the emphasis in teaching is now more on assessments rather than mere class attendance.