It's time to invest in e-learning and teaching as virus disrupts education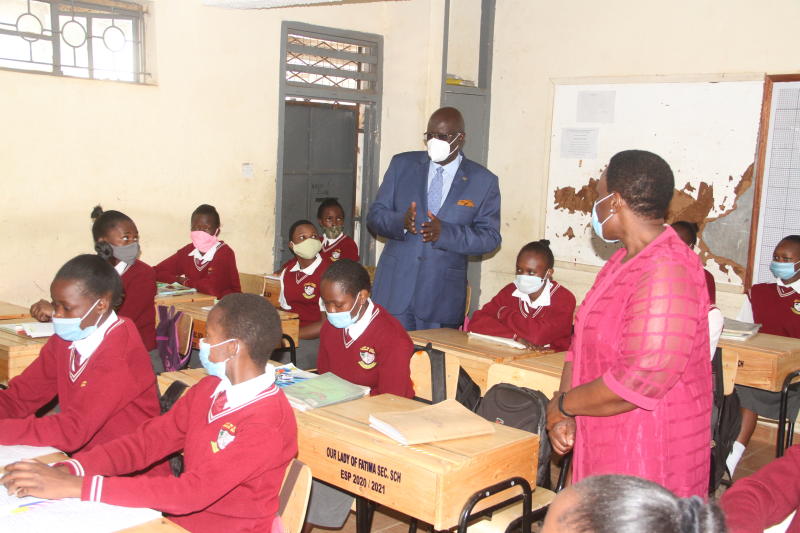 When the pandemic hit Kenyan soil slightly over a year ago, there was to be no shock. After all, for months preceding its arrival, the pandemic had ravaged Asia, Europe and the Americas. As such, it was a truth universally accepted that Covid-19, and its fear-inspiring effects, would soon straddle this landscape like the mythical colossus. In short, the advent of the scourge, therefore, was not surprising.
What has been surprising to many of us is the length and depth of devastation that it has visited upon us. It is not an exaggeration to say that Covid-19 has crippled many spheres of our lives, not least, the enterprise of schooling. While we accept that it was obvious that schools would be forced to close at some point, it would be dishonest to imagine that many expected institutions to remain closed for even half of the time that they have been rendered uninhabitable.
According to the World Economic Forum Report 2020, the pandemic occasioned a shutdown of schools, putting more than 1.2 billion children out of school. Statistics from the same report, released in April of 2020, show that closure of schools affected more than 186 countries globally. As you read this, we are all aware that Kenyan pupils and learning institutions are serving their second lockdown in less than a year, and barely five months after reopening.
Muted impact
In the wake of ominous reality that the pandemic is here to stay longer than may have been previously thought, we have little wiggle room, except rising to the occasion in order to meet the challenges of the moment.
Post-secondary institutions of learning have – because of the nature and venture – circumvented the effects of the pandemic with a lot more ease. However, while universities and colleges have the capacity to initiate and sustain internet based learning and teaching, the same cannot be said of a significant segment of the clients – the students.
A good number of students in our universities and colleges have expressed inability to live up to the times because of several challenges. Chief among their concerns has been lack of access to devices and support infrastructure such as mobile networks. Many have complained about lack of computers, tablets, smartphones and/or modems. With regard to improving the network infrastructure, the Google Loon internet service announced by the President of Kenya mid last year has either had a muted impact, or is yet to begin working in spite of the pomp that greeted its initiation.
Partnerships
To address some of the deficiencies in the foregoing, the government and institutions of learning should explore the possibility of getting into partnership with manufacturers of electronic devices. Such arrangements will ensure that students get access to these at subsidised prices. Between 2009 and 2011, for instance, Kenyatta University got into an agreement with Orange Kenya with the intention of making laptops and modems available to students. Hundreds of students benefitted from the initiative.
In spite of the shift to internet-aided learning, and/or the use of blended learning (which has the internet/technology component), many people remain skeptical about its efficacy. The challenges associated with internet-based learning are the same in many countries, including Kenya. These challenges include lack of prior training and capacity building, poor internet infrastructure, lack of devices and the general shock effect of the pandemic. To the skeptics, the WEF Report 2010 sees a silver lining on the edge of an otherwise dark cloud:
"While some believe that the unplanned and rapid move to online learning – with no training, insufficient bandwidth, and little preparation – will result in a poor user experience that is unconducive to sustained growth, others believe a new hybrid model of education will emerge, with significant benefits," WEF, 2010 states.
Even as efforts have been, and continue to be made by institutions and stakeholders, one will still have to try hard to believe that the 21st Century student is ready and willing to capitalise on these opportunities. Aware of the risk of generalising, I still daresay that the average Kenyan millennial student cannot be trusted to take advantage of these opportunities, on their own volition.
The motorbike mentality is a great undoing
When universities and colleges adapt to the times and introduce eLearning initiatives, yet less than half of the students interact with content mounted on eLearning platforms, then you begin to realise that the problem we have is not just lack of infrastructure, but of mentality too.
We are dealing with a lot of students that remain disinterested in learning online, but who will be found very vibrant on social media sites such as Facebook and Instagram. We are dealing with a crop of students that have been made flabby by the trappings of easy money they earn as a result of betting and riding motorbikes. As we prod the government and institutions to intensify their efforts in facilitating learning and teaching in the midst of the pandemic, if we do not interrogate the mentality of the contemporary student, the efforts may not amount to much.
In this particular respect, it is about time the authorities reigned in on those who permit minors to engage in ventures such as riding of boda boda. For when schools reopened after the first closure due to Covid-19, there was unrest. Perhaps, just maybe, those who said that students felt hard done by the restrictions in schools; that they found it difficult to adjust to a school setup that denied them an opportunity to earn money. Clearly, it becomes difficult to quickly transform a worker, into a student.
When all has been said and done, it is prudent to appreciate that the pandemic has no signs of petering out soon. As such, it is incumbent upon players in the education enterprise to take advantage of the one mode of learning that is compatible with the circumstances. Writing in 'Scholarship America' Nikki Eye suggests that in spite of the setbacks associated with it, online learning remains the go-to solution for now, and perhaps for the future. This, she writes, is because of the advantages it offers: it is convenient, comfortable, available and affordable. Those advantages may not hold for our situation, but it is possible for Kenya to follow the example of countries elsewhere, and invest in internet-aided learning and teaching.
- Dr Wesonga is a lecturer in Literature at University of Kabianga – Kericho