Show of resilience as Garissa University conducts its second graduation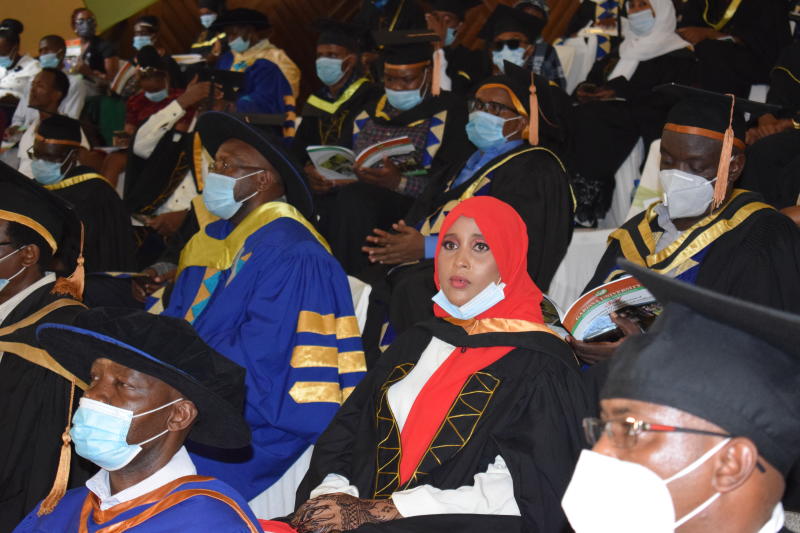 Garissa University today held its second graduation amidst the institution's recovering from the worst terror attack and in the middle of Covid-19 pandemic.
The institution's chancellor Prof Hellen Sambili said the university has overcome so much challenges including the terror attack that almost shuttered the only higher learning in the region.
Al-Shabab militants raided the university in the early morning of April 2, 2015, killing 148 people mainly students and security officers.
Sambili said the Covid-19 pandemic that has completely changed the way of life, has forced them to adopt new to methos of doing things including conducting the graduation virtually.
She said the institution has adopted the new normal by embracing digital studies as well as having classes in shifts.
The introduction of peace and security studies in the university, she said, was remembrance of the attack that she noted will help in maintaining peace and stability across the region.
"We appreciate the security officers, because they have sacrificed a lot in maintaining security in and around the university," she said.
Former Moi University Vice Chancellor Richard Mibey asked researchers in the university to double their efforts to overcome the pandemic that he said have left the economy reeling.
"We are in a difficult situation, researchers must double their efforts to do more on covid-19, biological hygiene has not been taken seriously," he said.
The university's Vice Chancellor Prof Ahmed Warfa said the establishment of Huawei academy has not only expanded the institution's international partnership but also offered training opportunities in ICT to the university and surrounding communities.
He said the university was amongst few higher learning institutions that strategized and embarked on teaching and learning through online platforms.
Seventeen of 462 grandaunts were sub-county and ward administrators from eight Frontier Counties Development Council (FCDC) counties who are pioneers of peace and security studies.
Sigenda Jaldesa ward administrator Bilinga Diba from Marsabit was among those who studied the course.
Jaldesa said the frontier counties had a fare share of clashes as a results of ethnic intolerance, conflicts as results of pasture as well as terrorism, adding that the course will help in maintaining peace and stability in the region.
Garissa University was awarded a charter by President Uhuru Kenyatta in 2017, The award of the charter was to show resilience after the terror attack. The institution started as a Moi University constituent college.