Magoha warns cartels sharing fake exams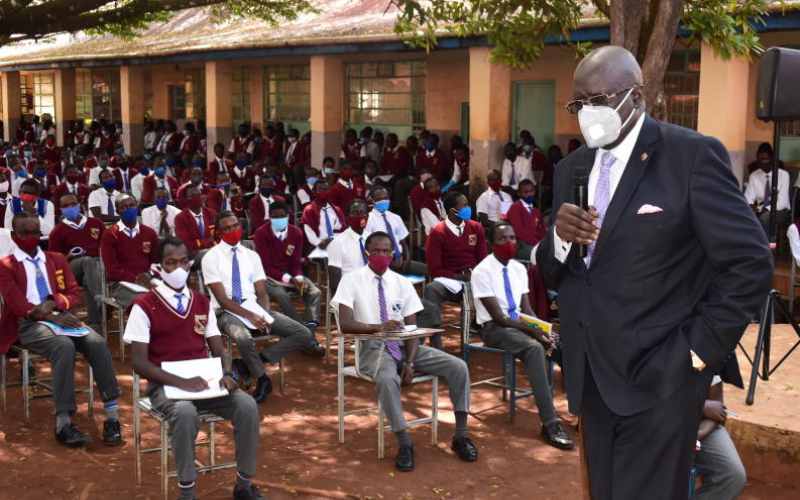 Education Cabinet Secretary George Magoha yesterday warned parents, teachers and students not to fall victim to cartels that are planning to distribute fake national examination papers.
Prof Magoha said officials in the ministry and the Kenya National Examinations Council had information that the criminal gangs intend to sneak in the exams through porous border points at Isebania, Busia, Migori and Kisii.
The CS said the government will not be lenient with any individual caught trying to compromise the integrity of the national examinations that are slated to start in the next two weeks.
At least 1.9 million learners in both primary and secondary schools will write the tests.
"This ministry will not take cheating lightly and this is why we are sending a warning to all those planning to confuse our children or parents that the full force of the law will used against those found culpable," Magoha said at Chavakali High School.
"Schools have made tremendous preparations for the examinations. Even Covid-19 is not a challenge any more. Through the help of county governments who have been instrumental in issuing masks to learners, everything has fallen inplace except for the merchants planning to confuse our children. Teachers should come out strong in such situations."
Magoha urged learners not to worry about the exams, stating that examiners were aware that they had been home for months.
"Do not think that the government has not put the long holidays the learners had into consideration. This is not to say that the tests will be easy. We want our children to avoid anxiety as it is detrimental to them during this period.
"There is a lot of scaremongering and that must stop," he said.