Teachers demand new allowances for handling rowdy students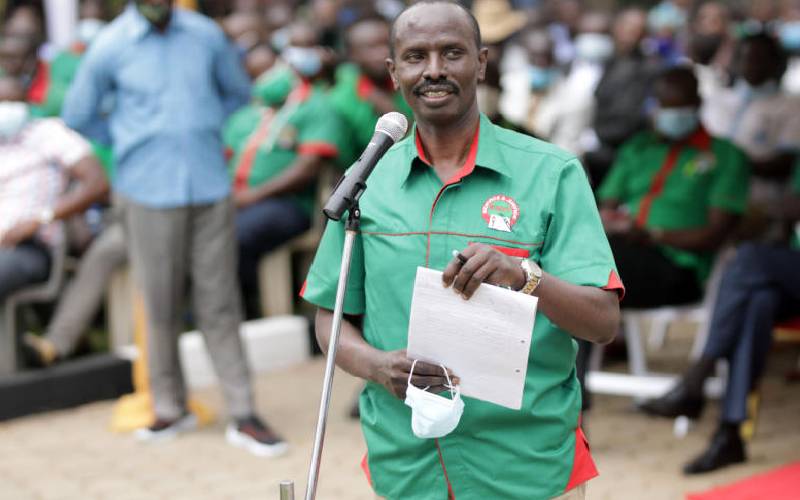 Teachers have continued to pile pressure, through their unions, to demand new allowances and review of their remuneration terms from their employer.
Separate meetings for teachers in Kericho and Nakuru counties saw them agitate for new allowances, which they say are to cushion them from working under risky conditions.
In Kericho County, the Kenya Union of Post-Primary Education Teachers (Kuppet) demanded that the Teachers Service Commission (TSC) pay them risk allowances for handling dangerous laboratory chemicals and "rowdy" students.
"We want a risk allowance so that in case a teacher is affected in any way, their dependents will not suffer," said the newly-elected branch chairman Jonah Korir.
Korir also argued that the teaching profession had become risky, going by the rise in student attacks on their members.
"The cases of indiscipline among students is alarming. There are many cases where students can pick up machetes and axes and attack teachers. That is why teachers must get a risk allowance," he said.
At the same time, Mary Rotich, the branch's new executive secretary, delved into the teachers' medical cover which is handled by AON Minet, saying members from Kericho prefer to be enlisted to the government National Hospital Insurance Fund (NHIF).
"There is a lot of bureaucracy in the AON Minet medical cover. We've heard of many instances where an ailing teacher has been left stranded at the hospital. We demand another medical cover until the AON one is streamlined," she said.
And in Nakuru, a Knut delegates meeting got off on a sour note when one of them was heckled over his alleged endorsement of union Secretary General Wilson Sossion.
The meeting that brought together delegates from Rift Valley and Western regions nearly came to a premature end after the attendees turned rowdy.
The Sunday morning closed-door meeting held at Golden Palace Hotel was also attended by Sossion and regional chairpersons from Rift and Western regions. In a leaked video, the delegates are heard shouting down one of the officials while threatening to walk out.
"It was all about union politics and its leadership. A member made remarks that angered the delegates. We however resolved the matter and continued with the meeting," said a delegate who sought anonymity.
Addressing the press after the meeting, Sossion who is seeking re-election as the secretary-general, steered clear of the politics and trained his guns on the teachers' employer.
Sossion faulted TSC for ignoring their quests for a new Collective Bargaining Agreement (CBA) for the 2021-2023 period.
"Teachers want a properly negotiated CBA which is fully implemented effective July 1. We demand immediate commencement of the negotiations," said Sossion.
Knut Assistant Secretary General Clement Gicharu said the union will continue fighting for better pay for their members despite continued intimidation and forced exit from the union.
"We shall not cease to push for what teachers in the classrooms deserve as compensation for their work," said Chicharu.
The union's Western Region chairperson Charles Namisi called on the TSC to expedite the negotiation of the CBA, which they want effected by mid this year.
"We want this matter dealt with fast to ensure by July teachers are earning salaries on a new scale," said Namisi.
At the same time, it has emerged that TSC has written to the teachers' union that it was in the process of concluding internal consultations with the Salaries Remuneration Commission to pave way for negotiations.
Knut has said it is still ready to negotiate with TSC on the new CBA.
According to the union, there is still room for talks on the salary and allowance increments for teachers because the current CBA ends in June this year.
In a letter dated February 23, Sossion urged TSC to give clear timelines of undertaking the CBA negotiations.
"We urge that you give strict and clear timelines of undertaking the salary negotiations as per section 13 of the TSC Act, section 54-60 of the Labour Relations Act and the ILO Standards to ensure timely implementation of the Collective Bargaining Agreement on July 1," the letter reads.