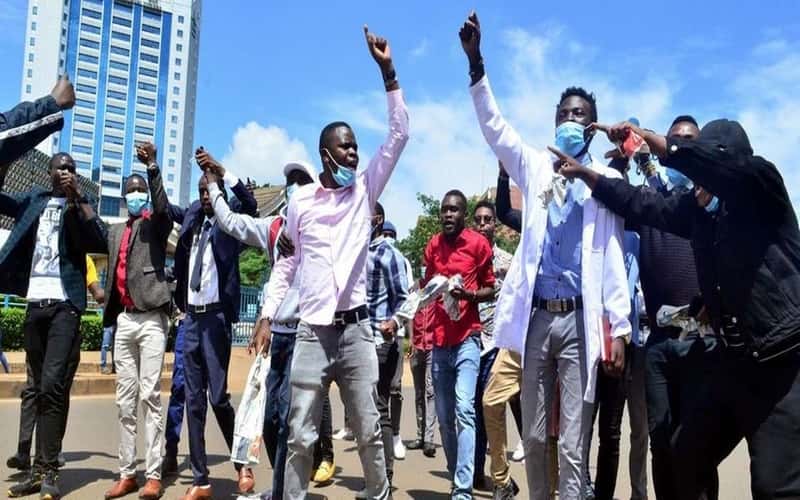 University of Nairobi students have held demonstrations in the city to protest the slashing of their loans.
The Higher Education Loans Board (Helb) reduced the average funding allocation to students by Sh8,000 to Sh37,000 citing effects of the Covid-19 pandemic.

The students marched while holding placards through University way to Helb offices at Anniversary Towers, blocking vehicles using the adjacent roads.

The demonstration a culmination of a memo by Universities' President's Council of Kenya (UPC) calling on all students to convene at Uhuru park's freedom corner to voice "their deepest disappointments with the proposed fee increment and Helb cut".

On December 3, Helb boss Charles Ringera attributed the new decision to the hostile economic effects of Covid-19 pandemic, which has forced most loanees to default on loan repayment due to job losses.

The students were also aggrieved by a decision to increase university tuition fees.

Treasury, MPs and Vice-chancellors resolved to increase tuition fees after they concluded that public universities have been underfunded for years, forcing most institutions to sink into debt and financial crisis.

Student leaders from universities in central Kenya also joined in the demonstrations, asking the
State to reconsider their move lest it will leave many students unable to pay their fees.

"Even in perfect times when we were economically stable, we've seen students deferring. What this will mean then is that many more students will have to defer," said Kirui Victor, President Karatina University.

"The student fraternity always depend on Helb to finance their school fees. It is ironical the government is increasing fees and cutting down on Helb that we always depended on," said Festus Kipng'etich, Secretary-General Kimathi University.

The government's move is a critical blow to parents who always benefited from and looked forward to subsidised school fees and loans for their children.

Helb funding has dropped from Sh45,000 to Sh37,000, while school fees will be increasing from Sh16,000 to Sh48,000 starting next year.