Magoha takes a swipe at scholars, researchers over inaction on virus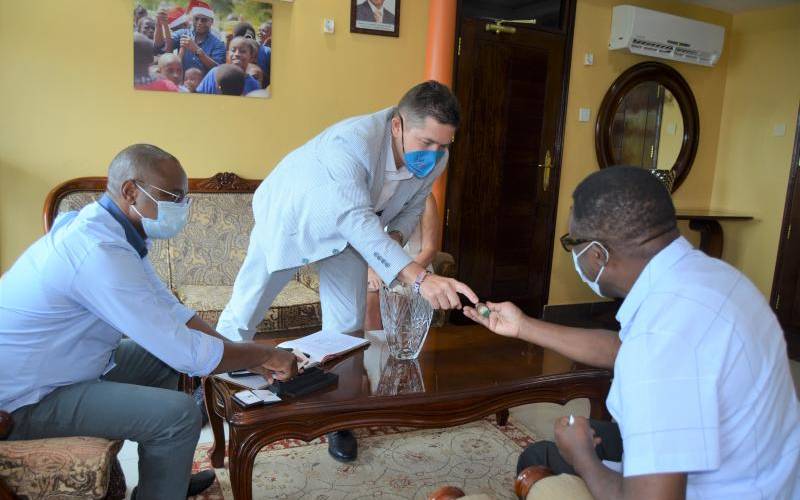 Education Cabinet Secretary George Magoha has faulted university professors and scholars for doing little on research and innovation in light of the Covid-19 pandemic.
Prof Magoha expressed disappointment at the little involvement of local scholars in finding basic solutions to the coronavirus challenges.
"Why are you not researching and giving Kenyans information on Covid-19? Why can't someone even just research on why Kenyans are not wearing masks properly and give a solution to that," he posed.
The CS faulted researchers for spending more time to prepare papers to publish in international journals and hoarding critical information that can be used at this time.
"It is good to publish, but can you also give out quick findings and information that can help Kenyans now? Where are you? Why are we not hearing you even in vernacular," he said.
Kenya National Academy of Sciences chairman Raphael Munavu called for speedy release of Covid-19 research findings by local scientists. "Do not wait for research publications. Share your output as quickly as possible," said Prof Munavu.
Magoha also criticised universities and research institutions for doing everything right theoretically, but with zero implementation.
"We get everything correct theoretically. But when we measure the effects of what has been done, it is zero," he said.
The CS spoke yesterday during the opening of a three-day conference on the importance of coordinated approaches in combating coronavirus.
The meeting is organised by National Commission for Science, Technology and Innovation (Nacosti), the regulator of the Science, Technology Innovation (STI) sector in Kenya.
The theme of the meeting is "STI response to Covid pandemic and infusion into-post Covid recovery strategies." Chief Administrative Secretary Mumina Bonaya and University Education PS Simon Nabukwesi, top researchers, university professors are attending.
Nacosti Director General Walter Oyawa said the meeting would highlight the contribution of the STI sector towards global and regional e?orts in mitigating the e?ects of the Covid-19.
"The symposium will delve on possible science and technology-driven post-Covid strategies for governments and entities," said Prof Oyawa.
Magoha faulted universities and research institutions for citing lack of funds for not leading the way in finding innovative solutions to the country's problems. He termed as unwise, the culture by some researchers and universities to wait for government funding to start research.
"If you have been waiting for the government to allocate two per cent of the GDP towards research for you to start doing something then that is stupid," he said.
Magoha said world over, research money was available for serious proposal pitch.
"We must identify scholars, have organised syndicates or small units trained on research who write proposals that are floated to win research money. Find money for yourselves, we cannot wait for government funding," he said.
The CS regretted that lack of coordinated research had created room for mass production of substandard items, including hand sanitisers. "Everyone is now manufacturing these items and we do not even know their quality," said Magoha.
Prof Ratemo Michieka, the chairperson of African Scientific and Research Innovation Council, called for coordinated approach to research and enhanced linkages.
Magoha slammed the system for not allowing geniuses to upgrade their innovations, saying they are pushed aside for lacking scholarly backgrounds.
"We must now be malleable and take things seriously. These geniuses who produce scientific innovations must be nurtured and guided regardless of their academic backgrounds," he said.
The CS criticised universities for sending old professors on retire, saying they could nurture young scientists and also offer necessary connections for international funding.
"We do not have enough critical nucleus to do research. And those who can do that are being sent home forcefully. Yet these top grade scientists and researchers have bigger output," said Magoha.