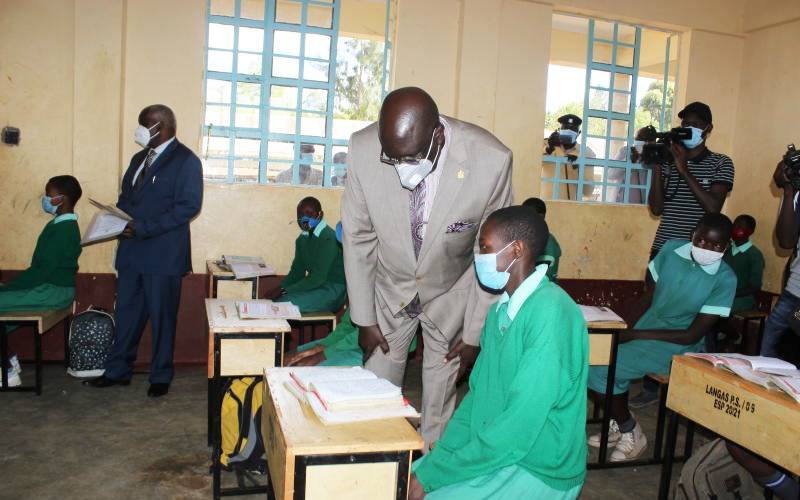 Education Cabinet Secretary George Magoha has warned Migori education officials against fleecing the government through the school desks programme.
In September, President Uhuru Kenyatta launched the Sh1.9 billion school furniture project that will see artisans supply 650,000 locally-assembled desks.
But Prof Magoha on Friday put on notice ministry officials at the grassroots over splitting the deliveries and taking the desks elsewhere.
Speaking when he toured Langas Primary School in Uasin Gishu county, Prof Magoha praised officials from the Interior ministry and field officers who are on guard to make the project a success.
He has also toured Kisumu, Murang'a and Kirinyaga counties.
Read More
Magoha said the Migori teachers stealing the desks risk arrest.
Besides equipping secondary and primary schools, the project which is part of the government's post-Covid-19 economic stimulus programme, is aimed at boosting the jua kali sector.
Speaking during the launch at a furniture workshop in Umoja estate, Nairobi County, the President said the project is modelled on the ongoing Kazi Mtaani youth employment initiative.
"After Kazi Mtaani programme, we have said instead of school desks being made by big companies, we give our youth the opportunity to exercise their skills.
"We believe in individuals earning from their sweat and hence we decided to give our skilled youth the opportunity to earn decent livelihoods," he said.
The Head of State reiterated his commitment to continue improving the lives of all Kenyans by creating an enabling environment for hard-working citizens to thrive.
But the plan by the Ministry of Education to deliver desks, lockers and chairs will not be achieved before the rest of learners resume classes, it emerged in October.
The elaborate tendering process dimmed hopes of immediate delivery of the 622,000-odd pieces of furniture to schools, as the October 19 deadline approached.
A total of 5,254 secondary and 5,136 primary schools are expected to benefit from the programme.
Primary schools would receive 360,000 desks at a cost of Sh900 million while secondary schools would get 263,157 lockers and chairs at Sh1 billion.
Each of the selected primary schools will receive 70 desks as secondary schools get 50.
The Standard has established that no work to assemble the desks, lockers and chairs had officially started, weeks after President Uhuru Kenyatta launched the project in Nairobi.
"We have been issuing the award letters for the last two days and perhaps the actual work may start Monday. This means that in about two weeks, some work will have been done," said a senior Ministry of Education official.
This means that successful local jua kali workshops, artisans or small and medium-sized enterprises (SMEs) at the sub-county level were yet to start working on the desks by the end of October.
Magoha said each of the primary school desks would cost Sh2,500 while lockers and chairs would cost Sh3,800 under the Economic Stimulus Programme.