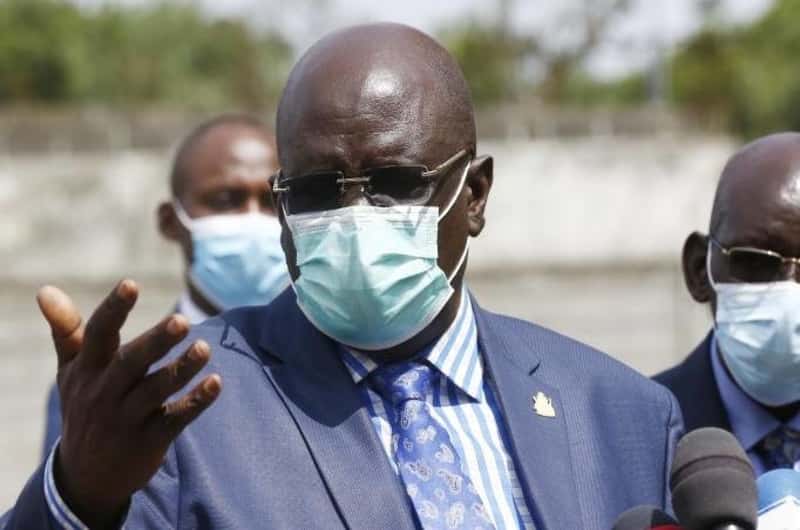 Education Cabinet Secretary Prof George Magoha directed teachers to pay close attention to students with pre-existing health conditions as schools reopen under the veil of a pandemic.

The CS also offered assurance to parents that schools have been linked to health institutions which will be able to provide an immediate response to any arising complication.

"I urge principals and teachers to compile the list of learners with pre-existing conditions such as asthma so that necessary attention can be given to them," said Magoha when monitoring the school reopening at Olympic Primary School in Kibra, Nairobi.

The CS also mentioned that the first batch of students commencing learning are test samples that will allow the ministry to deduce whether it will be safe to allow other lots to go back to school.

"We have started phased reopening with three classes and we should be bold enough to observe them for one or two weeks before we decide as to whether we can risk having larger numbers," said Magoha.

In an institution that has historically suffered inadequate amenities for students, the ministry accepts the challenge of enforcing social distancing, especially for young students who are wired to play together. However, the CS has directed schools to ensure all the necessary measures are put in place.

"Schools must ensure mandatory use of face masks and monitoring of body temperature for learners, staff and all other persons accessing the schools, hand-washing and observance of high levels of hygiene," said the Education CS.

The CS also called upon well-wishers to donate masks for the less privileged students who won't be able to have at least two reusable masks.

Good tiding also came to students who would otherwise be sent home for being pregnant following a call from the CS that all students should resume studies.

"For those children who are pregnant, as we deal with criminals, may I assure them that they have nothing to fear. They should come back to school. Teachers should be empathic with them," said the CS.