Magoha unveils crash plan to salvage lost school time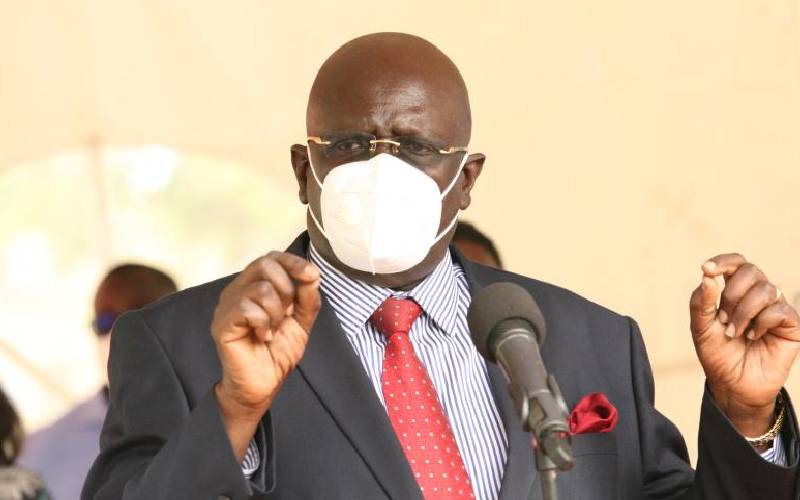 Candidate classes report to school next week Monday to a crash learning programme that will see them sit national exams in March next year.
Grade 4, Standard Eight and Form Four learners will start lessons on October 12 for 11 weeks of second term. They will break on December 23 for only a week after which they will start third term in January.
Other learners resume two to three weeks after the government will have monitored the Covid-19 situation and behaviour of the candidates in schools.
This means parents of candidates and the rest of learners have prepare to take their children for school before end of this month.
Education Cabinet Secretary George Magoha announced that all the 1.9 million KCPE and KCSE candidates will start second term classes next week, with only one week break for Christmas.
Prof Magoha also said the 1.6 million children in Grade Four, the pioneer class of the Competency Based Curriculum, will start lessons next week. This is because Grade Four is also a transition class, expected to join Junior Secondary School after completing Grade Six.
In the new arrangement, third term will last 11 weeks, with lessons ending March 19, 2021. All the candidates will sit national exams next year including the present Standard Seven pupils expected to be in Standard Eight next year.
End of third term
The re-opening of public and private schools schedule released yesterday, says the 2020 KCPE candidates will sit exams starting March 22, 2021, just two days after end of third term.
The three days examinations will end on March 24, just a day to start of the KCSE exams that will last three weeks and three days. Magoha said marking of the two national exams will be spread between April 19 and May 7.
Learners will start term one classes for the 2021 academic calendar in May next year. And with another crash programme, the short academic year will end in December with all candidates sitting their final examinations.
If all go as planned, the normal January to December academic year will start in 2022.
Meanwhile, the Teachers Service Commission (TSC) has instructed teachers to prepare schemes of work, lesson plans and class timetables immediately they report to schools next week.
TSC Chief Executive Officers Nancy Macharia asked teachers to develop innovative strategies and mechanism for curriculum implementation while upholding the Ministry of Health guidelines and protocols on Covid-19, including social distancing, regular hand washing, use of sanitisers and wearing of facemasks.
In a circular dated September 21 sent to Regional Directors, County Directors and Sub County Directors, Dr Macharia also asked teachers to work with relevant stakeholders to ensure classes, dormitories, offices and other amenities are properly cleaned ahead of reopening.
Private schools also released a stern message to teachers to report to work and prepare for resumption of learning. The Kenya Private Schools Association chairman Mutheu Kasanga welcomed the reopening plan.
"We have been ready and we hope to ensure all protocols are adhered to once learning starts," said Kasanga.
The decision adopted by the Cabinet yesterday, is a huge relief to children who had stayed home for more than six months, with fading hope and lost focus.
It is also a major relief to parents who feared for the future of their children. There had been cases of teen pregnancies, drug and substance abuse, forced marriages and child labour among other concerns.
UNICEF, yesterday urged parents to bring children back to school and to support their learning. UNICEF Representative to Kenya Maniza Zaman said the risks children face by not being in school such as drop-outs, sexual abuse, HIV and teenage pregnancy are dire.
Magoha, at the same time, said schools have to adhere to Covid-19 protocols. He said mandatory use of facemasks, monitoring of body temperature for all learners, staff and other persons accessing schools and high levels of hygiene should be observed.
Main challenge
"Schools that do not have running water will use hand sanitisers," he said.
The CS said although physical distancing will remain a challenge, it should not be the reason to keep any child away from school.
He said all schools previously used as quarantine centres have been fumigated under the supervision of the Ministry of Health in readiness for reopening.
Teachers are to provide psycho-social and spiritual support to learners and school support staff. All schools have now been linked to the nearest public health facility.
Parents, on the other hand, have been asked to prepare children for resumption of learning, with the government saying it had met the cost of KCPE and KCSE exams for all candidates.
"Boards of Management, principals and head teachers shall ensure full compliance with the guidelines and protocols issued by the Ministry of Health," said Magoha.
He added: "The Ministry of Education, in collaboration with that of Health will continuously monitor adherence to guidelines for reopening of basic education institutions amid Covid-19 pandemic in order to determine when to reopen for all other learners."
Magoha last week told a parliamentary committee that his ministry was prioritising students in class Eight and Form Four. He said it was time the country opened schools, citing examples of neighbouring countries. He also said children are safer in schools than at home.
He cited Zambia and Angola, which he confirmed have their children in school after emerging from the pandemic. The Covid-19 situation, he noted, may not change in the near future.
Magoha also hinted that learners will not repeat classes because the strategy in place will ensure the academic year is recovered.
This was in contrast to his July declaration that 2020 was considered a lost academic year due to the pandemic.