Bad manners that caused school fires last year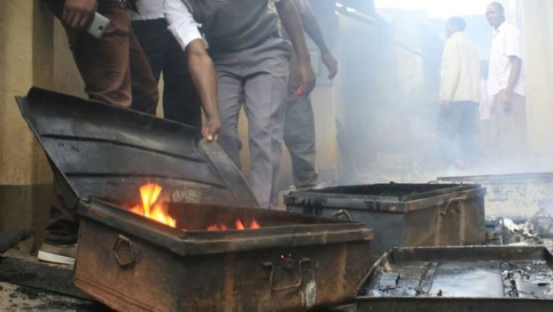 A government report has unearthed major administrative flaws in schools, criminal practices and punishable oversights that spark off students' unrests.
The report of Special Investigation Team on last year's school fires reveals the existence of criminal gangs in schools, drugs and substance abuse, radicalisation, lesbianism, homosexuality and peer pressure, among other factors that must worry you.
Also unearthed by the 11-member team are poor living conditions, blatant disregard of government policies and collusion between students and teachers that threaten the lives of innocent learners.
The Ministry of Education report was commissioned by Cabinet Secretary Fred Matiang'i in July last year, following the 2016 schools arson.
The Saturday Standard can today reveal critical findings of the Clare Omolo-led report presented to Dr Matiang'i last week. A total of 483 incidents of students' unrests were reported last year. Among these, cases of fire were 239.
The unrests were characterised by burning of school buildings, especially dormitories, administration blocks, classrooms and food stores.
In second term alone, the incidents were 429. Of these, 219 were fires and 210 were other forms of unrest. Majority of schools that experienced unrest were boarding institutions, followed by mixed day/boarding and day schools in that order.
In total, 1,075 suspects were arrested after investigations. Of these, 1,029 were students and 46 non-students.
Overall, 809 of the suspects were prosecuted. Of theses, 778 were students and 31 teachers and support staff charged with conspiracy to commit arson, attempted arson, malicious damage to property and arson.
Meru, Makueni, Kisii, Kitui and Machakos counties had the highest cases of fires reported last year.
Incitement
What will however shock Kenyans are the cases of bad manners that have blossomed in public schools and the surrounding environments that triggered the arson.
The government report reveals that some teachers incited students to destroy school property.
"In two schools, deputy principals incited students against their principals in order to discredit them and consequently have them transferred," reads the report.
In some cases, vested interests in headship had a link to unrest in schools. The report says politicians and sponsors also pushed for their preferred persons to lead schools.
"In some schools, principals appointed faced resistance from students and members of the communities because they belonged to other communities."
The host communities also demanded control on supply of goods and services and unrestricted use of school facilities such as fields for grazing livestock.
"Where such demands were not granted due to policies and regulations, they incited teachers, subordinate staff or students against the administration," says the report.
The report also finds that the school routine in some institutions was stressful to the learners. In some boarding schools, learning started as early as 4.30am, against ministry regulations.
The report finds that the routine was congested with academic programmes, leaving little or no time for co-curricular activities and recreation.
Too many exams
"Students had no time for personalised studies since in some cases they had lessons over lunch hour, between 4.00pm and supper and even at night," reads the report.
The report reveals that in some schools, the programmes for the whole term had too many examinations, some code-named 'opener', 'CAT', 'Random Assessment Test (RAT)', 'supplementary' and 'joint mocks'.
"Due to lack of negotiation skills, students resorted to destructive behaviour to vent their anger in order to draw the attention of schools administration," reads the report.
The report further finds glaring oversights by schools administrations, leading to unsafe and poor living conditions for students, prompting unrests.
"It was established that a number of areas of school safety emerged among reasons given for the occurrence of unrests in Term Two, 2016. It was noted that most schools did not have the necessary school safety policy documents," says the report.
Filthy dormitories
Some students confessed that they burnt dormitories so that new ones would be built as what they had were old, poorly ventilated and congested.
"Most of the schools visited had filthy dormitories as evidenced by the presence of bedbugs and foul smell," reads report.
Some principals and education officers however claimed that congestion in school dormitories was due to increased demand for spaces and pressure from the ministry to enroll more students during Form One placement.
"Their (students') accounts stated that they wanted to be away from the terrible school conditions. This explained why students generally burnt dormitories rather than other infrastructure within the school compounds."
The requirements of Safety Standards Manual for Schools in 2008 – a key government policy document – were also largely ignored. The report observed that in some schools, dormitories were not locked all the time when learners were out, which could have encouraged easy access by intruders.
Also, some dormitories were sometimes locked from outside when students were asleep to deter them from sneaking out of the school compounds at night, says the report.
Too many rules
According to the manual, dormitories should have double doors, opening outwards and windows must be without grills. They must also be clean and well ventilated and spaces between beds must be wide enough to allow for maneuver and escape during emergency.
The report further finds that some school rules are too many and contain ambiguous actions of remedy. Some schools had up to 23 rules and 33 sub-rules. One school had five rules and 37 sub-rules. In some cases, the punishment was not deterrent enough as it burdened the parent and not the student.
"In several schools, sneaking out of school was punished through parents buying rolls of barbed wire," says the report. In one school, the punishment after a second suspension was a recommendation for transfer to another school and this encouraged students to commit crimes to earn transfers.
The report also finds that drugs and substance abuse is so entrenched in some schools that stakeholders claimed boys were "drinking alcohol like porridge". The presence of kiosks and bars around schools, porous perimeter fences and expansive compounds were found to contribute to the easy access of the drugs.
"It was alleged that in some cases, teachers and support staff were involved in drug peddling and trafficking," reads the report.
According to the report, some schools instilled fear among students that mock examinations are used by the Kenya National Examinations Council (KNEC) for final tallying of KCSE exam results. In one school, students threatened to burn various facilities, especially where examinations were stored.
The report also finds that some schools have failed to effect total ban of mobile phones in schools by students. In some cases, teachers gave students their mobile phones to use.
Students listed quantity and quality of food, state of facilities, administration of corporal punishment, and academic performance among the key issues that worry them while in school. They further listed sudden change of school rules, not being listened to, rampant caning and peer pressure as major reasons they burnt schools.
A total of 1,304 students, comprising 839 boys and 465 girls, were contacted during the study.
Kenya now seeks Sh35 billion from Global Fund
The fund is expected to help in the fight against tuberculosis, provide support in HIV programmes, malaria, as well other interventions in Resilient, Sustainable Health Systems, for the period 2018 to 2020.