Police arrests in Tanzania and Uganda bode ill for democracy
EDITORIAL
By Editorial | Nov 4th 2020 | 2 min read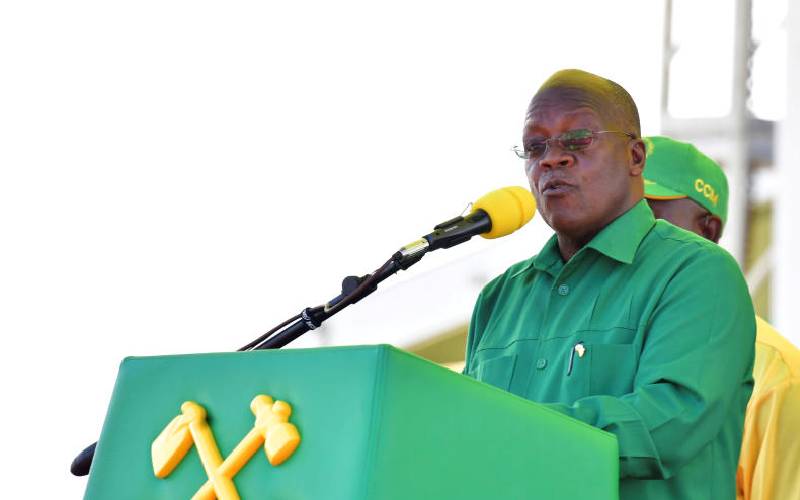 Tanzania's President John Pombe Magufuli (pictured) got an overwhelming 84 per cent of the vote in last week's elections, with his closest challenger Tundu Lissu bagging a mere 13 per cent. In an election marred by claims of intimidation and violence, President Magufuli's Chama Cha Mapinduzi clinched 97 per cent of parliamentary seats, with Lissu's Chadema party losing a substantial amount of seats.
After the electoral commission announced the results, which cannot be challenged in court or elsewhere in Tanzania, the opposition has called for street protests, against claims their victory was stolen. The government has subsequently banned the protests and arrested Chadema chair Freeman Mbowe and other six opposition leaders. Lissu was also arrested, questioned and then released as the police vowed to deal ruthlessly with protesters.
The leaders are accused of plotting mayhem, vandalism and lawlessness in the aftermath of the election. However, the opposition has maintained that their supporters will engage in peaceful protests amid calls for a repeat of the vote. While violence, especially where lives are lost and property destroyed, should have no place in today's world, citizens in a democratic country, have a right to express themselves.
After a contested election, it is in order for the winner to celebrate even as the loser gets a chance to be heard, therefore peaceful demonstrations should not be stifled. In the past, across East Africa, including here in Kenya, the police have been accused of taking sides and being used to settle political scores. Armed police officers have often confronted twig and placard-waving protestors with brutal force, killing and maiming some of the demonstrators.
On the same stroke, we urge tolerance in Uganda where the police arrested musician Bobi Wine yesterday just after being certified to run against President Yoweri Museveni in next year's elections. His arrest and roughing up of his supporters amount to intimidation and is an attempt to suppress democracy.
This is unacceptable if we are to nurture democracy and encourage just governance in the region. The highhandedness deployed against opposition leaders and supporters is uncalled for.
It only helps to harden political positions and fuel conflict. The economy suffers greatly from political instability, pushing more people into poverty and making life generally difficult for everyone.
Governments across the region should allow freedom of expression and resist the temptation to deploy brutal force against peaceful protesters. That's the best way to prove that they genuinely believe in democracy.