Address root causes of recurrent inter-ethnic fighting in Narok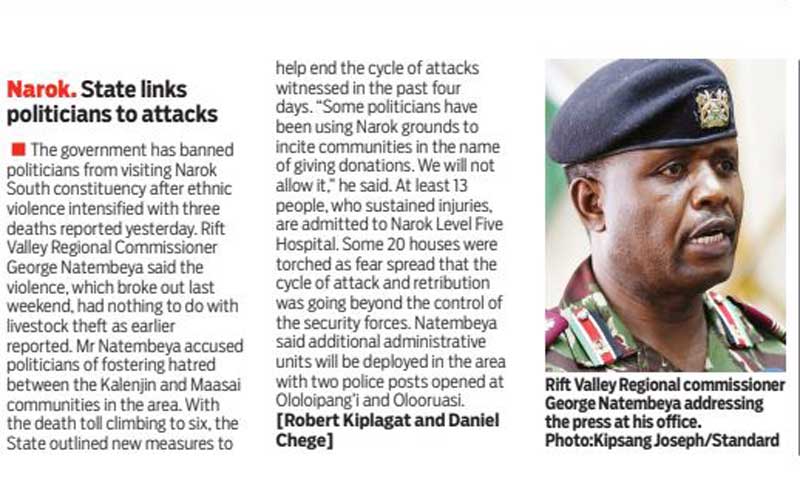 Yet again, blood has been shed and precious lives lost in a fresh bout of inter-ethic fighting in Narok. Six people were killed and 13 injured on Tuesday in running battles involving Maasai and Kalenjin youths on the border of Narok and Nakuru counties. Another person had been killed, 26 injured and houses torched in the skirmishes the day before.
What is shocking is that the fighting was triggered by the theft of a cow. It is incredible that the theft of just one cow by most likely one thief can lead to such bloodletting.
This is not the first such flare-up in the region. There have been fighting between the Kisii and Maasais along the their common border in Kilgoris. There was also fighting between kikuyus and Maasais in Enoosupukia and Maai Mahiu in the 1990s, which were blamed on the late Cabinet minister William Ntimama. In addition, lately there have been been bloody clashes between two Maasai clans in Transmara.
In the latest incident, it appears the cow was merely an excuse; that trouble had been bubbling under the surface. Apparently there are long-standing grievances that should be identified and addressed for sustainable peace to be realised in the region. Land ownership, for instance, has been an emotive issue in Narok, just like in the rest of the country. Competition for pasture and water, particularly in the case of two communities that put a premium on cattle, is also a major point of friction.
These and other issues must be addressed, mostly through dialogue. The warring sides must be made to understand that everyone has a right to live in any part of our great country, as long as they acquire land legally.
Importantly, people must be made to pay for their sins. Unfortunately, no one has ever been brought to justice over the recurrent violence. Even those who were recommended for prosecution by the Akiwumi Commission of Inquiry into Tribal Clashes in 1999 have never been taken to court.
When people kill and maim and no action is taken against them, impunity inevitably gets entrenched. As long as police don't take firm action on those who commit these grave crimes and those, if any, who incite them, we have not seen the last of these ugly confrontation. Notably, politicians are alway accused of stoking the inter-ethnic violence.
Therefore, even as we urge the national and county governments to address the root cause of these clashes, we insist that police must arrest and charge everyone involved in the killings.
And as that happens, residents of Narok and neighbouring counties and indeed the entire country, must be reminded to always respect each other and that tribe means nothing. We are all members of one big family called Kenya.