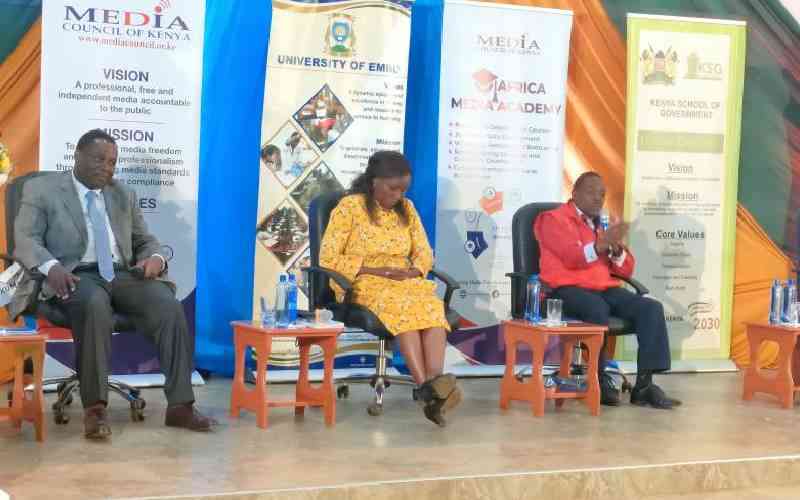 Devolution Empowerment Party candidate Lenny Kivuti skipped the Embu governorship debate on Sunday evening.
Those who showed up were Jubilee Party's Emilio Kathuri, Dr Njagi Kumantha of the Democratic Party and Cecily Mbarire of the United Democratic Alliance.
The candidates centred their discussions around the management of county resources, healthcare and the economy.
The leaders accused the outgoing administration of fairing poorly and having little to show despite the billions of shillings it received from the exchequer.
During the debate held at Embu University broadcast through local language TV stations and radio stations, the candidates shared their manifestos and faced off on various aspects of their agenda.
Healthcare became a major highlight with many residents claiming the current administration had neglected the sector.
Mbarire said because of the sorry state of healthcare in Embu, many patients were seeking services from the neighbouring counties.
"It is unfortunate that residents of Embu cannot get services and have to be directed to private health facilities for X-rays and other scans. A doctor must have a good reason for sending a patient to a private clinic. In some cases, private doctors collude with staff at the county hospitals so that they can get many referrals," Mbarire said.
She said if elected governor, she would ensure the health docket was run by health professionals.
"We need professionalism and at the same time have an integrated health system that monitors and ensures that essential drugs are available at all level two and three hospitals. We shall also ensure there are enough nurses and doctors offering services," she said.
She said her administration would ensure residents have access to a health facility within a radius of five kilometres and offer insurance cover to vulnerable groups.
Mbarire, at the same time, claimed the county was losing on revenue collections that would help revamp health systems, adding that she will introduce a pure digital system to collect and monitor revenue.
On his part, Kathuri said good health was the driving force of any sector at the county and national levels.
"Our hospitals are not working due to a leadership gap that I will bridge in a 'Magufuli' style of leadership," said Kathuri.
He said he would lead from the front with random inspections to ensure all county hospitals were well equipped with drugs and facilities.
He further added that he would introduce a system equivalent to the National Hospital Insurance Fund (NHIF) cover to ensure Embu residents enjoyed subsidised healthcare.
Kathuri said poor leadership had resulted into corruption while the county had missed its priorities. "You cannot hold costly seminars and meetings when health facilities have huge outstanding bills."
He told voters that he would embrace manual and digital revenue collection so that monies collected were accounted for.
Dr Kumantha said health professionals were passionate about their job but had been let down by the county government.
"It is corruption that has affected our health services and here I am coming as an incorruptible person. We must dismantle the cartels running our county government," Dr Kumantha said.
He said he has the experience to resuscitate the health sector having worked as a Medical Officer of Health in the former Embu District.
"With a medical background, I understand what doctors are going through. Every time there is a strike, they resume work with empty promises," he said.
The three governorship candidates were also in an agreement that there was a need for a paradigm shift in the handling of the agricultural sector.
Mbarire said she will initiate a strong marketing department that will source for competitive markets with better prices locally and abroad on behalf of local farmers.
"We must also reduce the price of inputs and fertilizer to enable farmers to get more profits," she added.
Kathuri said he would initiate value addition to get good returns.
"My government will promote facilitation, motivation and an enabling environment to farmers so that they can reap maximum benefits from their sweat," said the former MP.
The governorship debate was organised by the Embu County Professionals Development association, the Media Council of Kenya, the Kenya School of Government and the University of Embu.