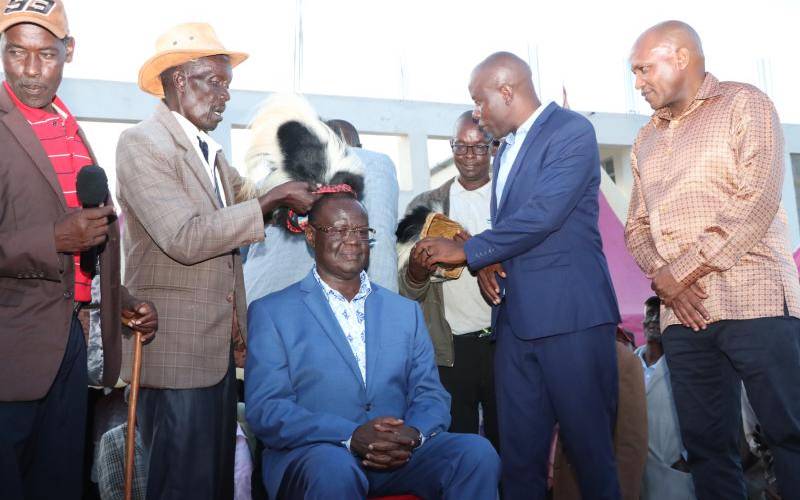 Meru Senator Mithika Linturi and Woman Representative Kawira Mwangaza are each determined to wrestle the governor seat from Kiraitu Murungi.
A bruising contest is shaping up as Mr Linturi and Ms Mwangaza escalate their campaigns against Kiraitu, one of Kenya's veteran politicians.
This comes at a time when the Meru governor, who has the longest uninterrupted term for an elected leader, has said he needed to make a decent exit after seven terms.
He has been elected on different party tickets for six terms, serving as South Imenti MP (1992-2013), Meru Senator (2013-2017) and governor since 2017.
Kiraitu was first elected South Imenti MP on a Ford-Kenya ticket in 1992, re-elected on a DP ticket in 1997, on a Narc ticket in 2002, PNU ticket in 2007, Meru governor on an Alliance Party of Kenya in 2013 and a Jubilee Party ticket in 2017. He is seeking re-election for governor on a Devolution Empowerment Party (DEP) ticket.
Linturi will be running on Deputy President William Ruto's United Democratic Alliance (UDA), Kiraitu will run on his Devolution Empowerment Party, while Mwangaza is running on an independent ticket.
It is a contest pitting three individuals with a huge following in Meru and Kiraitu, who has been convening political meetings across the county to state his case for re-election, is not leaving anything to chance.
Kiraitu points to his work in drilling boreholes and supporting other water projects in the region, mostly concentrated in the semi-arid region of Nyambene, Linturi's turf.
In their campaigns, Linturi and Mwangaza have maintained that delivery of health services is poor, and residents lack support to grow business. They also point out poor roads and other forms of infrastructure.
However, political analyst Gitile Naituli says the role of parties in whoever emerges victor will be minimal.
"People will vote for individuals. I do not think they will look at the parties. But in a very negligible way, the UDA wave could help Mithika Linturi a little bit," said Prof Naituli.
Linturi, first elected Igembe South MP in 2007 and a long-time ally of Dr Ruto, is banking on his record to represent the county at the national level and hopes the UDA MPs in Meru will also contribute to his win, as they are supposed conduct joint campaigns.
At least seven Meru MPs, excluding Igembe North's Maoka Maore, who is in Jubilee, are in UDA and have been campaigning for Linturi for governor.
"And while the candidates are pointing to their development records in pleading for votes, the number of voters from the regions they come from is not to be discounted," said Gilbert Muthaura, a political analyst.
Muthaura said coming from an area with over 30 per cent of total voters gives Linturi hope in the race. He said that Nyambene (Igembe and Tigania), which is Linturi's turf, has historically voted as a bloc.
Close call
"The race will be a close call because none of the three candidates is a pushover. If the Igembe and Tigania vote together as they have always done, Linturi could gain, because there is no other candidate from there. He has also picked a running mate from Imenti North constituency, which has 103,000 voters," Muthaura said.
Muthaura added that there is disenchantment in Imenti North, the host area of Meru town, the headquarters.
"Imenti North people think they are marginalised. Despite being the constituency which hosts county headquarters, it has not had many senior officials in either former governor Peter Munya's or Kiraitu's administrations. They have never had a county secretary, deputy governor, or Speaker.
"They think they are neglected yet this is where the seat of power is. By picking a running mate from Imenti North, Linturi is luring the over 103,000 voters," he said.
"If Igembe and Tigania vote together as they have historically done and Linturi being the only candidate from there, he could easily win the seat. He also expects two-term South Imenti MP Kathuri Murungi, who is running for senator on UDA, might win him some votes because Linturi is also rooting for him," he said.
Muthaura said the growing call for a rotational arrangement could be a factor in the outcome.
"Leaders from the region are saying it is time for Igembe to take the governor seat because Imenti has had it through Kiraitu and Tigania through Agriculture Cabinet Secretary Peter Munya," he said.
Kiraitu points to the achievements in health, agriculture, water and other sectors.
Kiraitu said Meru is the only county with a County Youth Service which he started to empower the youth.
Hundreds of youth have been trained in technical skills.
"We have decided to empower women through the Twaweza programme," he said of a programme that has given groups funds for economic empowerment.
He added: "I have sunk 200 boreholes in semi-arid areas of Meru," he said.
But Mwangaza dismisses Kiraitu's assertions.
Zero development
"Kiraitu is a failure. He has done zero development. I will beat them in their polling stations," she said.
Linturi said his priority is improving healthcare in Meru.
"I am the right candidate to take over as governor. I have interacted with the people, I am accessible, simple and down to earth. I have access to information from the people on what they want and how they think they have been let down by the Kiraitu administration," he said.
Linturi said healthcare is in the intensive care unit.
"With a very demotivated staff and especially in our hospitals, there is nothing you can do. When staff go without salaries, these people cannot function. The aspect of health provision in our hospitals is so key because with a sick society you cannot have a vibrant, progressive economy in Meru. I want to fix that problem," Linturi said.
Linturi has pledged to ensure contracts are given to people in Meru.
"In line with devolution, my administration will ensure money coming to Meru is spent in Meru, builds Meru, for the benefit of Meru people. I want to address capital flight from Meru," he said.
Linturi, who picked Linda Kiome from Imenti North as his running mate, said he believed in the empowerment of the youth, women and People Living with Disabilities and will ensure 30 per cent of government procurement go to the groups.
He said he would establish a directorate to build the capacity of women to access government tenders.
His other priorities will be in agriculture where he pledged to introduce drought-resistant crops.
"I want to make Meru a food secure county. I will have people dealing with agronomy, and livestock, and will have enough extension officers to build capacity of farmers to produce both for subsistence and for commerce," he said.