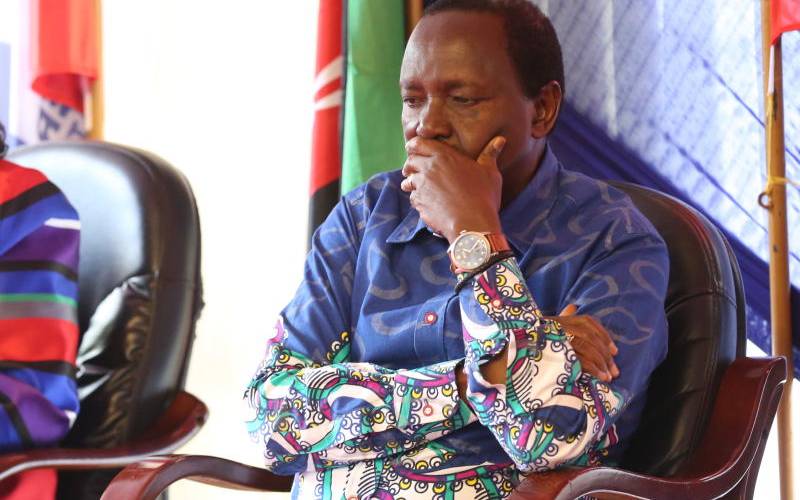 The Wiper party's failure to hold primaries in almost the entire Ukambani region has left many of Kalonzo Musyoka's loyalists disgruntled.
Equally worrying is Kalonzo's reluctance to call a meeting to mend fences. His allies are now taking the independent route, with United Democratic Alliance (UDA) emerging as the major beneficiary.
Johnstone Muthama, the UDA party chair, has praised his party for successfully conducting nominations, in contrast to Wiper that handed direct tickets to candidates.
Wiper held nominations in a few areas, especially for Ward rep seats.
Direct tickets were granted to all other positions in what political pundits say is a ploy by Mr Musyoka to save incumbents from facing voters who seemed determined to vote them out in the primaries.
Political formations are slowly taking shape. In Makueni where Mr Kalonzo's party enjoys the biggest support, there is an emerging second force.
Among the Wiper sacrificial lambs in the failed primaries is Mbula Mutula eyeing the Makueni woman representative seat.
Others aspirants are Willie Malile (Kibwezi East), Mary Muting'a (Mbooni), Francis Mutungi (Makueni), Doughlas Kyondu (Makueni), and Cleopas Salu (Kilome). They criticised Wiper for giving direct tickets to Makueni Woman Representative Rose Museo, Mbooni MP Erastus Kivasu, Kibwei East MP Jessica Mbalu, Kilome lawmaker Thadeus Nzambia and new entrant in the Kibwezi West MP race Jackeline Koni.
Another new entrant who bagged a direct ticket is Susan Kiamba for Makueni.
Ms Mbula said: "I was offered to be nominated as an MCA but I had already made my decision to face the incumbent through the ballot and whoever loses will support the other."
The nominated MCA in Makueni County Assembly is now seeking the Woman Rep seat on an independent ticket.
Ms Museo is seeking re-election a third time but Ms Mbula believes it's time for a change. "She had 10 years in leadership, what new element will she bring?"
Ms Mbula said Wiper needs to invest in youth leadership to grow politically. Mr Malile whose dream to vie under the Wiper party was shattered is confident to unseat the Kibwezi East MP. He has since written to the party demanding a refund of his Sh250,000 nomination fee.
"The decision to hang me and others politically after standing with him (Kalonzo) since 2004 is uncalled for." Mr Malile, who is now an independent candidate told The Standard he was promised an executive committee member position in the Makueni County government.
He accused the Wiper National Executive Committee (NEC) comprising mainly of sitting MPs of making unpopular decisions.
"The Wiper NEC has denied many aspirants the opportunity to fly the party's flag because they are also hoping to retain their seats. Wiper squarely relied on such MPs instead of using the National Elections Board," Mr Malile added.
He continued: "Wiper will have no guaranteed numbers in both Houses of Parliament as well as in the counties due to the bungled primaries." Similarly, Mr Mutungi and Ms Muting'a promised to face the Wiper favourites.
"I am now in the party of God and the people. People must be elected on their abilities, not political parties. I have left Wiper a bitter man, there are people who are rocking the party from inside and throwing able leaders outside," Mutungi said.
Muting'a said women seeking elective positions should be given space to fill the two-thirds gender principle. "Wiper refusing to carry out nominations denied the people of Mbooni their right to get the best leader."
Makueni MP Daniel Maanzo, who is also the Wiper deputy secretary-general, described those decamping to run as independent candidates as wolves in sheep's skin.
"If they think they are popular let them form their own political parties. Every party in the world makes such decisions and if one is not satisfied they are free to appeal the decision," Mr Maanzo said.
Kitui Governor Charity Ngilu, on the other hand, called on voters in Ukambani to choose leaders committed to development.