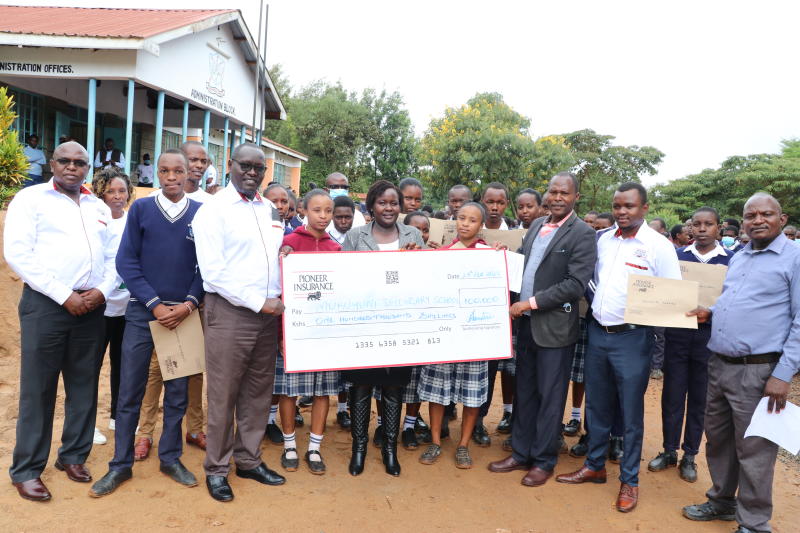 Efforts to negate effects of climate change locally got a boost after a re-afforestation programme was launched in Makueni and Machakos counties yesterday.
The tree-planting activities will be in a number of schools in the two counties, with the first drive being a tour-day exercise at Mukuyuni AIC Secondary School in Kaiti and Kathiani Boys High School, where hundreds of seedlings were planted by teachers and students.
The initiative is an initiative Pioneer Insurance Company,
The insurance firm targets to plant 1,000 trees in every school they visit across 24 counties this year.
"We are picking one school in every county across 24 counties earmarked this year to plant trees and also try to build a culture of a society that loves protecting the environment," said Timothy Mutua, Pioneer's general manager, marketing and customer experience.
According to Mutua, the company wants to inculcate a tree planting among the young generation.
"Young people are the future, and their numbers are high and if they instill a culture of loving and protecting the environment then it means we are safe in the coming years," he observed.
He urged other insurance firms to view climate change challenges as a matter of priority, urging insurance and climate change are interdependent.
"There is a connection between insurance and climate change because we recognise that the people who live in that particular environment are the same people who support insurance, if we plant trees there will be longevity and this way we bring more value to insurance," explained Mutua.
During the tree planting exercise, needy but bright students received bursary awards from the company.
"The company supported us with Sh100,000 worth of bursary for the needy students and also 1,000 seedlings for this school. It is good to support the students in accessing quality education and in reciprocal, the learners protect the environment hence making them responsible citizens," said Ruben Musyoki, principal, Mukuyuni secondary school
Kathiani Boys students also had a day in the field planting trees in a bid to prevent soil erosion. The school is located at the foot of a mountain and is dependent on good conservation of the environment.