Kiraitu Murungi: My party delegates will decide between Ruto and Raila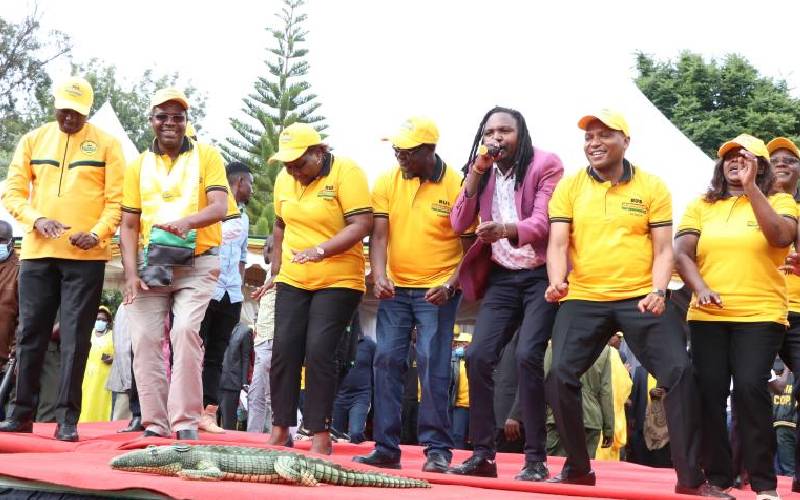 Meru governor Kiraitu Murungi appears to have changed his mind about supporting ODM leader Raila Odinga after a declaration that the decision on which presidential candidate the region will support will be made by delegates of his newly launched political party.
Murungi said his Devolution Empowerment Party (DEP), whose symbol is a bus and colours are green and yellow, will rely on MCAs to settle on the candidate who they will find most popular in Mt Kenya East.
The governor who spoke on Monday when he unveiled DEP's grassroots leaders from Meru, Tharaka Nithi and Isiolo counties, said they will announce their position after residents have settled on their preferred candidate between Raila and Deputy President William Ruto, of the United Democratic Alliance (UDA).
"It is the bus that will make that decision. It is not about Kiraitu Murungi, Mugambi Imanyara (secretary-general) or any other DEP official. We will consult the drivers of the bus, who are party officials, as well as the ward representatives and they will tell us the candidate our people in the villages want," the governor said.
Kiraitu and Agriculture Cabinet Secretary Peter Munya, on October 18, hosted Raila for his Azimio La Umoja campaigns in Meru County and residents to support the ODM leader's presidential bid.
During the rallies, Kiraitu asked Ameru people to vote for Raila with the promise he will revive the miraa market.
"Baba (Raila) is well-known for the fight of the country's second liberation. Would you want him to fight for miraa? Do you want Baba to fight for the youth? You people are the real army for Raila," the governor said.
A few weeks later, Dr Ruto visited the region and accused Kiraitu of trying to impose Raila on the residents.
Ruto who was flanked by Meru Senator Mithika Linturi, Imenti South MP Kathuri Murungi and Mathira MP Rigathi Kachagua accused Kiraitu of trying to sell the political soul of Mt Kenya East to Raila ahead of the elections.
And on Monday, Kiraitu said it is only the people that have the power to decide between Raila and Ruto.
"We will do an analysis of Raila and Ruto before making our choice based on who can help our people better," the governor said.
Kiraitu, who was flanked by his deputy Tutus Ntuchiu and DEP's secretary-general Imanyara, among other officials, at the same time seemed to rubbish the candidature of National Assembly Speaker Justin Muturi's in the State House race even after supporting him.
"The way things are now, Mt Kenya region will not be producing a president again, maybe until after next two decades," he told the party delegates at the Thiiri Centre in Meru town.
He added: "That is why we want to be sure which of the presidential candidates we will follow, between Raila and Ruto. We want a person we will be able to enter into an MoU with so our region's development will be assured under their regimes."
"Power is migrating from our region. There will be no president coming from the Mount Kenya region any time soon. And I am sorry to say that even my friend JB (Justin Muturi) will try very hard but will not make it. We have to admit we will not make it. It (presidency) will move from here for a minimum of 10 years, it could even be 20 years or so," Kiraitu said.
The governor noted that the number of voters in Mt Kenya East is expected to shoot to 1.5 million after the next round of voter registration the electoral commission is planning. "The DEP will wait for those numbers and use them to pick a candidate. We will settle on the one who will protect the interests of residents of this area."
"We are going to listen to the masses and assess the presidential candidates well, to see in whose vision Meru, Tharaka Nithi, and Embu fit better. We are not going to vote for anyone based on their age or anything else other than the welfare of our people," he said.
Ntuchiu urged residents to join DEP in large numbers. He said the party will reduce nomination charges for special groups. People Living with Disabilities who wish to vie on its ticket will not pay a cent.
He said youthful aspirants will pay 30 per cent lower. "Women who will get preferential treatment in terms of the rates we will be charging," said the deputy county chief.
North Imenti MP Rahim Dawood, who attended the event, did not announce whether he had joined DEP only saying he had always been on Kiraitu's side.
But he reminded the congregation that only him and late former Central Imenti MP Mwiti Irea were the only MPs elected on Alliance Party of Kenya (APK) tickets. APK was the original bus party which was among those folded in 2016 to form Jubilee Party.
"I will not tell you today that I am joining the DEP but just like Kiraitu has never lost an election, I have also never lost," Dawood said.