Bikers protest murder of four mistaken for cattle thieves in Kajiado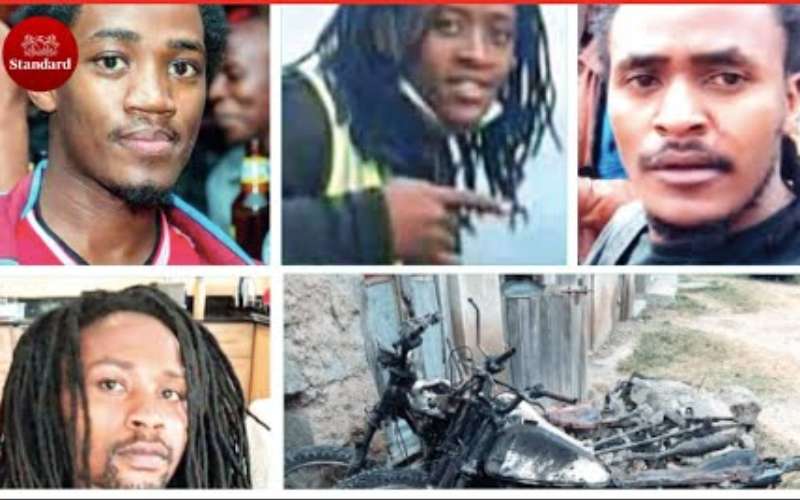 Members of the Kenya Bikers Association have protested the lynching of their four members, mistaken for cattle thieves in Kajiado County last week.
The bikers, led by their chairman Sammy Kiumbe, assembled at Mlolongo town on Sunday, August 15, then rode to Kitengela Police Station, eight kilometers away.
"We are here to seek justice for the four men who were brutally murdered days ago. They were not criminals and we demand the police expedite investigations into their murder and bring the perpetrators to book, "said Kiumbe.
In a show of solidarity, tens of bikers converged at the Sabaki area, dressed in leather jackets, long boots, each in a helmet with some carrying placards, took part in the slow and quiet procession.
They made their way to Kitengela Police Station, demanding to be addressed by the police boss, who was not present, on the progress of the investigations.
Isinya sub-county police commander Charles Chepkong'a has told The Standard investigations pursuing those responsible were underway.
"We are on the ground, investigating to establish what exactly happened to this young men," said Chepkong'a.
Fred Mureithi, 30, his younger brother Victor Mwangi who was celebrating his 25th birthday, and their two cousins Mike George, 29, and Nicholas Musa, 28 were lynched by angry villagers on Sunday, August 8 after mistaking them for cattle thieves.
Relatives of the four young men killed by villagers in Isinya, Kajiado have demanded justice though the family spokesman Joseph Macharia, an uncle, who has said the four were innocent.
"It's not logical that these young men were on a mission to steal livestock as it is alleged. It's not the first time they had visited the area for fun," said a grieving Macharia.
They had left on Saturday, riding on three sports bikes, and proceeded to Kisaju, an area between Kitengela and Isinya in Kajiado to celebrate a birthday.