Children die after floods sweep away houses in Makueni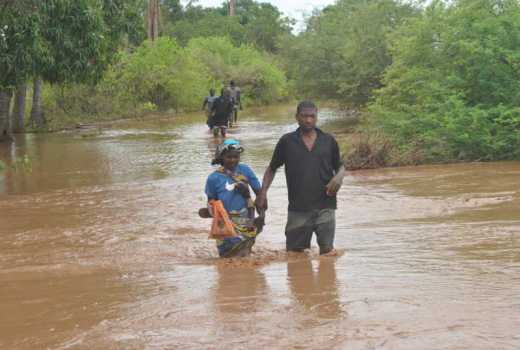 Two children died on Sunday when their house was swept away by floods in Makueni County.
Six other people were injured when their homes were washed away as heavy rains continued in several parts of the country. The six were taken to Makindu Level Four Hospital.
More than 20 families in Kambu and Syumile villages, Makueni County, were left homeless, while three shops were destroyed in a storm.
In Magarini, Kilifi County, more than 250 families were displaced by raging floods after River Sabaki burst its banks.
Three children have died in recent days in the area after they were swept away by floods at Kisiki Cha Mzungu in Magarini constituency, Kilifi County.
Journalists and Kenya Red Cross officials toured some of the affected areas on Saturday and found residents of a sub-location, three schools, and a dispensary marooned.
In Naivasha, a section of the repaired Mai Mahiu-Narok road caved in just a few days after it was repaired.
Heavy rains in Mai Mahiu town and its environs on Saturday night were blamed for the new crisis, which saw the police close one lane of the busy road.
Fault lines along sections of the road, mainly near Karima village, continued to widen, raising fears that the road would collapse again.
Last week, the road caved in, paralysing transport for over 24 hours, before the Chinese Communications Construction Company (CCCC) temporarily repaired the affected section.
The Naivasha sub-county commissioner, Isaac Masinde, said only one lane was being used.
"We have placed traffic officers at the scene to assist motorists," he said.
Makindu Assistant County Commissioner Ooko Anyumba said the children who were swept away were aged two and five years.
Makindu MCA Alfred Kalunde, who visited Syumile and Musingini-Kambu villages, asked residents to be cautious and reminded parents to be vigilant during the rains.
Falling house
"One of the children was swept away as she tried to escape from a falling house," he said.
The rains also destroyed water connections in the region.
The bodies of the two children were taken to the Makindu Hospital mortuary.
Elsewhere, two people died on the spot and several others were rushed to hospital after the vehicle they were travelling in was involved in an accident along the Makindu-Wote road. The driver cited poor visibility as the cause of the accident.
The van was carrying choir members from AIC Kanthitu, who were travelling from Makindu after recording their songs.
One person was referred to Machakos Level Five Hospital for further treatment.
In the Kilifi, reports from the Kenya Red Cross Society indicated that 103 households in Bate, 50 in Kolobani, 35 in Kaya Dagamura, and 38 and 24 houses in Mikuyuni and Kisiki Cha Mzungu respectively were marooned.
Bate Assistant Chief Mbaru Kalama said Dhololo and Dagamura Garashi ward were the ones most affected.
"The situation was worse three days ago when four houses were destroyed," he said on the telephone.
In Nairobi, the body of a woman was yesterday recovered from a four-storey building that collapsed in Ruai on Saturday.
It is believed at least four other people who had been feared trapped under the debris had earlier left the lodging.
Treated and discharged
A caretaker who had been trapped was rescued and taken to hospital, where he was treated and discharged.
Nairobi police boss Joseph Oletito said the relevant security agencies would investigate the incident.
[Reports by Stephen Nzioka, Nehemiah Okwemba, Antony Gitonga and Cyrus Ombati]