Majority of MCAs back motion to impeach deputy governor in 'clean-up exercise'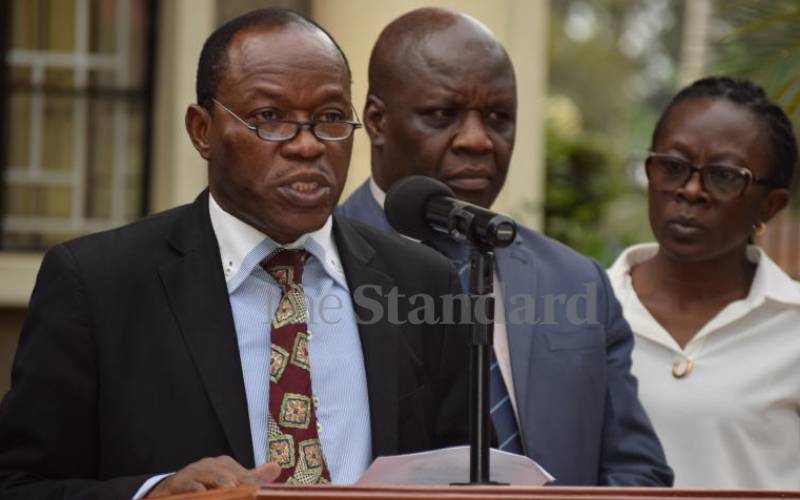 Political wrangles in Vihiga County have taken a new twist after 37 out of 38 MCAs appended their signatures to a motion to impeach Deputy Governor Patrick Saisi.
On Thursday evening, Speaker Hasna Mudeiz received the notice of motion, which was moved by Wodanga Ward MCA Vincent Atsiaya.
It will debated on Tuesday.
The MCAs want Saisi removed from office on grounds of violation of the Constitution, abuse of office and gross misconduct.
The move escalated the strained working relation between Saisi and Governor Wilber Ottichilo. The two have had a strained working relationship with Saisi running a 'parallel' government.
The ward reps seem to blame Saisi for the wars that have been reported in the county.
Shiru ward MCA Nixon Butiya was the only one who did not append his signature to the motion.
Atsiaya maintains that their intention is to clean the county government and get rid of elements that have hindered development through incessant infighting.
This, according to the mover of the motion, is a process that started with the removal of four county executive committee members from office. Four Vihiga CECs were dismissed by Governor Ottichilo following their impeachment by the county assembly.
"We are undertaking a cleaning process. The DG is in government and he is fighting the same government. He is the cause of stalled development projects and poor service delivery," added Atsiaya.
The 37 signatures surpassed the constitutionally required threshold of 15 and the ward reps are confident that the fate of Saisi is sealed.
"The DG will have to go, we are finalising our documentation of every accusation we have against him and next week, we will be sitting to debate on the same," said Atsiaya.
The deputy governor claims that his boss is behind the plot to kick him out. In recent months, the two leaders have not been seeing eye to eye on major issues affecting the county, including the budget.
Uncertainty surrounding the Sh5.8 billion 2021/22 budget that the High Court stopped its implementation, a development that has also been blamed on the infighting between the two county chiefs.
Saisi says he is being fought for demanding that the right procedure be followed in formulating the budget.
The wrangles have been blamed for failed projects and poor service delivery by the county government.
Former county secretary Francis Ominde and political analyst Joseph Simekha are spearheading a drive to suspend the county government.
Ottichilo claims Saisi is behind the move but the latter has dismissed them.
He maintains he is not scared of being impeached, adding he will defend himself in the Senate and lay bare the rot in the county.
"I will be happy to be the first deputy governor to be impeached by a county assembly and face the Senate.
"The governor is behind this and the truth will come out. I will tell the Senate the truth," said Saisi.