Mucheru lauds launch of ultra-modern newsroom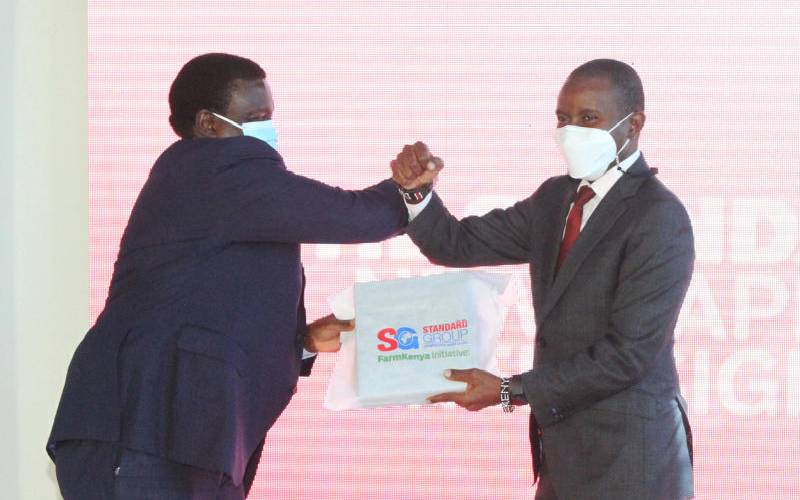 Information, Communication & Technology Cabinet Secretary Joe Mucheru hailed Standard Group PLC for taking bold steps to transform its business model.
At the launch of the ultra-modern newsroom and a new-look Standard yesterday, Mucheru said the changes would put Kenya's oldest media house in good stead in an increasingly competitive, evolving market by serving consumers at their points of need.
The converged newsroom holds the print, broadcast and digital operations of the 119-year-old media house.
Group CEO Orlando Lyomu traced Standard's journey through history, terming the present transformation – dubbed Project Eagle – a gigantic leap.
"The felling of the various silo walls that kept us so close yet so far apart now takes us to the next phase; the tricky part of weaving the different souls to work in concert, dance to one beat, and focus on riding the next wave into a prosperous future rather than on beating the next competitor," Lyomu said.
Robin Sewell, the Standard Group Board chairman said over the decades, The Standard has stood its corner of relevance in an ever-evolving market.
It has demonstrated an enduring spirit of dynamism, versatility and agility that has not only enabled it to remain relevant, but also a strong proposition in the marketplace for discerning consumers, he said.
"The design we launch today is a mirror of what this publication has become over the years. A mature, confident but dynamic newspaper that is proud of its heritage and is in step with Kenya's predominantly youthful and urban population that consumes content on digital channels," he said.
Sewell said the design also speaks to a brand extension effort that seamlessly takes content from the traditional print platform into the digital space – especially to the mobile phone – the uncontested leader in content consumption among our audiences.
"As part of the brand extension effort, the relaunch of The Standard comes with a new website of world-class quality in terms of its look and feel, the content mix and user experience," he said.
Julius Kipng'etich, the deputy chairman of the Standard Group lauded the management for becoming the first media house in East Africa to converge and transform various news and content streams across platforms into one integrated unit.