Uhuru steers clear of politics, promises CITAM's Calisto Odede of support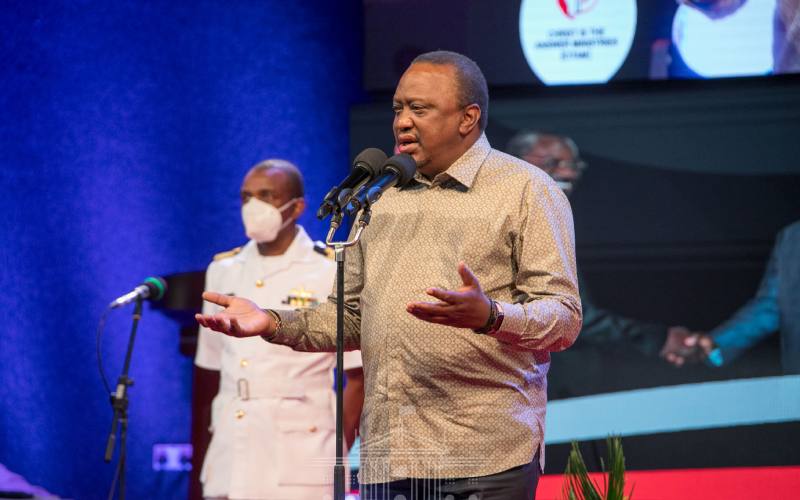 Christ is the Answer Ministries (CITAM) has appointed a new presiding bishop to replace the outgoing Bishop David Oginde in an event attended by President Uhuru Kenyatta.
Reverend Calisto Odede was consecrated on Saturday to preside over CITAM church which has 25 churches and over 30,000 congregants.
The president avoided the temptation of delving into politics despite Bishop Oginde setting the momentum when he hinted on the desire of the church to be part of the Building Bridges Initiative (BBI).
The outgoing Presiding Bishop Oginde spoke in metaphors praising the end of the political stalemate between President Uhuru and ODM leader Raila Odinga that gave birth to the BBI.
Oginde said the March 9, 2018, handshake reflected what the church leaders have been praying and thinking about adding that BBI was a move that the church would have wished to join.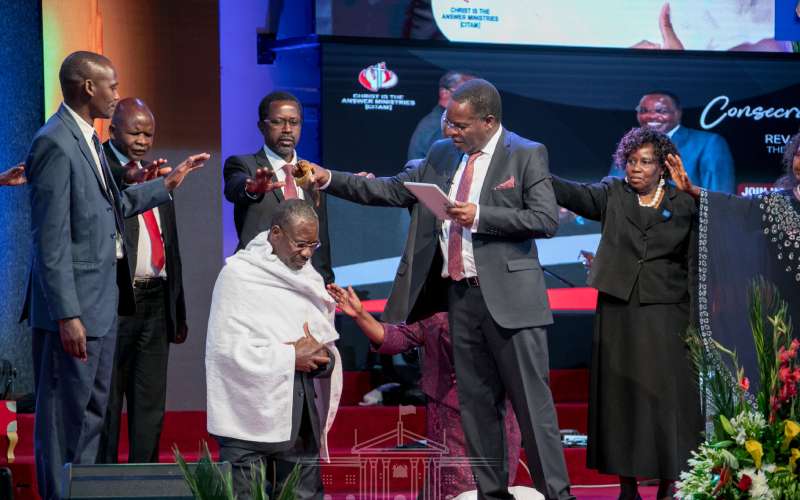 "Some of us have been thinking of how to join but before we were ready, we heard the train had left the station," said Dr Oginde.
While acknowledging the fast-moving events revolving around BBI, Oginde said the quick succession of events had left the church stranded.
On Friday, Odinga received 5.2 million signatures collected nationally to endorse the BBI where he said they will hand over to the Independent Electoral and Boundaries Commission (IEBC) for verification.
"I have seen what has happened in the last few days. We have hopes that we shall catch up. We have a few luggage but I believe you will allow the train to accommodate the church," Oginde said in an apparent plea to Uhuru to involve the church.
Uhuru challenged new presiding bishop Odede to take the leadership mantle with confidence even as he promised support from Government.
"I look forward to working with you. Take up the challenge and do not compare yourself with others," he told Reverend Odede.
Bishop Odede takes over from the outspoken Bishop Oginde who has been in control since 2010.
Oginde took over from Bishop Boniface Adoyo who was in charge between 2002 and 2010.