Truckers stranded at border points over testing hitch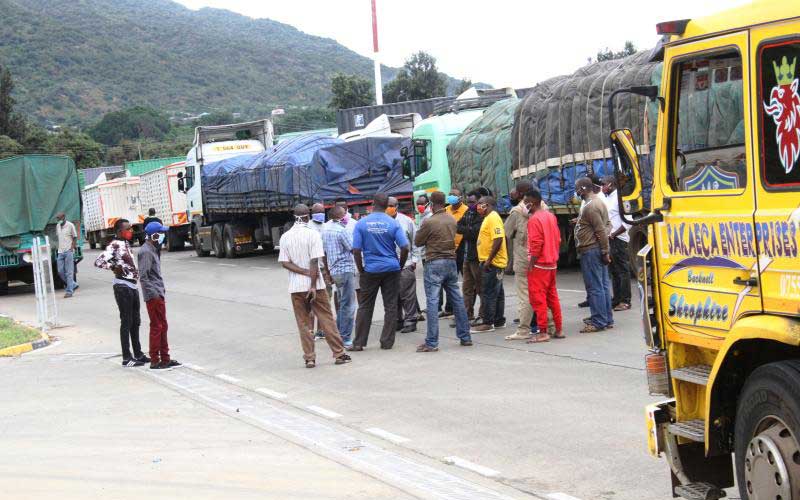 Business at the Kenya-Tanzania border in Namanga grounded to a halt after a disagreement between the two countries over procedures of testing truck drivers for coronavirus.
It has emerged no single truck has entered Kenya from the Tanzanian side for the last one week.
Yesterday, hundreds of truck drivers queued on both sides of the boarder hoping to be tested, causing huge traffic of over 25 kilometers.
This saw many abandon their trips in the ongoing crisis over the matter between Kenyan and Tanzanian authorities.
At the One-Stop Border Post (OSBP) offices, there was minimal activity on either side amid growing uncertainty over the next course of action as the two EAC partners wrangled.
"We have been waiting here for a week. Our goods are perishing while our security is not guaranteed," said one of the drivers Asman Mwambea.
The standoff comes barely a month after the countries agreed to reopen their borders after tension that threatened a trade dispute.
Travel guidelines and restrictions rekindled a festering trade war that has seen both countries impose sanctions on each other and ban trade in certain goods.
Trouble started last week after Kenya's Ministry of Health ordered that all truck drivers must be tested for Covid-19. This was after the Government provided a mobile laboratory.
An officer who works at the lab and who declined to be named said Tanzanian drivers are reluctant to be tested as they say they are uncomfortable with the procedures used.
"They have always insisted they are free from the virus. They claim they have been tested at home yet many of those we have tested are positive," the official said.
The new mobile laboratory has been up and running with the capacity to test between 500 and 600 samples daily. It only takes five hours for a driver to get their results.
A senior officer on the Kenyan side of OSBP said the order to screen every truck driver did not go down well with their Tanzania counterparts.
Strategic entry point
She said the Namanga OSBP remains a strategic entry point for east and central Africa. "However, we are currently witnessing an economic disruption."
Last month, Cabinet Secretary James Macharia led a delegation into a meeting with the Tanzanian officials, led by their Transport Minister Isack Kamwelwe, with a view of resolving the impasse.
During the meeting, officials from both countries, who met in Namanga, resolved to facilitate a seamless cross-border movement of goods as one of the measures to end the standoff.
"Both countries must honour the MoU we have signed to enable free movement of goods across the border. No drivers will be allowed into Kenya without Covid-19 clearance certificates," Macharia said.
CS Macharia said the two countries must unite to protect their trade interests and address the health concerns of their citizens.
East African Business Council Executive Director Peter Mathuki said the diplomatic tiff between Kenya and Tanzania had the weekly volume of goods crossing the Namanga border drop to 40 per cent.
Meanwhile, over 100 Kenyan truck drivers being detained at Sirare on the Kenyan-Tanzania border are facing a humanitarian crisis.
The drivers who are being held on the Tanzanian side of the border said they have run out of food, money while some need medication.
They claimed Tanzanian traders have refused to sell them food and water. Some of them have fallen ill but are unable to access medication as police have allegedly barred them from visiting nearby pharmacies.
The truckers were ferrying millions of shillings worth of goods, some into Tanzania and others in the opposite direction.
"The Kenyan drivers heading to Tanzania were being held because the authorities there said they were doubting their Covid-19 test results. We don't understand why only those driving into Kenya are being detained," said Juma Amenya, one of the drivers.