Sumbeiywo: Moi played crucial role in regional peace and Stability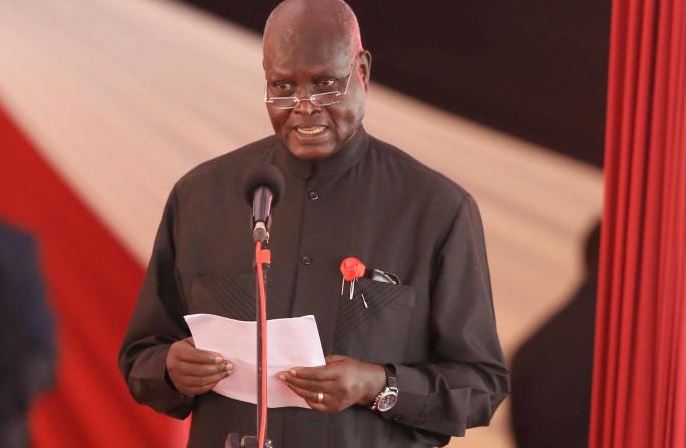 Former President Daniel arap Moi was a leader who sought peace and stability in the East African region, retired General Lazarus Sumbeiywo said.
Addressing mourners yesterday in Kabarak, Mr Sumbeiywo said Moi was instrumental in reviving the East Africa Community, which had collapsed in 1977.
"Mzee understood the power of coming together as a regional bloc and promoting social-political-economic integration," Sumbeiywo said.
"He had mastered the wisdom of unifying the region in order to promote peace, security and stability."
He further asserted that during Moi's reign, foreign policies targeted at promoting peace in the region were mooted, with the former president proving to be a strong negotiator and conflict mediator.
Sumbeiywo said Mzee mediated the Sudan-South Sudan peace deal through the Intergovernmental Authority on Development (Igad).
Difficult task
The mediation led to the Comprehensive Peace Agreement that was signed in 2005.
"Those who remember very well, Mzee entrusted me with this task. He kept urging me to ensure that before he left office, the Sudan peace deal was completed. This was the most difficult task I have ever undertaken," Sumbeiywo said.
The retired general said Moi also got involved in seeking a solution for war-torn Somalia.
He said Mzee supported Igad in pushing for the formation of the Transitional Federal government in Somalia.
Moi was also involved in peace mediation in other parts of the continent, including in Mozambique, Liberia, Zimbabwe, Namibia, Uganda and DRC Congo.
Locally, Sumbeiywo lauded the former president for solving conflicts between pastoralist communities in the North Rift region.
Sumbeiywo served as Kenya's special envoy to the Igad-led Sudanese peace process from 1997-1998.
In 2000, he was appointed Kenya Army General before retiring in February 2003.
Yesterday, he told mourners in Kabarak how Moi was always concerned with the families that had been displaced following inter-tribal conflicts.
"He would hurry to settle families that were displaced when the herders and farmers clashed," said Sumbeiywo.