Wako dares US to make public claims of corruption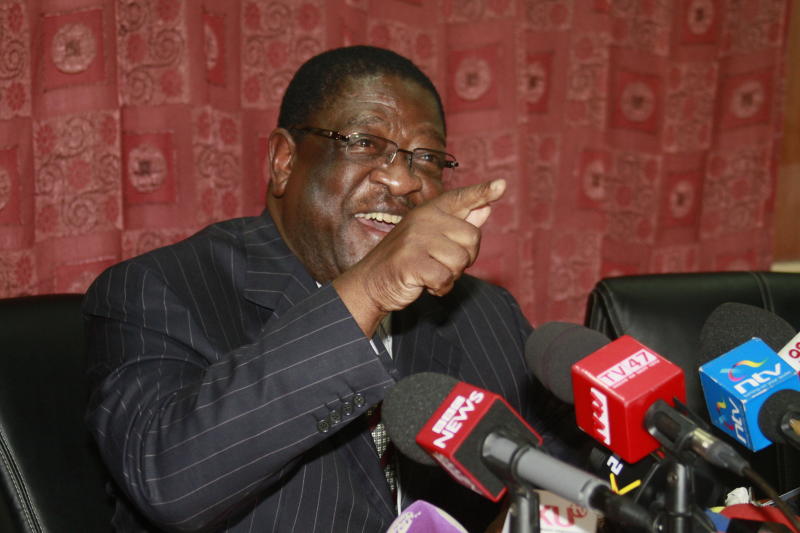 Busia Senator Amos Wako has defended himself against claims of corruption and demanded that US President Donald Trump's administration make public full details of the allegations.
The former Attorney General said he was "baffled and perplexed" by the decision to ban him from setting foot in America without giving him the right to be heard.
Wako, who spoke two days after US Secretary of State Michael Pompeo issued a statement announcing the ban, told off the US, saying he was not interested in visiting the country.
He said this even as he disclosed that he has been visiting the country every year in his official capacity as a member of the International Law Commission since the initial ban in 2009.
He described the 2009 revocation of his visa and the current decision as malicious and with no basis. The former AG further hit out at the administration for engaging in "nebulous accusations and aspersions" that do not help in the fight against corruption.
"The current travel ban is allegedly because of my involvement in significant corruption. They both relate to my period as Attorney General. It is an old story being resuscitated for reasons best known to them," said Wako in a press briefing at Parliament Buildings yesterday.
"Instead of dealing with developments since the travel ban 10 years ago, one wonders why should a travel ban be issued when there is already one in place," he added.
He said the decision has no effect on his role as a lawmaker and a member of the International Law Commission, a United Nations body mandated with "overseeing the progressive development of international law and its codification".
He said he had been voted in twice by the people of Busia despite having the ban hanging over his head.
Yesterday, the US linked its decision to bar the senator and his family from the country to his past without giving specifics.
Christy Doherty, Public Affairs Officer-US Department of State, Bureau of International Narcotics and Law Enforcement Affairs, said no further details would be provided on the matter.
"We will not be providing further particulars, however, while the law does not explicitly define significant corruption, we generally look at the nature of the corrupt acts, including any potential impact on US national interests," stated the State Department Official in regards to the matter.
She stated, "The Secretary of State Mike Pompeo has credible information that Mr Wako was involved in significant corruption while serving as Kenya's Attorney General."
She added, "When the Secretary of State obtains credible information that an official has been involved in significant corruption and/or a gross violation of human rights, the Secretary is required to designate or identify that official and his or her immediate family members under section 7031(c) either publicly or privately."
Monday's ban was the second time Wako, who served as the AG between 1991 and 2011, was being blacklisted by the US. In 2009, then Assistant Secretary of State Johnnie Carson described him as an obstacle to the fight against graft.
But Wako yesterday denied the claims, saying the US had failed to provide a single case of corruption he had frustrated when he was in the Executive. "I challenged them to give me just one case where investigative agencies completed probe and tabled a file on my desk and I refused to prosecute," he said.
He explained that in 2012, his lawyer in Washington DC applied to be handed copies of all the documents relating to the 2009 revocation of his visa.
"In spite of numerous reminders, it took over six months for the US Department of State to reply. The reply was to the effect that they are unable to provide any information on our request," he said.
He took offence with the ban of his wife Flora Ngaira and son Julius Wako, stating that his family members should not be punished over his "sins".
"My family was not involved at all when I was discharging my functions as Attorney General. My son is an adult and a good and successful legal practitioner living an independent life," he added.