Agony as retirees wait in long queues to be counted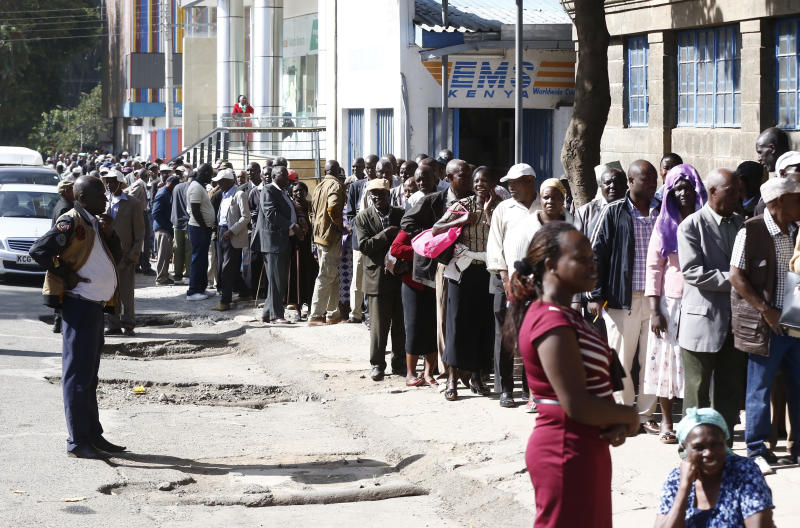 Samuel Ngugi, 62, braved the long queue at the Huduma Centre in Nakuru where he had gone for a headcount of retirees.
The headcount is intended to weed out thousands of ghost pensioners that the State says could be siphoning millions of shillings monthly.
Ngugi, a retired teacher from Kayole estate in Naivasha town, was in low spirits, tired and haggard after spending two days on the queue without being counted.
The father of nine who has a high blood pressure coupled with a running stomach was uneasy. At some point, he would be seen leaving the queue to find public toilets to relieve himself. There are no sanitation facilities for public use at the Huduma Centre.
"This is an agonising experience for me, I travelled from my home on Sunday, hoping that would enable me get services fast enough, but I am yet to be served. I cannot withstand the long queue because of my running stomach," said Ngugi.
Ghost retirees
Ngugi taught in several primary schools, including Naivasha Highway, North Karate and Prisons, before he retired on June 30, 2017.
Ngugi's experience brings to attention the agony senior citizens have to endure to enable the government weed out ghost retirees from its rolls. The Government's ballooning pension bill is expected to surpass the Sh100 billion mark next year.
The Pensions Department estimates that taxpayers are paying relatives and dependents of dead people retirement benefits, aided by the growing use of ATM cards and mobile banking, which do not require the physical presence of beneficiaries in banking halls.
Since Monday, hundreds of civil servants have been braving the scorching sun to confirm whether their names and details are in the government system and present proof of life.
The pensioners drawn from counties in the South Rift region were required to present themselves at the Huduma Centre before the March 22 deadline issued by the National Treasury.
Some of the old persons are sickly and others use crutches to support themselves, yet they are forced to travel hundreds of kilometres to Nakuru.
Standing for long hours is torturous to many and sympathetic police officers provide those who looked sickly and weak with chairs along the queue.
"I do not even know why I am required to come and key in my data here. I served this government for several years and my details should be in the record. This is punishment!" said Peter Macharia, a retired civil servant.
Nancy Sigilai, a former employee at the Postal Corporation of Kenya, from Eldama Ravine has been coming to Nakuru frequently to be counted.
Sigilai retired in 1994 and has been getting her monthly pension, and she was wondering why she was required to submit her documents for verification.
She was forced to spend Monday night at her friend's home at Mercy Njeri estate on the outskirts of Nakuru town as she could not travel back to her home before getting the service.
"The journey back home is tiresome, this is why I am being hosted by my friend as I seek for this service," she said.
Before queuing at Huduma Centre, she said, they were sent to the banks where pension is paid to get the details required for the headcount.
An officer attached at Huduma Centre told The Standard there are 74 employees doing the headcount.
The officers verify documents of the retirees in hard copy and key their personal numbers into the system for pension approval.
"We provide remarks on pensioners after verifying all the data. It is tedious because we are few," said the officer.
The centre manager, Katemo Wangui, said they open their doors as early as 6.30am every day since Monday for the exercise.
"This exercise is more of a verification process. We are confirming the retired members who have been in the system for the ministry to know whether they are genuine pensioners or not," said Ms Wangui.
Wangui said they were trying to use the available manpower to make sure the exercise ran smoothly.
Nakuru East Deputy County Commissioner Harman Shambi said the exercise was being conducted by officers from the pensions department from the headquarters in Nairobi.
Shambi admitted that the senior citizens were subjected to suffering and said his department had proposed to the county government to find a more appropriate venue for the exercise.
"The old cannot withstand hot weather, they do not have the strength to queue and also majority are sick. Though it is tedious to them they will at long last get their benefits as expected," he said.