Curtain falls on legendary musician Ayub Ogada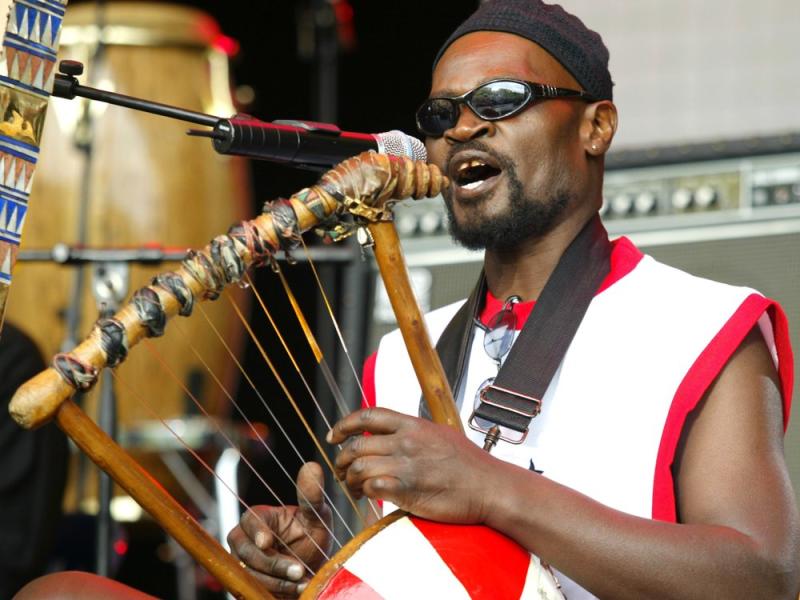 The sun has set for one of the brightest stars in Kenyan music history, Ayub Ogada. The legend, who put nyatiti on the map, was discovered dead at his residence in Nyahenya, Kisumu County, on Friday evening. He was 63.
Born Job Seda in 1956, Ogada is arguably one of Kenya's greatest musicians. His memory lives on not only in the music, but in the hearts and hands of countless musicians that he has inspired the world over.
Musicians Suzanna Owiyo, Makadem, Rapasa Nyatrapasa Rapwapwa, Daniel Okiror, Papillon and Daniel Onyango, are just but some who attribute their love for music and nyatiti, to the legend.
"It is Ayub who inspired my generation to pick up the nyatiti and continue telling our stories. His music will forever be with us," writes nyatiti player, Daniel Onyango, in a eulogy.
He also played other traditional musical instruments such as kalimba, orutu and traditional flutes, as well as contemporary instruments like the guitar and piano.
His death comes just weeks after the passing on of Kenyan bass player Bruce Odhiambo, Zimbabwean musical legend Oliver Mtukudzi, and a year after the death of renowned South African trumpet maestro, Hugh Masekela.
"I hope younger Kenyan musicians will google your name and realise that you and African Heritage Band are the reason they exist," commented David Murithii, chair of the Music and Copyright Society of Kenya.
In 1979, Ogada co-founded the African Heritage Band with American Alan Donovan, one of Kenya's most prolific ensembles. Together they produced two albums: Niko Saikini and Handas.
"I would be nothing without this man," said Ayub, referring to Donovan, during an interview in 2016.
He composed Koth Biro, while still in high school and playing with his band, Black Savage. The song - a global hit - would then appear on his first album, En Mano Kuoyo, released in 1993.
Ogada recorded two subsequent albums, Tang'uru (1998) and Kodhi (2015), a collection of albums that gave us Obiero, Dicholo and Ondiek, among others.
Dutch newspaper Trouw reviewed Ayub's third album, Kodhi, giving it four out of five stars: "It is a beautiful and sober record full of simple but profound songs… The repetitive patterns in the rhythm and melody create an invocatory effect, a friendly rhythm wave, which is lulling rather than goading. Such thriftiness and simplicity are allowable because of Ogada's incredible voice... Every line is impressive, although Ogada doesn't seem to need to impress. Quiet and grandiose."
Isaac Gem, Ogada's sound engineer with whom they played together in African Heritage Band and one of his dearest friends, said the singer collapsed at 4pm on Friday and later died. Gem, who talked to Ogada's wife Yvonne, said the singer had been sick for some time.
Second track
"Ayub was a genius. He channelled music in a very spiritual frequency. He perceived life as a very simple picture. He stopped at nothing and was the most frank gentleman that I will ever know. He taught me what humble means to any human being. That's the legend Ayub was to me," Gem said of the friend he had talked to earlier the same day.
"It was a unique experience for me as an actor as his soulful music touched me to feel and perform beyond my limits," said veteran actor Raymond Ofula.
Ofula is among the many fans who mourned Ogada. In his heyday, Ogada hit headlines on his many tours of Europe.
"We are all on that road to the final destination. Sadly, Ayub Ogada beat us to it, but his music will continue to reverberate throughout the world," said Tabu Osusa, the celebrated producer who took issue with the media and state for not recognising Ogada's works.
Kenyans and the world may also recall award-winning films like Out of Africa (1985) and Kitchen Toto (1987), where Ayub Ogada (as Job Seda) played starring roles. As a musician, he was involved in the sound design of I Dreamed of Africa (2000), The Constant Gardener (2005), Samsara (2011) and The Good Lie (2014), and more.
He is also credited as a contributor in the second track in Kanye West's 2018 Album, YE, a credit which he was unaware of during its release.
Last year, Kanye West produced a song, Yikes, in the new album, YE, using parts of Ogada's 1976 song, Koth Biro.
YE is a follow-up to 2016's The Life Of Pablo recorded in Wyoming and is 23 minutes long over the course of seven songs.
Ogada believed the level of fulfilment for an artist depended on what they wanted to achieve.
"Do they want to make money or to live?" he would ask. "If you want to live and for your music and message to live on, then play. I don't play music for money. This is my life, so I play music to live," he would say.
He often questioned life after death, religion and the material world. "Energy does not disappear. All the years of experience and memory do not just fizzle out when you die - the universe cannot allow this. Energy only changes," he would say.
He was a man of charisma, humility and intelligence. He lived a simple life in his Kisumu home.
In the last few years until his death, Ogada devoted his time to his family and his beloved nyatiti.
He is survived by his wife Yvonne, four daughters - Taslin, Maeble, Miski and Ladasha.
"When you're dead, nobody knows it, not even you. You're just gone," he once said.
Ayub Ogada may be dead, but his legacy will live on.
[Additional reporting by George Orido]