Justice Lessit explains the difference between bail and bond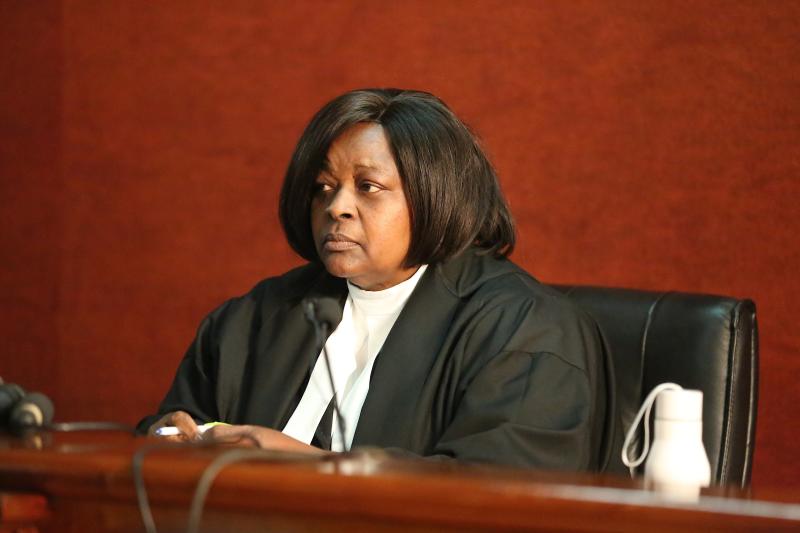 A lot has been said in the past regarding accused people being granted bail or bond before the actual cases are heard in court.
With speculation rife that most cases in Kenya "end" after the accused pays bail, we sought to find out from Justice Jessie Lessit, who, initially heard the Sharon Otieno and Monica Kimani's murder cases and the Vice-chair of Bail and Bond Implementation Committee Clement Okech. Justice Lessit has since recused herself from the Monica Kimani case.
Here is part of that interview aired on KTN News.
What is the difference between bail and bond terms in Kenya?
Lady Justice Lessit: There isn't much difference. When you say you are releasing someone on bail, it means the court has the discretion to order that some money be deposited so that the person can be released. Sometimes, the court does not want any money deposited and instead asks for security or surety and then you release the person on the money quoted on bond.
Are all offences bailable in Kenya?
Justice Lessit: Yes they are under the new Constitution subject to the existence of compelling reasons.
Why?
Before, some cases were not bailable. The sentences for these offences was capital which means a death sentence. However, under the new constitution, Kenyans felt the need to let everybody have a right to justice and also for courts to have powers to determine who should or should not be released.
Was this a mistake?
This was a decision by Kenyans for Kenyans which dictates that every person be released on bail and therefore, it's upon court to decide.
What is a fine?
Clement: Fines are the punishment that comes after conviction. They come after the due process of hearing has taken place and you have been found culpable of the offence.
What determines the amount of bail or bond?
Clement: There are several factors that go into that. Each case is considered on its own merits and circumstances. The issue of whether you appear in court is material.
President Uhuru has accused Judiciary of giving lenient bail terms to accused persons especially those accused of graft. Shouldn't there be a correlation between the intensity of the crime and the bail granted?
Justice Lessit: Everybody has a right to bail according to article 39 of the Constitution unless there are compelling reasons. A court also has the duty to give reasonable bond terms. You cannot fail to grant [suspects] bail because they have not yet been convicted or tried. We also look at the circumstances of the person. Look at what they can afford.
Now let's say for instance you have two individuals from different backgrounds who have committed a similar offence. The rich individual affords to bail themselves out but the poor one does not. What do you do in such a case?
Justice Lessit: Sometimes, it is difficult to know the circumstance of the person after giving bail terms. The other option is to ask probation to conduct a social inquiry into the background of the person so that we will be able to know what they can afford. A third option would be to listen intently to the defence as it lists what the person's circumstances are during submissions.