Governors lose bodyguards as scale down on VIP protection begins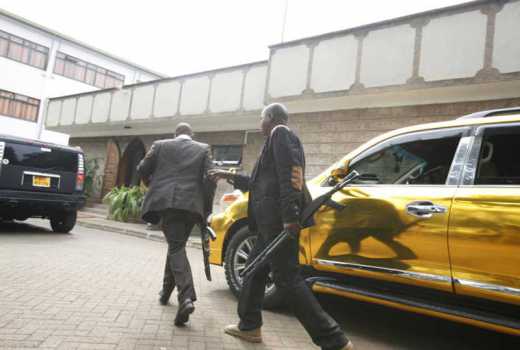 Governors are set to lose half of their armed bodyguards, as the Government scales down the number of police officers assigned for VIP protection.
This came as it emerged that some private ranches have up to 200 armed officers who are paid by the State.
Officials said some governors have up to 10 bodyguards, four of whom are attached to their homes.
Already some governors have complained that some of their bodyguards have been withdrawn. For instance, some of the officers attached to Nairobi Governor Mike Sonko have already been recalled.
The Police headquarters has instructed county commanders to confirm the number of officers attached to the governors as escort and bodyguards.
"As a matter of urgency, please confirm the number of officers within your divisional area currently attached as escort or bodyguards to governors. Please treat this as urgent," said a memo sent out on Tuesday.
Kilifi governor Amason Kingi said he had received an earlier circular, indicating that governors are only entitled to five security officers.
However, Kingi yesterday disclosed that he had less than five bodyguards. He wants the Interior ministry to ensure governors get the requisite number.
"The ministry should rationalise the process so that county bosses who have excess security officers can surrender them to be assigned to others. Let all of us get the right number of bodyguards," said Kingi.
Bodyguards attached to parastatal chiefs have also been recalled. The parastatal bosses have been advised to seek services of watchmen.
Interior Cabinet Secretary Fred Matiang'i had last week announced plans to scale down officers seconded to VIPs by half, within two months.
Dr Matiang'i said recalled officers would be deployed to protect ordinary citizens and their property.
About 12,000 officers are assigned to VIPs as drivers, bodyguards and messengers.
The CS is said to have been angry after being informed that some private ranches in Laikipia County are guarded by armed police officers.
"Some private ranches have up to 200 armed officers who are paid allowances by the State. Some VIPs have up to 12 bodyguards when Kenyans are suffering," said an official aware of the plans.
Matiang'i has also told private security firms that the government will withdraw armed police from the Cash In Transit from July. This will leave the responsibility of escorting cash and other valuables for various institutions and individuals to the firms themselves.
Matiang'i told managers of the firms the government will issue gun licenses to vetted companies who will then arm their personnel to protect businesses.
Kenya has more than 100,000 police officers. The UN recommended police to civilian ratio is 1:450. President Uhuru Kenyatta has been keen on mass recruitment of police officers.
A team headed by former Kenya Airways CEO Titus Naikuni had proposed that some of the officers assigned to VIPs be released to undertake their core responsibilities to avoid a case where they are underutilised by being deployed to work for a few VIPs at the expense of the majority.