Scam: 132 aspiring soldiers end up in police cells after being conned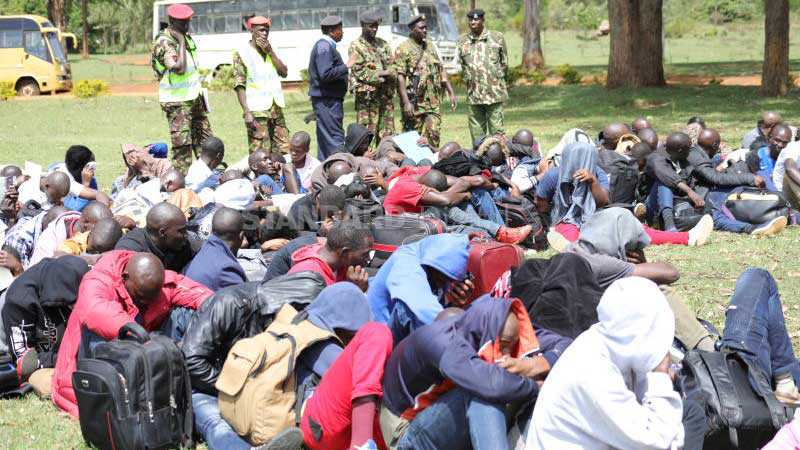 The full extent of deception and corruption in the recruitment of military personnel was laid bare yesterday, when hundreds of hopeful recruits were turned away for having fake Kenya Defence Forces (KDF) calling letters at the Moi Barracks Recruit Training School (RTS) in Eldoret, Uasin Gishu County.
About 132 would-be recruits told of how they were duped into giving out as much as Sh400,000 to join the military. They had letters, which they claimed to have been sent to them by contacts posing as senior military officers of the rank of Major.
"I had applied to join the forces as a tradesman after I saw an advert in one of the local dailies. Later, I was called by a man who promised to enlist my services if I paid him," said a young man who spoke on condition of anonymity.
He added that he quit his job as a security guard in one of the universities in Nairobi as he was sure of joining KDF.
"The man who promised me a slot in the forces asked me to pay him Sh350,000 to secure a slot as a late replacement for someone who did not honour the calling letter," he said.
Different accounts from the youths indicated that they had parted with amounts ranging between Sh40,000 and Sh450,000 to be handed the fake letters.
Military uniform
They said they parted with the money after they were convinced the letters were genuine as some of the con men wore military uniform.
One of the recruits, who was among those arrested, revealed that he met one of the con men at Moi Barracks in Eldoret, where he handed over his papers and money before he was given a calling letter that was, to his surprise, rejected yesterday.
Another recruit who only identified himself as John explained that he quit his job in Kisii County, where he worked at a wholesale depot.
He said the person who handed him the letter was a KDF soldier who is also a neighbour back home.
"He is someone I know personally. He is an officer with the KDF. This is just some inside job because how (else) would one get access to the letter that has a KDF seal?" he asked.
One such letter that The Standard saw had both a seal and rubber stamp.
Another youth who identified himself as Nahashon explained that his family held a fundraiser that realised Sh300,000 to facilitate his entry into KDF.
"My family sold two pieces of land in Nanyuki and four dairy cows to top up the Sh150,000 we had collected," he narrated tearfully.
"Just yesterday, we held a farewell party and prayers before I embarked on the journey to RTS. All that is now gone. We were conned."
Nahashon claimed there was a cartel within the military duping unsuspecting Kenyans into parting with money for non-existent slots in the armed forces.
Rigorous training
The jovial youths had reported to the base in readiness for nine months of rigorous military training. Yesterday, was the last reporting day, when those with fake letters were seized.
Brigadier Martin Ong'oyi, who is in charge of personnel at RTS, confirmed the arrests, noting that cases of con men obtaining money from potential recruits were on the rise.
"Last year we detected 65 cases of youths presenting fake calling letters. This year the number has more than doubled."
He added that KDF had made the public aware that there were no monetary requirements for recruits.
Mr Ong'oyi also said there were fake letters in circulation and that it was illegal for members of the public to part with money to join KDF.
"We have handed those who have been arrested to the police to aid in investigations. Those found culpable will be punished according to the law," he said.
Police in Eldoret recently arrested two men, one wearing military fatigues, who allegedly attempted to con a woman of more than Sh300,000 to help her join KDF.
The latest incident comes amid revelations that seven million Kenyans are jobless, with 1.4 million of them desperate and actively looking for work.
Nine out of every 10 unemployed Kenyans are below the age of 35.