Church leaders call for credible polls as peace campaign launched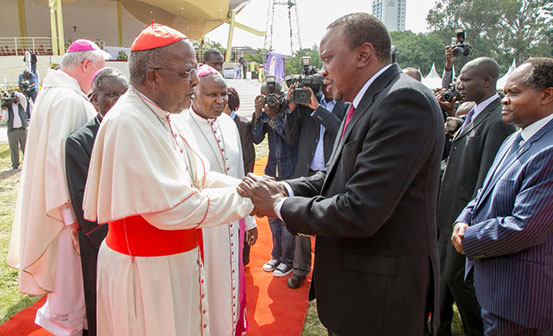 Church leaders have called for peaceful campaigns and credible elections, urging Kenyans to remain united in the run-up to the polls on August 8.
Speaking at the University of Nairobi Saturday where the Catholic Church unveiled a peace campaign, the religious leaders asked Kenyans to remain level-headed during the campaigns.
Nuncio to Kenya (Pope's representative) Daniel Balvo, Archbishop John Cardinal Njue and other senior church leaders appealed to Kenyans to to reflect on the choice of leaders they want. Bishop Cornelius Korir of Eldoret, who delivered the sermon, urged Kenyans to shun leaders who propagate tribalism. "This is a time of reflection. We should reflect deeply about the direction our country is taking. It should be that of peace and not chaos," said Bishop Korir.
President Uhuru Kenyatta, who attended the launch, called on Kenyans to pray for peace, saying elections should not come with divisions and fear.
"Christians should congregate in churches and Muslims in mosques so that we may join hands in praying for our beloved nation and to pray also for rain in our country. Mature and principled leadership should prevail at all times," Uhuru said.
He urged Kenyans not to allow themselves to be divided by leaders who lack integrity but instead reflect on the direction Kenyan should take. "We are one nation and we should live with each other as brothers and sisters and Kenyans," the President added. Mombasa Archbishop Martin Kivuva said Kenyans should assess political leaders based on their manifestos and performance. "We should elect responsible leaders who can deliver what they promised. Many people will vote for monetary gain. We should examine ourselves during this election and vote with our conscience and not stomachs," said Archbishop Kivuva.
Kivuva announced that the campaign themed 'Integrity and Peaceful elections' will go on for five weeks.
In the first week, Christians will pray for security. The second week is dedicated for the youth and the third week will be on environmental conservation. In the fourth week, Christians will pray for the elections while the faithful will pray against negative ethnicity in the fifth week.
Lenten campaign
Speaking yesterday, Uhuru urged Kenyans to stick together, their different political persuasions notwithstanding. "It is unfortunate but true that violence has characterised many of our elections. Throughout this Lenten campaign, let's have an opportunity to reflect on the direction we want to travel as citizen of this country," he said.
He added: "We should live in an environment full of peace, stability and one that is predictable. Integrity is practising what we preach. I believe we are the generation that can end these cycles of violence each election year."
"Our airwaves are filled with hate speech," he said. However, the President expressed optimism that the church campaign will result into positive change. "As a citizen, I will practice what I preach, hold myself to a high standard of integrity and I pray that God takes my hand and all the other millions of hands to guide us to a higher destiny in the coming weeks, months and years. I am committed to do all that is possible to benefit the youth," he said.
Uhuru said Kenya should demonstrate to the world during the forthcoming elections that it is a nation that can manage its own destiny through democracy.
Nominated Senator Agnes Zani, who represented the Opposition at the launch, said the August 8 elections should be credible, adding that democracy requires justice to prevail.
"Democracy and justice should be allowed to prevail," Zani said. On insecurity, Bishop Korir asked the government to disarm bandits in the Kerio Valley region. "Many lives have been lost as we approach the elections. Let us not forget that the world is watching. Life is precious and it should not be lost in evil ways like it happened in Kerio Valley," Bishop Korir said. He noted that many people had been killed by bandits.
On Friday, bandits struck in Baringo hours before a visit to the area by Deputy President William Ruto and killed the local chief. Several others were injured in the attack.
"The bandits should be disarmed. They are orchestrating impunity in the region. We want a country where the people should shun violence and live in peace," Korir decried.
Uhuru, however, said the government would do everything within its means to contain the violence.
"I promise to do my part to ensure that peace prevails in our nation," Uhuru said.