Cracks in Wiper as senators accuse Kalonzo of playing favourties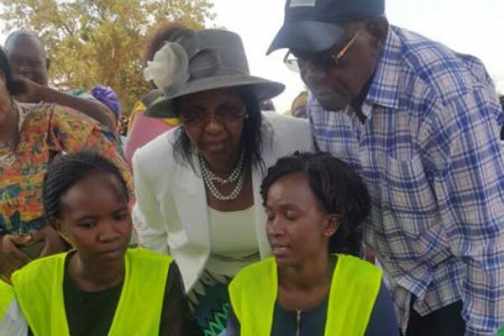 The fall-out in Wiper Democratic Movement over county posts in its Ukambani stronghold escalated yesterday even as party leader Kalonzo Musyoka gave an assurance that all was well.
Wiper Chairman David Musila (Kitui Senator) and Vice Chairman Mutula Kilonzo Jnr accused Kalonzo of stoking fires within the party by appearing to favour incumbents for the gubernatorial contests in Kitui and Makueni counties.
Mr Musila is seeking to unseat Kitui Governor Julius Malombe while Mutula Jnr has been eyeing the Makueni Governor seat held by Muungano's Kivutha Kibwana.
During a public rally earlier in the week at Kwa Vonza market in Kitui, Kilonzo infuriated Musila's when he appeared to endorse the re-election of Mr Malombe. While the Kitui Senator's camp left the meeting disillusioned, the govenor's team left energised.
Yesterday, Kalonzo denied claims of a fallout ascribing it all to an overblown misunderstanding.
"I cannot afford to take sides. Trust me, I know better. I cannot impose on the people of Kitui a candidate. I was talking about what had happened, that it would have been better if they agreed amongst themselves but since they had not, they will fight it out," he told The Standard on Saturday.
The Wiper leader said he had assured Musila that he did not mean to endorse Malombe. He claimed that the Kitui Senator had also placed him in a difficult position by expecting his unequivocal support on account of the many years they have worked together.
"I can understand him. We have walked this journey for many years together, but in the circumstances, they will have to sort themselves out through a free and fair nomination," Kalonzo said.
But Musila was adamant that the party leader had asked him to back off. "He did ask me to stick to my Senate seat and let Malombe continue to avoid a possibility of Jubilee taking the seat. This is a fact. You can confirm this with Honourable Muthama, Mbalu, Museo, Makali, Nyamai and Muluvi." He explained that although he respected the Kalonzo and was supportive of his presidential bid, he would not allow him to muddy the waters in Kitui. He reiterated that the people of Kitui should be allowed to make informed choices.
"I have said this. No one, not even the party leader, can stop me. You can take this to the bank. I am very confident that by grace of God I will be the next Governor for Kitui County," Musila told The Standard on Saturday yesterday.
He added: "Those imagining that the people of this great county will be directed on who to vote for will be in for a great shock."
Kilonzo Jnr did not mince his words either. He said the impression created that the chairman of the party is being treated unfairly was bad for the party. Nobody will trust Wiper nominations unless the impression is changed.
He likened the events in Kitui to what is happening in Makueni where an impression has been created that the party leader is rooting for Governor Kibwana.
"A situation where Wiper does not have a Governor candidate in Makueni when Kibwana's Muungano is sponsoring candidates, including for the Senate, is the end of Wiper in Makueni. The party must take a clear policy on this otherwise we are confusing the people," he said.
He said if Musila were to defect to another party or run as an independent Wiper would lose.
"The fact of the matter is that our party leader has no vote in Makueni. It's also a matter of fact that Wiper needs to have a foothold at the apex of Makueni Government and that means getting a Wiper candidate to slog it out with Kibwana," Kilonzo Jnr said. But Kalonzo said if Wiper has a gubernatorial candidate in Makueni and Governor Kibwana insists on running on his Muungano he will support the Wiper candidate.
"If Kibwana joins Wiper, he would automatically become a front-runner for the Wiper ticket," he said.
Yesterday, Malombe asked Musila to apologise for disrespecting Kalonzo, failure which he would seek his removal as party chairman.