Amina Mohammed the only 'man' in Uhuru's Cabinet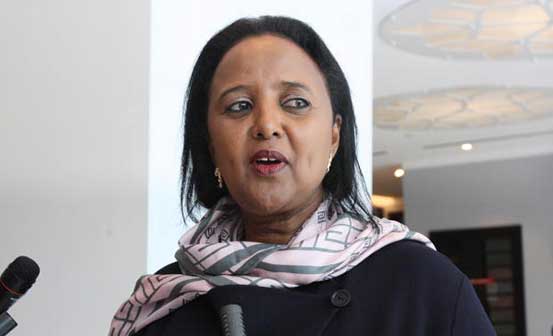 While eulogising the late Economics Planning Minister Zachary Onyonka, his contemporary and fellow intellectual Mwai Kibaki simply said, "This man understood how the Government works".
President Uhuru Kenyatta's Cabinet had three people who understood how the Government works; Michael Kamau who was Transport CS, Anne Waiguru who was the Devolution CS and Ambassador Amina Mohammed.
The first two fell by the wayside leaving Amina Mohammed as the last 'man' standing in the Cabinet. And today, it is not shocking that she is by far Kenya's best performing Cabinet secretary.
At over five foot ten, Foreign Affairs and International Trade Cabinet Secretary stands tall above her peers.
A native Somali, she is the adopted daughter of the Mulembe nation all the way in Western Kenya.
A girl who grew up in Amalemba Estate in Kakamega and schooled at Township Primary School and Butere Girls. This seems to have inculcated in her a world view and a sense of nationhood that many leaders with a tribal lense will never have.
Her career CV will make many tribal and village chiefs hang their heads in shame, yet she has maintained an enviable sense of humility.
Brilliant, beautiful, stylish, articulate and yet unassuming, she breathes remarkable freshness and class into the boring business of Government. A sharp dresser, often with a scarf loosely tied around her neck and dimpled smile, she brought to the Cabinet the rare combination of beauty and brains.
Her appointment to the docket was a master stroke from the President and his deputy. Her many years of experience at the United Nations and international positions would serve her well.
For in three short years at the Foreign Affairs docket, the lawyer, diplomat and politician has changed Kenya's foreign policy from the predictable 'wait and see' that existed since Munyua Waiyaki.
In its place, she has crafted and implemented an astute strategy that has propelled Kenya into a respected global brand and serious player in the geopolitics of the region.
Just see how renowned world leaders are crowding President Uhuru's diary with visits to Kenya. Under her leadership, Kenya no longer reacts...it acts. It defines events and moments and rallies Africa and the region to causes it holds dear.
Do not be deceived by her hair simply held back in a ponytail and gentle sway of her head — she is one tough cookie.
She must have picked a thing or two from Martha Karua during her stint as a permanent secretary at Justice ministry. She is diplomatically firm.
How else do you think she led and rallied Africa and the United Nations Security Council during the Hague trials? Her wit and prowess as a negotiator and unapologetic stance when the need arises carried the day.
Amina's illustrious career has seen her scale the ranks to become the ambassador and Permanent Representative of the Kenya Mission to the UN at Geneva from 2000-2006.
This week the country played host to the 14th United Nations Conference on Trade and Development where she was made the president. She was also the first African to be the chair of the global trade round table at the 10th World Trade Organization Ministerial Conference held in Kenya.
Next month will be another milestone for the country as it hosts the 6th Tokyo International Conference on African Development (TICAD-VI) in Nairobi.
No matter how you look at it, the good ambassador has surely put the country on the world map.