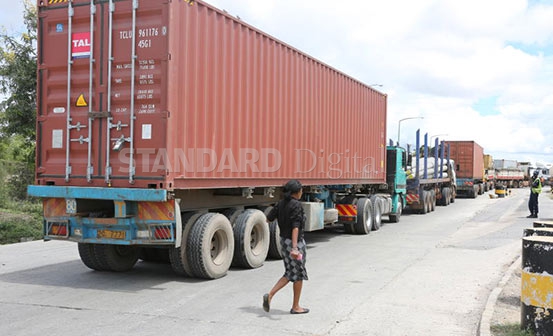 A roads agency has warned transporters against breaking axle load rules and maintained it will continue protecting road assets by ensuring compliance.
Yesterday, the Kenya National Highway Authority (KeNHA) issued a warning to unscrupulous truckers against using dummy axles to evade the load limit regulations.
Speaking during the launch of truckers Sacco a self-regulation Sacco in Ruaraka, KeNHA Axle Load control Engineer Isaiah Onsongo said that truckers had invented dubious ways of cheating on the load.
"Dummy axles are illegal, we have been empowered to ignore the dummy when we are weighing trucks and charge them for overloading," said Osongo.
Eng Onsongo said that the manufacturers have installed lift axle a way that when a vehicle is loaded it sensors automatically.
He, however, observed that most transporters had tampered with what is commonly known as the dead man switch which lifts the truck.
"This means the load of two axles is put on one axle as a result causing overloading this is what we are trying to stem to ensure that transporters vehicles are sensor sensitive and that they meet requirements," he added.
Additionally, the agency said that plans are underway in collaboration with the National Transport and Safety Authority (NTSA) to ensure draft self-regulations by transporters are expeditiously implemented.
"This is in a bid to ensure all Saccos across the country can comply with the laws put in place through an umbrella body", explained Onsongo.
KeNHA further said it will continue with monitoring checks to confirm whether the transporters are complying with the set regulations to ensure compliance.
"Initially there was a problem with the transporters because of gross overloading, but since the Saccos came to be there has been drastic progress with the level of compliance at a high," he stated.
Currently there are 13 transporters Saccos working with KeNHA to ensure compliance of axle load regulations and safety issues.
The roads agency also urged manufacturers to ensure they manufacture vehicles that meet demand and set requirements to safe guard road assets.