Michelle Obama juggles her roles with poise and grace
She has had to juggle the responsibility of a mother, a wife, and a first lady. But if the success of her husband is anything to go by, the first ever black First Lady Michelle Obama has dutifully conducted her roles with poise and grace.
The 51-year-old mother of two – Malia, 17, and Sasha, 14 – was born Michelle LaVaughn Robinson and brought up in Chicago Illinois together with her elder brother Craig Robinson.
According to Wikipedia, Michelle has in the past described her upbringing by her parents Fraser and Marian Robinson as being in a "conventional home, with the mother at home, the father works; you have dinner around the table".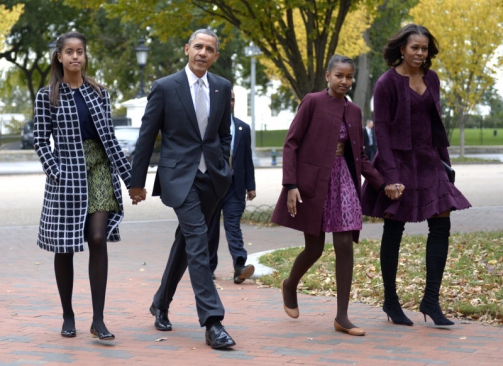 The US First Lady studied law at Havard Law School and went on to work as an associate in the Chicago branch of the law firm Sidley Austin in the area of marketing and intellectual property.
She met her husband Barack Obama during that period – around 1989 – while he was on summer internship and according to biography.com; she was assigned to him as an adviser.
"I went to Harvard and he went to Harvard, and the firm thought, 'Oh, we'll hook these two people up," Michelle is reported to have said by biography.com. Despite pursuing her romantically, Michelle is reported to have shunned Obama's initial advances.
"I must say, after about a month, Barack asked me out, and I thought, 'No way. This is completely tacky," she said.
They, however, went on to date and were married in October 1992 at the Trinity United Church of Christ.
Being the first black First Lady of the United States has brought with it challenges with reports confirming this from Michelle's own admission.
In an article on the Telegraph, Michelle admitted to having had to fight misconceptions due to her African-American race during the 2008 White House campaign.
The article reported Michelle as having said: "As potentially the first African-American First Lady, I was also the focus of another set of questions and speculations, conversations sometimes rooted in the fears and misperceptions of others... Was I too loud or too angry or too emasculating? Or was I too soft, too much of a mom, not enough of a career woman?"
Despite the scrutiny and criticism, especially during her husband's bid for first term in office which she is reported to have said she learnt to ignore, she supported her husband to get into office both the first and second time.
During Obama's first bid for presidency, Michelle gave a speech to endear her husband to voters at a Democratic National Convention where she said millions believed that Barack would fight for them and he would bring the change they needed.
During an interview with Marie Claire slightly before he was sworn into office for his first term as President, Obama was asked on what he thought of Michelle.
"Anybody who knows her well knows she's got the best sense of humour of anyone you'd ever want to meet. She's the most quintessentially American person I know," he said.
On family, the first family has tried to shield their two daughters from the limelight and give them a normal life with Michelle having revealed in an interview with CBS in 2012 that Malia, who was 13 at the time, has her own cell phone in an attempt to live as normally as possible.
In the interview, she also said, "My kids are like any children: anything we do is not cool. They will go in the other direction."
Though Michelle's father died in 1991, her mother Marian lives at the White House. According to an article by the Telegraph, she had to be persuaded to move in when Obama won his first election.
She helped take care of the Obama's daughters and now as they get older, the article by the Telegraph describes her new responsibilities as having evolved to chaperoning the girls on global trips.