Clerics disown 'wolves in sheep skin' after Kanyari saga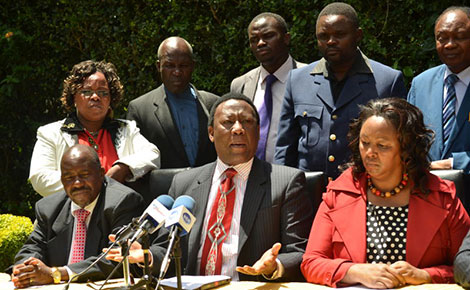 Bishop Mark Kariuki (centre) of the Deliverance Church addresses the Press when the Evangelical Alliance of Kenya condemned prayer predators following the expose of self proclaimed prophet Victor Kanyari. [PHOTO: FIDELIS KABUNYI/ STANDARD]
Nairobi, Kenya: Evangelical Alliance of Kenya (EAK) has distanced itself from controversial Salvation Healing Ministry preacher Victor Kanyari.
This follows last Sunday's expose on KTN's Jicho Pevu and Inside Story, which revealed how the self-proclaimed prophet obtains money from his congregation through fictitious miracles.
EAK Chair Bishop Mark Kariuki said Salvation Healing Ministry headed by Mr Kanyari is not registered as an evangelical church even though it falls under the cluster of pentecostal churches in Kenya.
"We want to make it clear that the evangelical movement is compelled by belief in personal conversion experience, a personal relationship with Jesus and relying on the bible as the standard for faith and practice...we are aware that there are false prophets who have existed from time immemorial," Kariuki said yesterday in Nairobi.
He described false prophets as "wolves covered in sheep skin and whose conduct is one charlatan and conmanship should be dealt with in accordance with the law."
The cleric further warned that the church should not be wholly condemned because of one rotten tomato.
This comes a day after Director of Public Prosecutions Keriako Tobiko ordered a probe on Kanyari for obtaining money by false pretense.
"DPP orders Kanyari to be probed 4 crimes of obtaining by false pretenses; cheating, etc. after expose' by KTN #JichoPevu," Tobiko's said on Thursday.
The self-proclaimed prophet was caught on camera coaching his staff how to say false testimonies to lure unsuspecting Christians into believing he performs miracles.
Meanwhile, the clerics raised concern over the rising cases of insecurity following the recent murder of 21 Administration Police officers in Kapedo.
"We condemn the killings and request the government to carry out thorough investigations and find those behind the killings. We want to know if there are politicians or leaders that may be bank-rolling these activities, "Kariuki who was accompanied by EAK members, said.