Punishment awaits matatu crews for chaos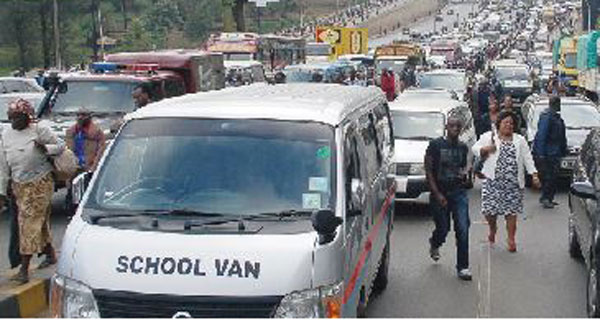 Commuters walk along the Thika Super-highway after striking matatu operators blocked the road. [PHOTOS: JEFF OCHIENG/STANDARD]
By CYRUS OMBATI and ISAAC MESSO
Transport and Infrastructure Cabinet Secretary Michael Kamau said all matatu operators involved in blocking roads will be punished, including cancellation of licences.
"Every single one of them will have their number plates withdrawn and further, more severe sanctions will follow to the full extent of the law. This will include cancelling operating licences for Saccos under which the vehicles operate.
No one will be allowed to cause chaos under the pretext of seeking justice," Kamau said in a statement.
Yesterday, the National Transport and Safety Authority (NTSA) announced that a deal was reached after discussions with the county government and striking public transport operators.
NTSA Director General Francis Meja said the parties agreed that the protesting operators should remove the vehicles they had used to block roads and observe the law and resume operations immediately.
"Further discussions will be held between the Nairobi county government and the operators to find an amicable way of addressing the problem," read a statement yesterday.
Nairobi commuters were yesterday forced to walk to their destinations after matatu operators blocked major routes to protest increased parking fees.
The protestors used the public service vehicles to block parts of Thika Road at Pangani, Outer Ring in Mutindwa, Jogoo Road and other selected routes. A few routes, however, reported normal services.
Rowdy mobs attacked and robbed private motorists on Jogoo Road and in the Central Business District (CBD).
Passengers were forced to walk to work after matatus withdrew their services. Others had to rush to railway stations to catch up with trains as anti-riot police moved in to address the crisis.
In the CBD, commuters were forced out of buses by angry operators walking in groups of 20 to 30 who stormed various bus termini. Others used their vehicles to block busy roads.
At Kencom and Ambassador bus stops, passengers were forced out of buses belonging to Kenya Bus Service and City Hoppa bus companies while their drivers were threatened and urged to stay away from their vehicles.
Taxi drivers and boda boda operators were not spared either as they were forced to flee from youths who had taken control of all the major roads within the capital city.
"We are not going to be fleeced, even of the little money we earn, by the county government. Charging us Sh8,000 from the normal Sh3,000 per month as parking fee is just unrealistic," said Kinuthia Njage, a matatu operator.
not enough space
Operators were also infuriated by the county government's move to increase parking charges for their vehicles yet there is not enough space to accommodate their vehicles.
The protestors marched to City Hall to seek audience with Nairobi Governor Evans Kidero after they spotted him heading for his office on foot.
Kidero urged the matatu operators to return to work, assuring them that the issue was going to be ironed out once he met with their officials.
"We are going to deliberate over your issue but you need to calm down. Send at least five of your representatives to my office so that we can discuss this matter and find a lasting solution to it," said Kidero.
However, the operators booed and chanted anti-Kidero slogans, saying he was just trying to distract them.
After a failed meeting between the taxi drivers and officials led by Kidero, up to 100 taxis were impounded and their number plates removed by police and officers from the Transport ministry.
GSU personnel were brought in and help bar the taxi drivers from taking their vehicles away.
The owners will now have to pay for towing, obstruction and return of the number plates before they can have their cars back.
They had earlier blocked City Hall Way, Kenyatta Avenue, Wabera Street, Harambee Avenue and other feeder roads, affecting the normal flow of traffic.
Others attacked and robbed matatu drivers who had refused to join the strike.