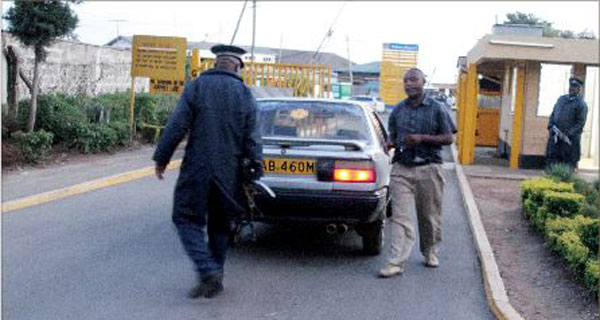 Security officers screening vehicles outside Wilson Airport in Nairobi, Thursday. [PHOTO: mbugua kibera/STANDARD]
By CYRUS OMBATI
Kenya: Authorities have revealed that security has been stepped up in the wake of intelligence reports that were reinforced by United States intelligence, warning of new terror attacks in the country.
James Clapper, the US Director of National Intelligence, told the US Senate Committee on Intelligence on Wednesday that Somalia's Al-Shabaab militants may be planning new attacks in Kenya.
Although he acknowledged that counter-terrorism efforts have been strengthened in Kenya and other East African countries in the aftermath of the September 21 attack on the Westgate Shopping Mall where 67 people were killed, Clapper cautioned that the region faces real danger.
The terrorists, he explained, target a wide range of interests in the East African countries that could make it difficult for governments to protect the facilities.
"East African governments will have difficulty protecting the wide range of potential targets," Clapper said, adding that Al-Shabaab could also attack Burundi, Djibouti, Ethiopia and Uganda because their troops are part of the African Union Force in Somalia.
Locales for attacks
In April last year, Clapper had warned the group posed "a threat to US and Western interests in Somalia and regionally, particularly in Kenya, and leverages its operatives and networks in these locales for attacks."
Yesterday, Inspector General of Police David Kimaiyo admitted the terror threats were real and revealed that security forces had foiled several terror plots in recent months.
Kimaiyo, however, said security had been boosted and, with the help of the public, they will be able to contain the situation.
"The threats are there daily and you know these people who plan to execute are out there and police cannot be in all places. That is why we urge public support to contain it. We have thwarted several other planned attacks in recent months," said Kimaiyo.
Sources said the National Security Intelligence Service (NSIS) has since heightened its operations to scuttle terror plans.
"NSIS is daily gathering and providing intelligence that has been useful to other security agencies. They are the reason that we have had so many disruptions in Mombasa, Nairobi and parts of North Eastern," a source in intelligence circles said.
On Tuesday, the Cabinet, in a meeting chaired by President Uhuru Kenyatta, directed security agencies to enhance security to protect Kenyans in the wake of the terror threats. The police were directed to increase surveillance.
As a result, those seeking to access some of the country's strategic facilities, including airports, will now take longer to get in because of enhanced security operations.
"As we endeavour to improve security and service delivery, I want to request every Kenyan, regardless of their status, to co-operate with us," said Interior Cabinet Secretary Joseph ole Lenku, explaining the new security measures.
Long traffic queues were evident at Jomo Kenyatta International Airport and at Wilson Airport yesterday as security officers inspected vehicles entering the facilities.
flights
Kenya Airports Authority has told passengers to arrive at airports earlier to allow time for the security screening.
"Due to security enhancements at all airports, passengers are advised to arrive for their flights at least one hour before the normal reporting time to cater for security checking during entry to the airport," KAA said in a statement.
Yesterday, the airports authority announced that today it would deliver new screening equipment to the Kenya Police and other security agencies operating at JKIA entrances.
"KAA and the Kenya Police are in the process of increasing manpower at the screening points at the airport. This will refine the current security screening process and considerably shorten vehicle-waiting time (currently about an hour)," said KAA Managing Director Lucy Mbugua .
She added: "KAA engineers are currently on site widening entry lanes into JKIA in order to increase the number of vehicles that will be screened at each point and reduce the waiting time for vehicles coming into the airport."
Mbugua said civil works for this expansion would be completed and more security personnel added at the screening points within the next two days.
She said the enhanced security measures were being replicated in all airports across the country.