South Sudan evacuation to cost Kenya Sh260 million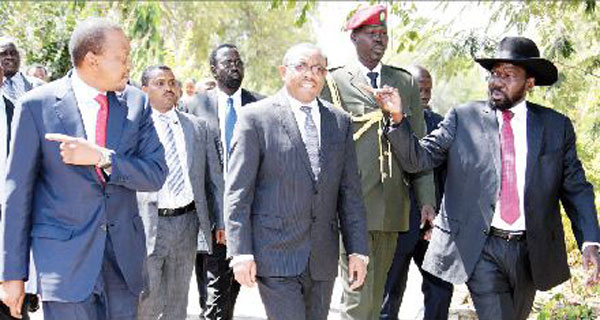 President Uhuru Kenyatta, Ethiopian Premier Hailemariam Dessalegn and President Salva Kiir arrive for peace talks at the presidential palace in Juba, South Sudan, Thursday. [PHOTOS: PSCU]
By FRANKLINE SUNDAY
South Sudan: The Government may spend as much as Sh260 million to evacuate Kenyans living in South Sudan and provide them with humanitarian relief.
President Uhuru Kenyatta arrived in South Sudan's capital Juba yesterday morning for a one-day official visit to assess the extent of the turmoil that has engulfed Africa's new state.
Uhuru is expected to lead a fresh round of diplomatic talks with South Sudan's President Salva Kiir together with Ethiopia's Prime Minister Hailemariam Dessalegn.
Evacuations continue today from the oil-rich nation as the Government admitted it does not know how many Kenyans live in South Sudan, a country that has been rocked by violence for the 12th consecutive day.
"This is a very costly affair. Evacuations alone through chartered planes and buses or through other government resources are expected to hit the Sh100 million mark any time now," explained Karanja Kibicho, Foreign Affairs Principal Secretary.
Dr Kibicho was speaking at the Jomo Kenyatta International Airport (JKIA) as he led a Government delegation to welcome 232 Kenyans flown home via two Kenya Airways planes.
"To charter one plane the size of the ones we are seeing today is costing us $32,000 (Sh2.7 million), and given the fact that more trips are being made by road and air, the costs could even go up," he explained.
Devolution PS John Konchellah further added that more costs were going towards logistics and humanitarian expenses towards Kenyans living in South Sudan.
"As at today, we shall have airlifted 55,000 tonnes of food to Kenyans in South Sudan affected by the turmoil, and more will be needed. The cost is expected to go to sh169 million," said Konchellah.
Heavy fighting broke out in the country on December 15 when rival factions of South Sudan's army clashed in several parts of the capital.
The chaos was reportedly sparked by a disagreement at a meeting on that date for the Sudan People's Liberation Movement (SPLM) over post of the deputy ruling party leader.
One faction loyal to sacked former Vice President Riek Machar boycotted the meeting to elect and install the deputy chairman of the SPLM.
Heavy gunfire rendered the rebel army barracks headquarters before spreading to Biltam the defence headquarters in Muniku are in the outskirts of Juba city.
Actual numbers of casualties are yet to be confirmed but UN officials state that the death toll could be in the thousands with mass graves being reported.
Kenyans living in South Sudan were caught up in the crossfire, and so far the Government has evacuated more than 10,000 people by road and air.
There is concern, however, that more Kenyans may be stuck in Africa's youngest State, especially in remote parts, and it is unpredictable how long the evacuation and humanitarian efforts will continue.
"The challenge that we are having is that over half of the Kenyans who were living in South Sudan had not registered with the consulate in Juba or the Ministry of Foreign Affairs back home," explained Dr Kibicho.
He said the Government was taking precautions to ensure no illegal immigrants used the chaos to sneak into Kenya.
"We have had many attempts by people trying to get into the convoys because many people who were living in the conflict zones fled without documents so we have to screen everybody and issue temporary travel permits," he said.
Twenty-one year old Emily Wasike was among those brought in yesterday by Kenya Airways, having sustained a bullet wound on her left leg.
"I was working in Unity State in Bentiu when we were caught up in the fighting on the 22nd of December," she explained.
A traumatised Wasike narrated to reporters how her colleagues at the hotel she was working in were killed or raped as rebels stormed the area, shooting indiscriminately.
She just managed to escape with her life but left behind all her belongings, travel documents and money to the rebels.
Emily is just one of many Kenyans caught up in the fighting, which has taken on a xenophobic and ethnic dimension.
Kenya Airways, which is working with the government to ferry more people out of the conflict areas said that logistical challenges on the ground made the process slow.
"First of all, there is a 6pm to 6am curfew which means that after 4:30 pm we cannot fly any plane in or out," explained Alex Mbugua, the Chief Financial Officer of Kenya Airways.
The UN Security Council yesterday voted to boost the existing UN peacekeeping force of around 7,000 peacekeepers and police to about 14,000.