Why we should all be worried about what happened in Murang'a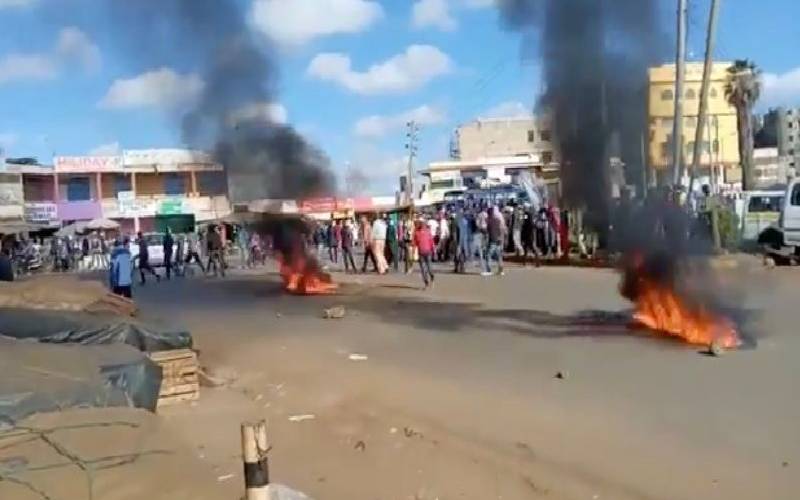 On September 27, 2020, two young people lost their lives during a confrontation that took place before a fund-raising at the Africa Independent Pentecostal Church in Kenol, Murang'a County that was presided over by Deputy President William Ruto.
That day, two groups of youths clashed with one trying to stop the Deputy President from accessing the venue of the fund-raiser, while the other fighting to ensure the event took place. A lot has been said and written about the tragic events of that Sunday afternoon. For me, the day was a culmination of a simmering socio-economic and political conflict that if not resolved quickly may cause mayhem at a larger scale.
A few years ago, I published an Op-Ed titled, 'Everything that could go wrong in Murang'a County has done so; which way ahead?' Since then, a number of important developments have taken place, most importantly operationalisation of devolution and establishment of county governments. This has brought development closer to the people, and Murang'a is no exception.
In addition, the national government has carried out a number of initiatives in the county such as infrastructure development, mostly construction of roads to connect farmers with markets and to improve access to remote parts of the county; the elevation of Murang'a University College to a fully-fledged University–Murang'a University of Technology and the upscaling of water supply projects.
However, despite this progress, unfortunately, most of the socio-economic and political challenges of Murang'a have persisted.
Murang'a is, unknown to many, a county of deep contradictions that exemplify the contradictions in Kenyan society in a most dramatic way. On one hand, some of Kenya's most wealthy owners of capital in the financial, media, industrial, agricultural and insurance industries are sons and daughters of Murang'a. On the other hand, Murang'a is a hotbed of Mungiki and other criminal groupings which are a product of broken families, poverty and lack of identity among many young people. Youth unemployment, drug abuse and alcoholism remain major challenges.
This is the county that produced the first PhD holder in Kenya—Dr Julius Gikonyo Kiano, the fathers of Kenya's second liberation—Kenneth Matiba and Charles Rubia, and one of Kenya's finest public servants—John Michuki. Unfortunately, since the demise of these giants, Murang'a has not produced visionary political leaders with continental, national, and regional stature. Because of this leadership vacuum, Murang'a naturally has become a battleground for unending, and often trivial, political contests.
The character of the typical Murang'a person is a tough, resilient, and uncompromising individual. This may have come from the challenging environment found in Murang'a, where unlike other parts of Central Kenya, the topography is extremely hilly. Moreover, due to massive subdivisions over the years, land sizes have shrunk to uneconomical sizes and therefore the majority of people survive below the poverty line. Their common redress is to relocate to Nairobi, engage in menial jobs, live in informal settlements, and because of their dire circumstances, some gravitate towards crime and other vices.
My grandfather, Njogo wa Kihara, died in 1982. That year l was the chairman of Murang'a University Students' Association. My grandfather was a renowned medicine man and just before he passed away at the age of 104, he passed on his Rod of Authority to me. He not only passed to me the rod, but also the blessing of being able to foresee the future. As a confirmation, my mother, many years later, in a moment of deep reflection, told me that among her children l was the only one with 'Maitho ma Njarara'. That simply means to see beyond the eyes — to see beyond the horizon.
The tragic events of September 27, 2020 were seen by many as a confrontation between the 'Hustler Nation' on one side and protectors of 'Dynasties' on the other. Mythology and oral literature passed down from our forefathers often influence our life philosophies and values. There is a proverb among one of our Kenyan communities that says: 'Lions can give birth to dogs, and dogs can give birth to lions'.
This proverb is explained as follows: Lions that give birth to dogs—past leaders who had amassed a lot of wealth and upon their demise their legacies (and often, their wealth) are torn to shreds as their children battle over inheritance. Dogs that give birth to lions: People who had been brought up in abject poverty but who, through sheer hard work and determination have been able to change the fortunes for themselves and their families, and in the process accumulate wealth and capital.
In my thinking, the proverb, 'lions can give birth to dogs, and dogs can give birth to lions' is the philosophy behind the Hustler Nation. While I believe the proverb seeks to encourage vision, hard work, and a determination to rise above one's past, it can also be easily be misconstrued by those seeking riches and power overnight through shortcuts and illegitimate means.
This latter motivation is popular with those who may be disgruntled, desperate, and who have very little to lose. In Murang'a, unfortunately, there are many people who fall in this description. It explains why on September 27, the opposing sides were so easily able to mobilise young people who did not think twice about attacking each other to the point of death. I am sure this can be replicated in other parts of the country, and that is why we should all be concerned.
Therefore, as I reflect on the Hustler Nation, I fear that although it may currently look like a populist (and popular) political move, it can very easily turn into a violent class struggle between the 'haves' and 'have-nots'. This is because the Hustler Nation has branded itself as children of the poor, as opposed to Dynasties, which could be interpreted to mean the political and economic elite who have inherited their wealth, power, and influence, and expanded the same due to their positions in government and/or business. Going by what took place in Murang'a, supporters of these two groups can easily be mobilised to arms, with devastating results.
That is what my 'Maitho ma Njarara' are telling me. History shows that violent class struggle has happened in many places across the world. Examples include: The French Revolution, the Russian Revolution, and the Mass Killings of Landlords in China in 1946-1948. I think what most of those propagating the Hustler Nation narrative forget is that they easily fall in the category of 'haves', and in a violent class struggle, they too would be targeted as oppressors.
Georg Hegel once said: "We learn from history that we do not learn from history". As a nation, let us be a people who decide to learn from history.
The writer is a senior official at the Executive Office of the President. [email protected]